WGXC-90.7 FM
Sep 03, 2011: 4pm - 5pm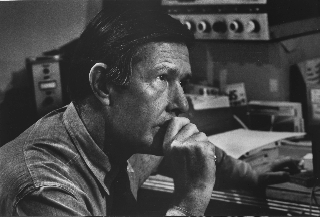 Tune into WGXC 90.7-FM on Saturday, September 3, 2011. For a special conversation between Laura Kuhn of the John Cage Trust and free103point9's (WGXC's parent organization) Executive Director, Galen Joseph-Hunter. This broadcast will feature an an exciting announcement about an international open call for works, presented in collaboration by The John Cage Trust and free103point9, as well as preview events being produced in celebration of the John Cage Centennial in 2012.
Laura Kuhn enjoys a lively career as a writer, performer, scholar, and arts administrator. She worked during graduate school years in the early 1980s with the Russian-born infant terrible of American musicology, Nicolas Slonimsky, becoming successor editor upon his death of his acclaimed music dictionaries Baker's Biographical Dictionary of Musicians and Music Since 1900. In 1986, upon completion of her M.A. degree from the University of California, Los Angeles (her thesis a comparative study of the theoretical ideas of German composer Richard Wagner with the montage film theory of Russian director Sergei Eisenstein), she also began working with the American composer, poet, visual artist, and philosopher John Cage in New York on a variety of large-scale projects, including his six "mesostic" lectures for Harvard University as holder of the Charles Eliot Norton Chair in Poetry (published as I-VI, Harvard University Press, 1990) and his first full-scale opera, Europeras 1 & 2, for the Frankfurt Opera (subsequently the subject of her 1992 doctoral dissertation from U.C.L.A., John Cage's "Europeras 1 & 2": The Musical Means of Revolution). From 1991 to 1996 she served as one of ten founding faculty members at Arizona State University West in Phoenix, where she helped to develop and implement an innovative Interdisciplinary Arts & Performance program. Simultaneously, upon Cage's death in 1992, she worked with Cage's long-time friends and associates Merce Cunningham, Anne d'Harnoncourt, and David Vaughan to found the John Cage Trust, which she continues to serve as Executive Director. In this capacity, Kuhn travels extensively, lecturing and conducting performance workshops in venues as diverse as the Shanghai Conservatory of Music, Warsaw's Museum of Contemporary Art, and the Brussels' "International Arts Festival." In 1999 she even prepared a macrobiotic dinner for 80 to celebrate the first-ever installation of Cage's celebrated Roaratorio: An Irish Circus on Finnegans Wake at Belfast's "Queens Festival"! Other projects for the John Cage Trust under her direction have included a CD-ROM of sampled piano preparations from Cage's landmark composition, Sonatas & Interludes (1946-48) for use by MIDI keyboard musicians, and the adaptation of Cage's whimsical 1982 radio play, James Joyce, Marcel Duchamp, Erik Satie: An Alphabet, to the stage, which in 2000-2001 she directed in seven venues around the world. In 1999, on a bit of a lark, she also joined the onstage singing cast of Mikel Rouse's irreverent "talk-show" opera, Dennis Cleveland, last mounted at N.Y.'s Lincoln Center in May 2002. In 2007, the John Cage Trust went into residential placement at Bard College in Annandale-on-Hudson New York, where Kuhn became the first John Cage Professor of Performance Arts. In celebration, she directed a fully staged version of Cage's still politically prescient theater piece, Lecture on the Weather, with an all-star cast that included Cunningham, Jasper Johns, John Ashbery, Leon Botstein, John Ralston Saul, John Kelly, and others. She is currently working with the Pulitzer Prize-winning biographer Ken Silverman on The John Cage Correspondence Collection for Wesleyan University Press (2011).
John Cage. Photo: James Klotsy.