WGXC-90.7 FM
120 Hours for John Cage: An open call for works celebrating Cage's radio compositions
Sep 01, 2011 - Mar 01, 2012
WGXC 90.7-FM: Radio for Open Ears
90.7-FM in NY's Upper Hudson Valley and wgxc.org/listen everywhere
http://www.wgxc.org/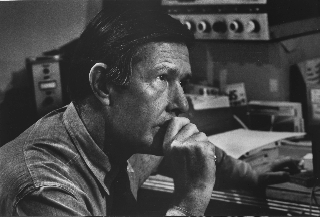 In conjunction with a staggering array of events celebrating the John Cage Centennial in 2012, free103point9 and the John Cage Trust are pleased to announce an open call for proposals around Cage's compositions with, for, and about radio. Selected proposals will be broadcast on free103point9's FM radio station (WGXC 90.7-FM in upstate New York) and streamed online throughout a month-long program September 2012.
Proposal Categories:
1) Recordings of a specific Cage radio composition (old or new)
2) Live performance of a specific Cage radio composition (presented remotely or on-site)
3) Works in homage (original projects inspired by Cage's radio work)
Submission Deadline:
Or send your proposal via email to opencall@free103point9.org
Your submission should include the following:
1) Artist Name
2) Work Title
3) Category (Please select from the Proposal Categories identified above.)
4) Work Description
5) Duration
6) Work Sample URL (Please provide a link to an online representative audio work sample.)
Jury and Notification Schedule:
A jury comprised of Laura Kuhn (Director, John Cage Trust), Galen Joseph-Hunter (Executive Director, free103point9) and others will review submissions.
An announcement regarding selected proposals will be made June 2012.
About John Cage Centennial
John Cage turns 100 in 2012, and all manner of events are underway for a worldwide celebration. Visit
http://johncage.org/2012/
for a complete list of international events – music, poetry, theater, happenings, visual art exhibitions, publications, and more -- celebrating the Cage Centennial.
About John Cage Trust
The John Cage Trust was established in 1993 as a not-for-profit institution whose mission is to gather together, organize, preserve, disseminate, and generally further the work of the late American composer, John Cage. Its founding trustees were Merce Cunningham, Artistic Director of the Cunningham Dance Company, Anne d'Harnoncourt, Director of the Philadelphia Museum, and David Vaughan, Archivist of the Cunningham Dance Foundation, all long-time Cage friends and associates. Laura Kuhn, who from 1986 to 1992 worked directly with John Cage, serves as both a founding trustee and ongoing Executive Director. The John Cage Trust functions as both a business concern and an archive and repository for Cage's work. The Trust also works closely with others in the promotion and placement of Cage's work. In 2007, the John Cage Trust went into residential placement at Bard College, where Kuhn serves as the first John Cage Professor of Performance Arts.
About free103point9
free103point9 is a New York State-based nonprofit arts organization establishing and cultivating the genre Transmission Arts by promoting artists and works informed by an intentional use of space — often the airwaves. free103point9's major programs include the Transmission Art Archive, an in-progress resource featuring artists, works, and exhibitions and events that define the genre and place it in a historical context; WGXC 90.7-FM: Hands-on Radio, a creative community FM radio station serving Greene and Columbia counties; and the facilitation of a NYSCA Regrant program. http://www.free103point9.org
Pictured: John Cage. Photo: James Klotsy.
Loading...
Submissions are due on March 1, 2012
Submission Instructions:
CLICK HERE FOR THE ONLINE SUBMISSION FORM