WGXC-90.7 FM
About WGXC-90.7 FM
Wave Farm's WGXC-FM is a full-power, non-commercial, listener-supported station in New York's Upper Hudson Valley operating out of dedicated studios in Acra and Hudson, NY; as well as pop-up temporary studio locations throughout the listening area and beyond. WGXC transmits 3,300 watts to more than 78,000 potential listeners on 90.7-FM and unlimited international listeners at wavefarm.org/listen. Hands-on access and par­ticipation distinguish WGXC as a public platform for information, experimenta­tion, and engagement.
A Manifesto for Participatory Radio
WGXC believes in:
Hands-on, two-way radio
We provide public access to the airwaves, giving individuals and organizations the means to tell their own stories. WGXC listeners make radio, participate in on-air conversations, stream public meetings for broadcast, contribute content, host their own shows, and more. The G and the C stand for Greene and Columbia counties in New York. WGXC is listener-supported, and we serve 78,000 potential local listeners in the Upper Hudson Valley, in addition to listeners from across the globe online. Our programs can be uplifting, surprising; are very often experimental, and almost always entertaining. Program applications are accepted year-round, and no prior radio experience is required.
Creative use of the airwaves
WGXC is a program division of the non-profit arts organization Wave Farm based in Acra, NY. We are the only station in the country to dedicate significant airtime to radio as an artistic medium. Tune into and hear artists who sculpt and compose with the airwaves. WGXC's program schedule commits increased daytime listening hours to radio art, experimental sound and music, and evening programming features live performance from near and far.
Community
We are a hands-on participatory radio station, and serve many communities. WGXC's volunteer programmers range in age from 12 to 85, and come from all walks of life; what they produce is as varied as the communities we serve. WGXC is an unbiased source for local news and cultural affairs information. Local interview programs are brought to the foreground during expanded morning and afternoon drive time programs.
WGXC Broadcast Partners
Through the Wave Farm Radio App and Transmit/Broadcast Partner program, WGXC is pleased to regularly stream and broadcast live content from many area partners such as the Town of Catskill. Visit the Wave Farm Radio App page for a full list and for more information about becoming a WGXC Broadcast Partner.
Station History
Wave Farm (formerly known as free103point9) submitted an application to the FCC in October 2007 during a rare filing window for full-power non-commercial educational FM radio stations. A year later, on October 17, 2008, free103point9 received a construction permit to build a new FM station. The FM station was planned to serve both sides of the organization's roots: radio art and community access on the airwaves.
In June 2008, an Advisory Council was established to guide the development of the station with regards to serving Greene and Columbia counties' local community. Council members provided critical input in naming the station, establishing the program schedule, and getting 90.7-FM off the ground and on the airwaves.
WGXC Online Radio began streaming at wgxc.org on May 9, 2009, live from the Catskill Community Center, with M.A. Tarpinian, Dharma Dailey, Tom Roe, and others; and from Germantown Community Farm with Kaya Weidman and others.
In September 2009, free103point9 received a commitment of $71,485 from the US Department of Commerce. This award secured 50 percent of the funding needed for the initial equipment (transmitter, antenna, etc.) to launch the WGXC FM signal. On December 31, 2009, the capital campaign for WGXC's launch was furthered with a New Year's Eve celebration that featured 60 local performers, and by September 2010, matching funds were successfully raised.
In September 2010, free103point9 partnered with the national radio advocacy organization Prometheus Radio Project to host a first full-power FM barnraising for WGXC 90.7-FM in Hudson. The conference included three days of hands-on workshops, presentations, and performances, during which participants collaborated to build the WGXC Hudson studio and help prepare the station for its FM signal launch.
In December 2010, WGXC programmers began broadcasting live shows on the WGXC webstream from the Hudson studio.
On February 26, 2011, WGXC went live on air at 90.7 FM. This momentous occasion was celebrated with a live broadcast event at the Catskill Community Center, which featured many of the station's first on-air programmers.
At the end of 2018, Wave Farm adopted a new WGXC station slogan, "Radio for Open Ears," in conjunction with changes to the 90.7-FM program schedule. WGXC's new schedule commits increased daytime listening hours to sound art and experimental music. Local interview programs are brought to the foreground during expanded morning and afternoon drive time programs, and evening programming features live performance from near and far.
Wave Farm's WGXC broadcasts out of two full-time studios located in Hudson and Acra, NY, and remote locations throughout the station's listening area.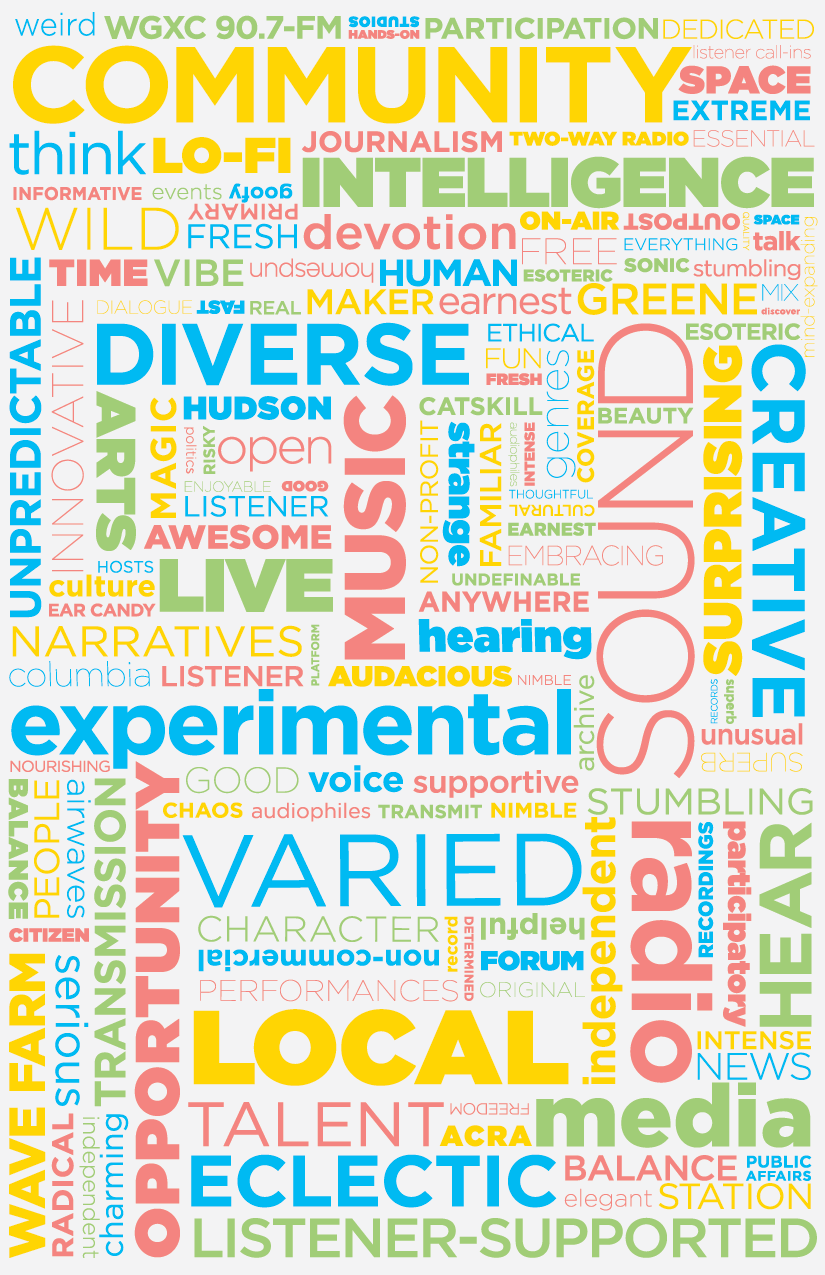 90.7-FM Coverage Map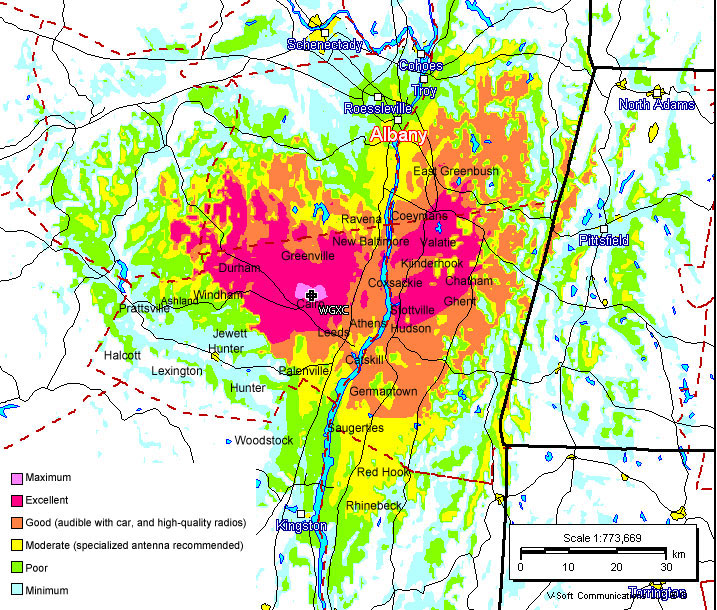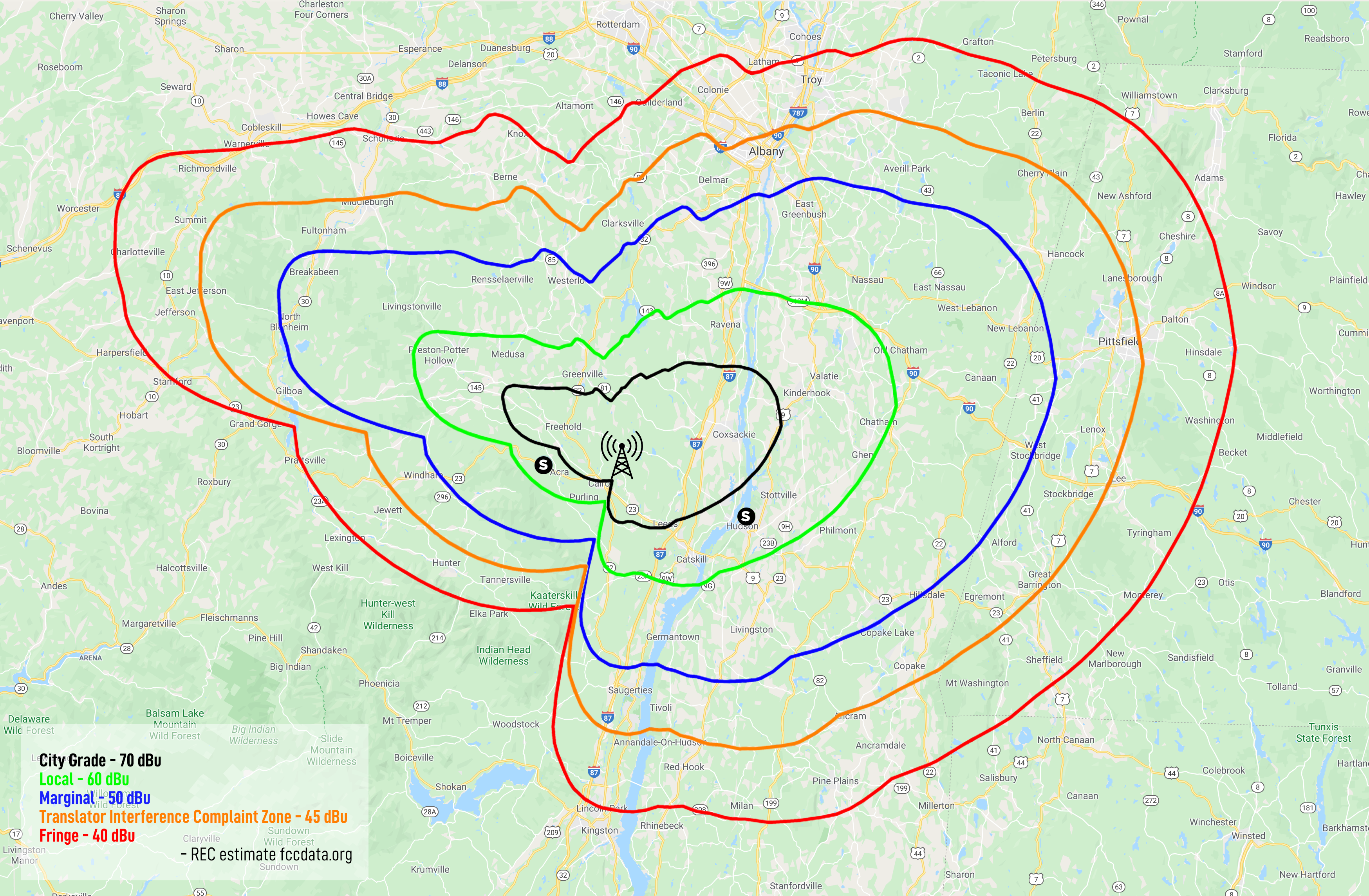 WGXC Program Schedule
Click on "Broadcast Schedule" in the navigation bar to the left (or above on mobile) for detailed program schedule information. In general terms the daily schedule features:
5 a.m. to 10 a.m. Morning Talk
Local news, weather updates, interviews, and other reports about the Hudson Valley and Catskills, and Democracy Now! live at 8 a.m.
10 a.m. to 4 p.m. Music and Sound
Tune in for experimental sounds, modern music from around the world; sound art, radio art and more.
4 p.m. to 8 p.m. Drive-Time Talk
Hear the local news, your neighbors from across the bridge, up the mountain, and down in the valley as they tell their stories.
8 p.m. until 5 a.m. "WGXC Live" and more
"WGXC Live" with broadcasts from a variety of studios, venues, and other locations in your community, with DJs choosing songs, or musicians playing strings. Overnight, there are more sounds and songs, sound art, radio art, both historic and new at wgxc.org.
WGXC Feedback Line + Email
WGXC welcomes audio responses from listeners.
Call (518) 291-WGXC (9492) and leave up to a 3-minute message for airplay.
WGXC feedback may be submitted via email to feedback@wgxc.org
Station Contacts
General Inquiries:
info@wgxc.org
news@wgxc.org
Add an event to the WGXC Community Calendar.
Staff Inquiries:
Lynn Sloneker, WGXC Station Manager / Managing News Editor
Tom Roe, Artistic Director
Galen Joseph-Hunter, Wave Farm Executive Director

WGXC is also supported by Wave Farm consultants including:
Michael Couzens / Alan Korn, Broadcast Legal Counsel
Dave Groth, President, Radio Engineering Services
Jen Kutler, Technical Engineer
Supercosm, Site Developer
WGXC Volunteer Programmers
An extraordinarily diverse group of volunteer programmers are behind the over 100 shows that air regularly on WGXC 90.7-FM. Information about each show including descriptions and host biographies are available by clicking the name of the show either from a broadcast page or from the alphabetical list, which appears
HERE
. Information about becoming a WGXC Volunteer Programmer is available
HERE
.
Music & Sounds Submissions
Send your new sounds to the WGXC's New Releases Committee!

Email details and digital downloads to music@wgxc.org, or
Send CDs/LPs/Cassettes/etc. to WGXC c/o Wave Farm 5662 Route 23, #13 Acra, NY 12405

A big thank you to Mayuko Fujino, Nick D'Amore, and Jeff Economy who serve on a volunteer New Releases Committee for Wave Farm's WGXC. Expect to hear lots of new sounds on the 90.7-FM airwaves as a result.