WGXC-90.7 FM
Radio News: FCC wants to cut Enforcement Bureau
Mar 16, 2015 6:03 pm
[caption width="603" align="aligncenter"]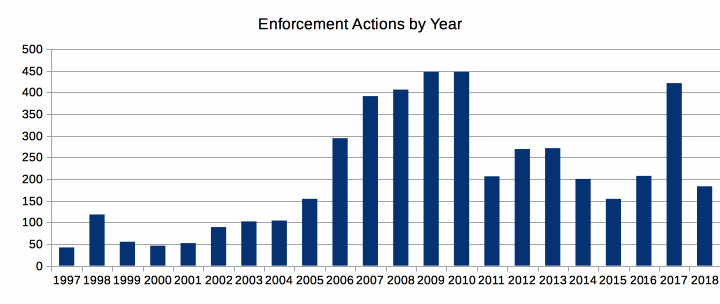 FCC enforcements by year, from DIYmedia.net.[/caption]
The American Radio Relay League reports
that, according to an internal Federal Communications Commission Enforcement Bureau memorandum, the bureau wants to cut two-thirds of its field offices and eliminate nearly one-half of its field agents, from 63 to 33. The March 10 memo says the bureau would keep offices in New York City; Columbia, Maryland; Chicago; Atlanta; Miami; Dallas; Los Angeles, and San Francisco. Instead, the bureau would create a so-called flexible "Tiger Team" of field agents it could deploy as needed with necessary equipment in other cities, initially to include Kansas City, Salt Lake City, Phoenix, Seattle, San Juan, Anchorage, Honolulu, and Billings, Montana.
John Anderson, at DIYmedia.net, a site that tracks pirate radio enforcement, writes
that less than two weeks ago FCC Managing Director Jon Wilkins was asked about this issue at a Congressional hearing regarding the FCC's budget. Rep. Yvette Clarke (D-NY) said she recently received complaints from NYC-area broadcasters about many pirate stations, and asked about funding in the FCC's budget fight pirate radio. "The only way we can manage is to find out where is the highest density of need and how can we deploy the people and the resources that we have against that," Wilkins said. Rep. Michael Pompeo (R-KS) followed up: "I asked a direct question, you gave a generic response. Is there [a] recommendation to close field offices for the FCC and relocate people to your headquarters?" No final recommendation on that, Wilkins replied. The broadcast industry is not happy about the leaked memo. "The ARRL is concerned that there is already no sense of urgency in the FCC's enforcement activities targeting spectrum polluters, such as utilities with noisy power lines, or the few violators in our own ranks," ARRL CEO David Sumner, K1ZZ, said. "It is troubling to see recommendations for such drastic reductions in the Commission's geographic footprint and the number of field agents at a time when the Field staff is facing ever-increasing challenges."
Radio Ink, an industry trade magazine, wrote
, "Considering... the data showing that the FCC has taken fewer actions against pirates in recent years, and now the confirmation of the FCC considering downsizing of the field office personnel, the worry for licensed broadcasters has to be that this "perfect storm" may lead to even more problems, and fewer actions against pirates." And while the FCC's enforcement efforts may be scaling back, some local police are now using AM radios to find marijuana grow rooms,
EDN.com reports
. The grow rooms use large 1000W high pressure sodium or metal halide lamps, driven by electronic ballasts. Many of the ballasts are imported from China and the manufacturers are not complying with FCC emission standards. Which means the lights produce radio frequency interference (RFI), which is often heard by local radio amateurs as static. The ARRL's lead RFI investigator, Mike Gruber, says the group made formal complaint to the FCC, dated March, 2014, about the lights. Gruber also conducted tests on three electronic ballasts and found peaks as high as 100+ dBuV (50 dB over the limit) in the range 6 to 8 MHz, with lower peaks at 14, 18, and 21 MHz, and also in the AM broadcast band, where the police are tuning their radios to detect the grow rooms from as far away as 2,500 feet. The FCC's enforcement bureau would usually investigate this sort of interference, but, apparently, the cut backs may affect resolution of this sort of radio interference.
Full disclosure: John Anderson is on Wave Farm's board.