WGXC-90.7 FM
Schumer in Athens; Gibson in Catskill, Ghent
Nov 02, 2013 12:04 am
[caption width="524" align="alignleft"]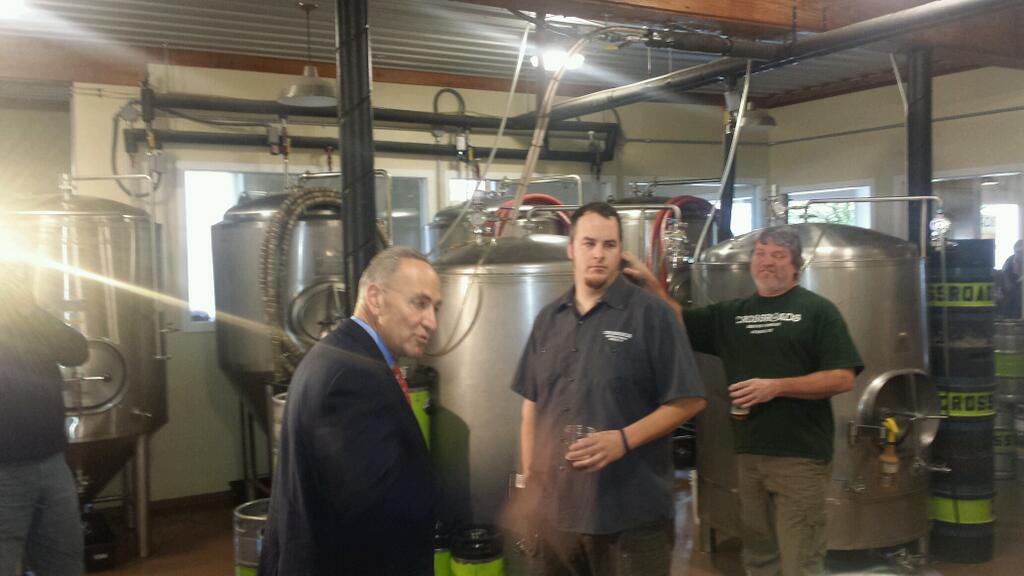 Sen. Chuck Schumer toured the Crossroads Brewery in Athens on Nov. 1. Photo by Jess Puglisi.[/caption]Sen.
Chuck Schumer
visited the Crossroads Brewery in Athens Nov. 1, touting his proposed legislation that affects craft breweries. Schumer announced that he is joining 20 other legislators of both parties to cut the excise tax on small brewers in half. "Our craft breweries are on of our fastest growing industries in upstate New York," Schumer told the small crowd of Athens locals, politicians, and media at the brewery. On Nov. 2, Rep.
Chris Gibson
will be in Catskill, first stopping by WGXC's studio in the Catskill Community Center at 9:45 a.m. to answer questions from the hosts and radio listeners. At 10 a.m., Gibson will be at the "Purple Heart County" event at the Greene County Court House, 320 Main St., in Catskill. The Greene County Legislature will present a proclamation declaring Greene County "Purple Heart County," honoring the "service and sacrifice of the nation's men and women in uniform wounded or killed by the enemy while serving to protect the freedoms enjoyed by all Americans." Gibson will also speak at Dutchess County's 8th Annual Veterans Appreciation Day at noon at The Wallace Center at the FDR Library, Hyde Park, and at 7:30 p.m. Saturday at the Culinary Command Graduation Dinner at the VFW Hall, 2237 Route 66, in Ghent.
Click
here
to play Jess Puglisi's full report about Sen. Chuck Schumer's Athens visit.
PLAY CLIP
(11:25)
Click
here
to play full interview with Rep. Chris Gibson (R-Kinderhook) on "Open Air."
PLAY CLIP
(13:17)