WGXC-90.7 FM
Lodge 2015
Aug 21, 2015 - Aug 23, 2015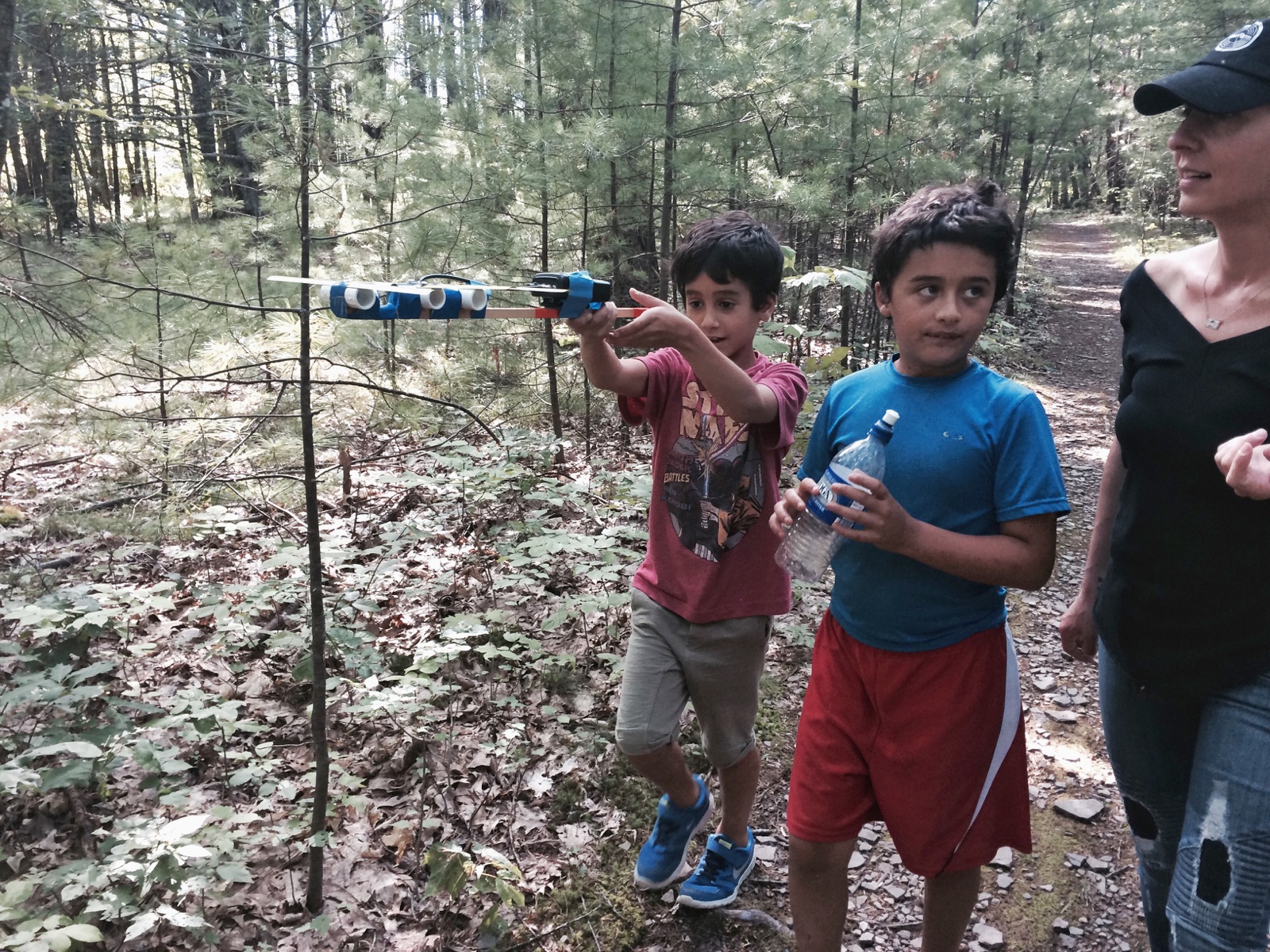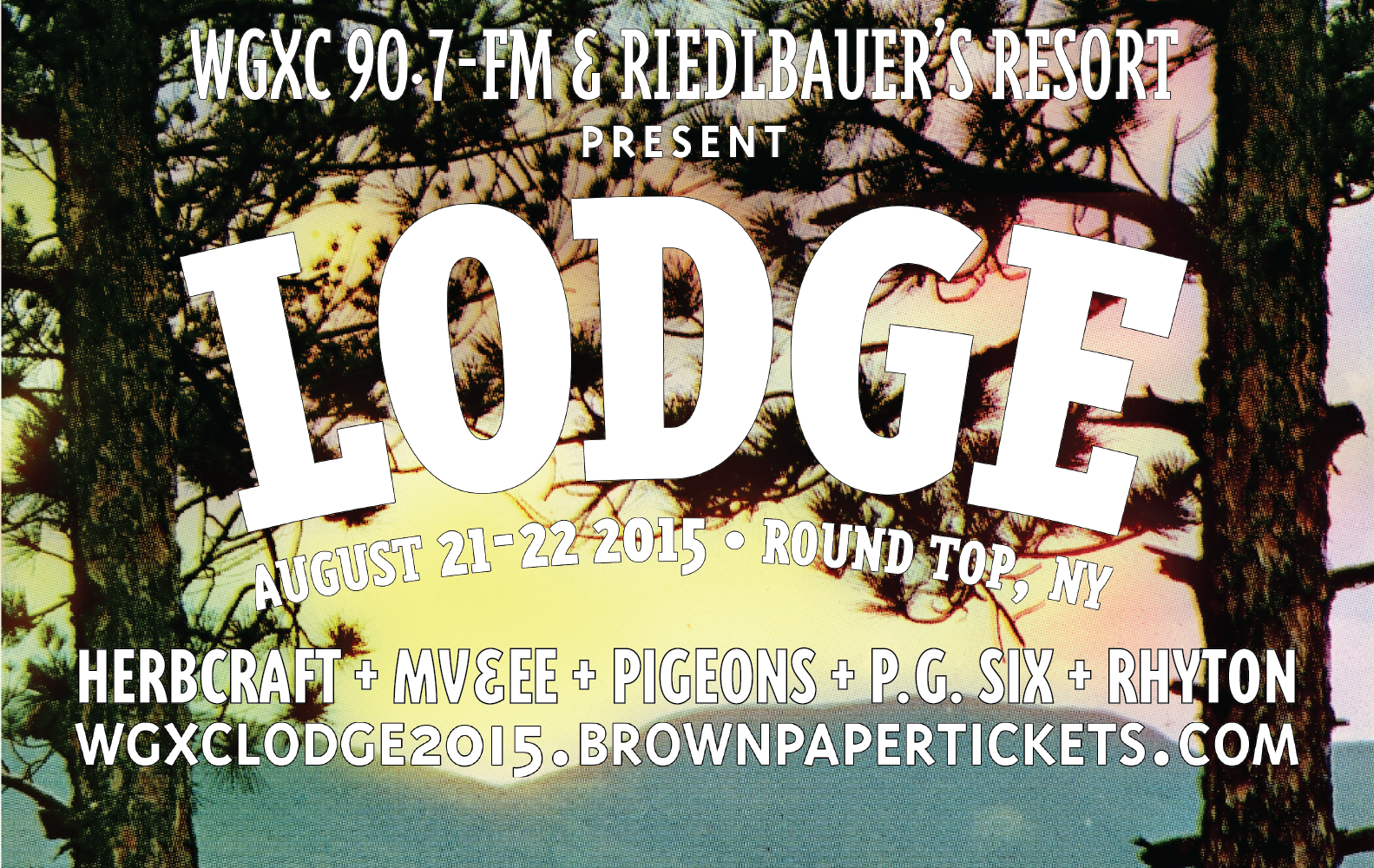 WGXC 90.7-FM is pleased to present the second annual Lodge at Riedlbauer's Resort. Proceeds from the event will benefit WGXC 90.7-FM. Lodge features two nights of live music from Herbcraft, MV & EE, Pigeons, P.G. Six, and Rhyton. Tickets are available at wgxclodge2015.brownpapertickets.com.
In 2014, WGXC 90.7-FM was invited by Riedlbauer's Resort to produce an event on the pristine grounds. This invitation culminated in a one-night concert under the pavilion at Nussy's Bier Garten, featuring regional artists including Palm and Bishop Allen. This year's newly revamped summertime Lodge kicks off at 5 p.m. on Friday, August 21 with live music from The Roving Cowboys, an old-time country band who will perform under the pavilion at Nussy's Bier Garten, surrounded by green Catskill peaks. A late-night dance competition will follow, with prizes awarded to winners. Friday night's activities are free and open to all ages.
On Friday, August 21, Lodge kicks off at 6 p.m. with live music from The Roving Cowboys and BBQ buffet available all night. DJ Charlie Ostroskey (The Neon and the Rain) will round out the evening with a selection of tunes. The festivities continue through midnight, and will include a dance-off with prizes for best moves, attire, and more.
On Saturday, August 22, activities start at noon, with DJs Liv Carrow (Low Tide), Magic Stranger (Puff!), Chris Bishop (Vinyl Rundown), and more spinning throughout the day. Participants can attempt a Barbarian Blitz, participate in a radio transmitter hunt over the grounds and trails, a three-legged race, and enjoy all the amenities of Riedlbauer's extensive grounds. Lodge culminates on Saturday evening, with live music from Herbcraft, MV & EE, Pigeons, P.G. Six, and Rhyton. Performances will kick off at 6 p.m., withDJ LunarMoss (LunarMoss) contributing interstitial sounds throughout the night. Tickets are required for attendance after 6 p.m., and are available at wgxclodge2015.brownpapertickets.com. All sales proceeds will benefit WGXC 90.7-FM.
Riedlbauer's Resort is a German-American family-owned resort located on 70 acres in the scenic Catskill Mountains of Greene County, NY. Nussy's Biergarten an outdoor pavilion on the grounds of Riedlbauer's, provides a selection of affordable food and drinks in a traditional Oktoberfest atmosphere. Riedlbauer's is located at 43 Ravine Drive, Round Top, NY 12473.
Sponsorship for Lodge has been contributed by the following Greene & Columbia county businesses: Blackhead Mountain Lodge & Country Club, Catskill Cycles, Catskill Farmer's Market, Crossroads Brewing, Field Goods, Hudson Valley Current, Lovely, Magpie Books, Riedlbauer's Resort, Spotty Dog Books & Ale, and Taste of Catskill Cafe.
ABOUT WGXC 90.7-FM:
Wave Farm's WGXC 90.7-FM is a creative community radio station based in New York's Greene and Columbia counties. Hands-on access and participation activate WGXC as a public platform for information, experimentation, and engagement. WGXC serves more than 78,000 potential listeners on 90.7-FM and international listeners at wgxc.org. WGXC is a Program Division of Wave Farm.
TICKETING & LODGING INFORMATION:
Discounted room rates at Riedlbauer's Resort include breakfast, and are available for all Lodge ticket-holders. To book a room, call Riedlbauer's Resort at (518) 622-9584. Rooms are limited and available on a first-come-first-serve basis. For general event information, please call WGXC at (518) 697-7400 or or write to jess@wavefarm.org. Friday and Saturday daytime activities are free and open to all ages. For the Saturday evening concert, $15 early bird tickets are available June 1 through June 15 at http://wgxclodge2015.brownpapertickets.com/. Tickets will be $20 through August 21, and $25 the weekend of the event. All ages are welcome. Please note that no ticket required for entry on Friday 8/21, or before 6 p.m. on 8/22.
ABOUT THE BANDS:
Once the isolationist bedroom-psych project of Matt Lajoie, the intervening years have found Portland Maine's Herbcraft (Woodsist) sprawling out in many different full-band incarnations. Psychedelic, mantric, free-rock music for the mind and body, featuring freewheeling first-take intensity anchored by the unhinged electric guitar work from Lajoie.
Hailing from Vermont, MV & EE (Ecstatic Peace, Three Lobed, etc.) is the ever-expanding and contracting neo-psych lo-fi collective always anchored by Matt Valentine and partner Erika Elder. Since 2000, the duo has released dozens of recordings, ranging from full-on Crazy Horse-infused wailing, to ephemeral soundscapes threatening to dislodge from their earthly tethers. Pitchfork sums it up well: "a Deep South-meets-the-Subcontinent fantasia."
Pigeons' dissonant-yet-pastoral psych-pop makes use of Wednesday Knudsen's seemingly conflicting strengths: her airy, 60s French pop-inflected vocals, and her tenacious shredding on guitar. Buoyed by Clark Griffin on bass and Rob Smith (also of Rhyton), Pigeons can turn on a dime from gauzy Future Games-era Fleetwood Mac to a riffing psychedelic shredfest.
Inhabiting the space between the minimalist avant garde and psych-folk, P.G. Six (Amish Records, Drag City) has assumed a number of configuration over his long career. First surfacing as a member of Memphis Luxure, the band that would become Tower Recordings (along with Matt Valentine), Gubler's output fuses an unlikely range of influences including 60s British folk, country rock, & experimental music.
Rhyton (Thrill Jockey) is a group of experienced sonic voyagers, comprised of David Shuford (a.k.a. D. Charles Speer), Jimy SeiTang (Stygian Stride), and Rob Smith (Pigeons). Their hallucinatory grooves rework ancient forms, instrumentation and scales of Middle Eastern and Greek traditions, and incorporate them into the context of scorching improvised rock.