WGXC-90.7 FM
Weekend in review
Sep 24, 2012 12:05 am
Some of the stories that made the news, Sept. 21 to 24, 2012
The Athens noise war continued over the weekend. Dionysos Restaurant reported on
its Facebook page
Fri., Sept. 21, as of midnight its liquor license was suspended, due to the "excessive noise complaints" made to the New York State Liquor Authority:
The mayor and village board members are on our side and helping with our appeal. They are being very supportive. We are most definitely appealing the decision and wil stay open through this ordeal. We are not sure how lengthy or costly this will become...
[caption id="" align="alignright" width="361"]
S. Water St., Athens. Dionysos Restaurant (center); Brady's Docks (right). Courtesy marinas.com[/caption]
The issue heated up this summer when S. Water Street neighbor Sheila Brady, owner of Brady's Docks, local musicians and Dionysos sparred over how late, and how loud music performed in the eatery's outdoor pavilion could be performed. Mayor Andrea Smallwood said there are no plans to ban outdoor music. "The issue is timing and volume, but not to ban it," she said.
Tom Casey reported in the Register Star
Republican challenger David Byrne has taken the lead over Assembly member Didi Barrett in the Independence Party primary for the 106th Assembly District. On election night, the race was deemed too close to call. With votes tallied in Columbia and Dutchess counties, Byrne is up, 192 to 175. Barring delays, results could be certified as early as the middle of this week.
Read the full story in the Register Star
.
According to a press release published in the Register Star
, delegates to the Democratic 3rd Judicial District Convention Fri., Sept. 21, nominated Kinderhook resident Richard Mott as their candidate for New York State Supreme Court Justice. The 3rd Judicial District includes Albany, Columbia, Greene, Rensselaer, Schoharie, Sullivan and Ulster counties. Mott is a native of Ulster Co., and has resided in Columbia Co. since 1976. He is a trial attorney in private practice. Mott served in the county Public Defender's Office from 1982 to 1987. He also served as Kinderhook town attorney from 1984 to 1986. The convention also nominated Stephan Schick for the second available seat on the court. Schick is a criminal defense attorney from Sullivan Co.
Read the full press release in the Register Star
.
[caption id="" align="alignleft" width="202"]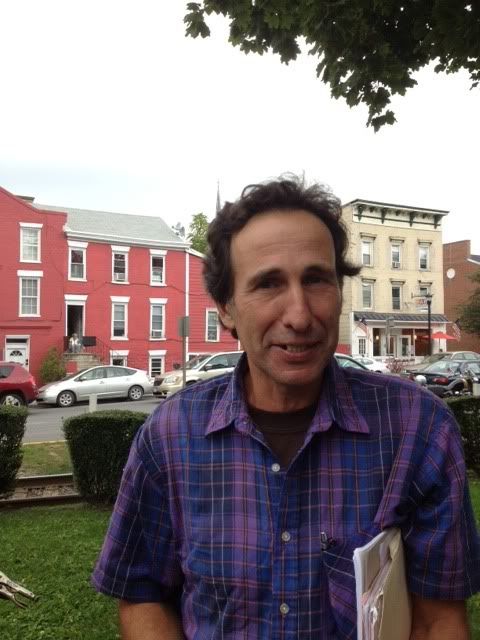 Martin Baumgold[/caption]
David Seth Michaels reported at Daily Kos
on the anniversary of the weekly Vigil for Peace, Justice and Reverence for Life held by Martin Baumgold every Saturday afternoon since Sept. 22, 2001 in Seventh Street Park in Hudson. For 11 years, Baumgold has showed up virtually every Saturday at 2 p.m. to stand up for peace until 4 p.m. -- nearly 500 afternoons in all kinds of weather. A group of 30 people attended the Celebration and Conversation: A Gathering for Peace held Sat., Sept. 22.
Read the full post at Daily Kos
. [Note: David Seth Michaels is an attorney in private practice and a WGXC underwriter.] Baumgold appeared as a guest, along with Bill Van Aiken, member of Veterans for Peace, with host Christina Malisoff and talked about the peace vigil anniversary on the Sept. 20 broadcast of Tell It like It Is. The full show is archived online at
wgxc.org/archives
.