WGXC-90.7 FM
Weekend in review
Apr 06, 2015 5:05 am
Some of the stories that made the news Fri., Apr. 3 through Mon., Apr. 6
Jim Planck reported in The Daily Mail
school districts in Greene County will see an overall increase in their state aid this year and a substantial repayment of a portion of the funds the state has owed districts statewide since 2010. According to information provided by the state, each of the six Greene County school districts will be given an increase in total aid, ranging from the smallest, to the Cairo-Durham school district, at less than one percent, to the highest, Hunter-Tannersville, at 6.35 percent. That amount includes funds held back by the state in 2010 to eliminate its own budget shortfall.
[caption id="" align="alignright" width="273"]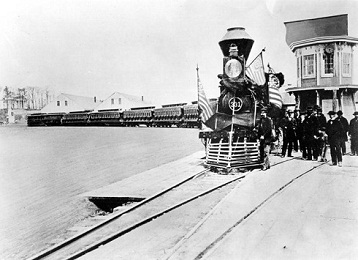 The Lincoln funeral train in
West Philadelphia, Pa., Apr. 22, 1865.
(Source: Abraham Lincoln Research site)[/caption]
John Mason reported in the Register Star
plans are moving ahead locally for the commemoration of the Lincoln Funeral Train. Hudson City Historian Pat Fenoff is busy preparing for the three-day exhibition, "Lincoln's Long Journey Home," beginning April 24. It will feature photographs on loan from the New York State Library of the final Emancipation Proclamation. That exhibit will take place at the Robert Jenkins House located at 113 Warren St. in Hudson. Hudson resident Carole Osterink and friends are preparing an elaborate, historically based tableau based on a passage from the journal of Edward Davis Townsend, the commander of the funeral train. That event will take place near the railroad tracks on the evening of April 25. The event now has a Facebook page: LincolnFuneralTrain2015.
Chris Bragg reported at Capitol Confidential
Gov. Andrew M. Cuomo Fri., Apr. 3, registered a committee to raise money for a bid for reelection in 2018, according to the state Board of Elections website. Cuomo has been rumored as a possible presidential candidate in 2016, but that now appears unlikely with Hillary Clinton all but certain to run in the Democratic primary. Cuomo's 2104 Republican challenger, Westchester County Executive Rob Astorino, is considering another run in 2018. Attorney General Eric Schneiderman is reportedly giving consideration to challenging Cuomo in the Democratic primary next time around.
[caption id="" align="alignleft" width="252"]
The 2009 Athens Street Festival
(Source: athensstreetfestival.com)[/caption]