WGXC-90.7 FM
Wave Farm Radio Artist Fellowship Opportunity
May 01, 2019 - May 31, 2019
WGXC 90.7-FM: Radio for Open Ears
90.7-FM in NY's Upper Hudson Valley and wgxc.org/listen everywhere
http://www.wgxc.org/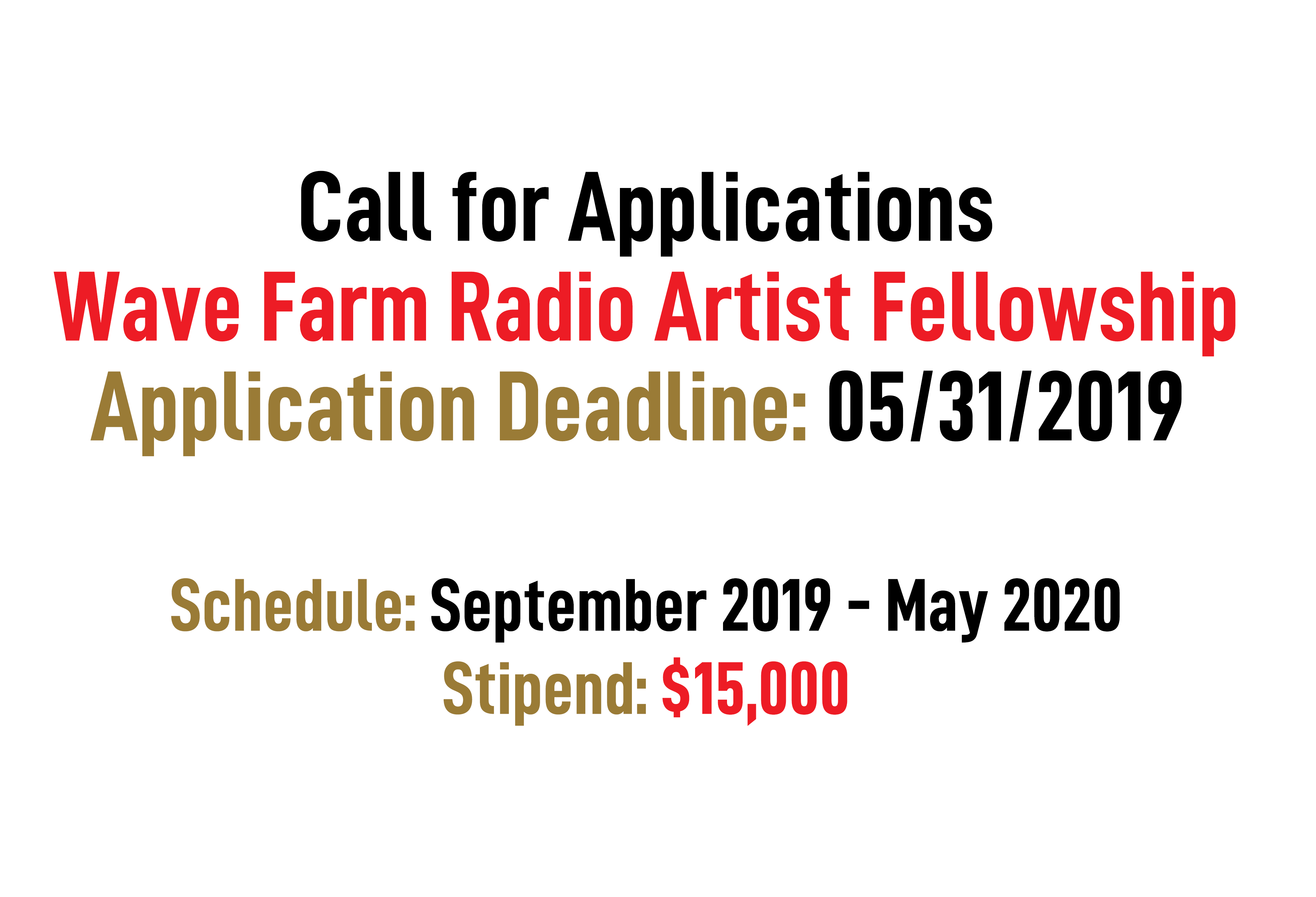 Schedule: September 2019 - May 2020
Location: Remote w/ three visits to Acra, NY
Stipend: $15,000
Application Deadline: 05/31/2019
Wave Farm is delighted to announce our first Radio Artist Fellowship, a nine-month, part-time engagement for an American radio artist with strong interests in the history of radio art and related practices . The Fellowship will combine remote work with a minimum of three on-site visits to the Wave Farm Study Center in Acra and WGXC Hudson Studio in New York's Upper Hudson Valley. Details of the site visit schedule, will be determined in collaboration with the selected artist.
The Wave Farm Radio Artist Fellow will work closely with Wave Farm's Executive Director, Galen Joseph-Hunter, and Artistic Director, Tom Roe, and will communicate regularly with Fellowship Mentors: Anna Friz, Joan Schuman, and Gregory Whitehead.
Located in New York's Upper Hudson Valley, Wave Farm is a non-profit arts organization driven by experimentation with broadcast media and the airwaves. A pioneer of the Transmission Arts genre, Wave Farm programs provide access to transmission technologies and support artists and organizations that engage with media as an art form.
Wave Farm Radio encompasses many radio streams available at wavefarm.org/listen and the Wave Farm Radio App (iOS). Wave Farm's WGXC 90.7-FM: Radio for Open Ears is a full-power, non-commercial, listener-supported station in New York's Upper Hudson Valley operating out of studios in Hudson and the Wave Farm Study Center in Acra. The WGXC program schedule commits daytime listening hours to sound art and experimental music. Local interview programs are brought to the foreground during expanded morning and afternoon drive time programs, and evening programming features live performance from near and far.
Duties and Responsibilities:
Research: Develop an audio archive of noteworthy historic and contemporary radio artworks including brief introductory and contextual information for publication on the Wave Farm website.
Curatorial + Production: Drawing from the archive, produce approximately five hours of radio art programming weekly on Wave Farm's WGXC 90.7-FM.
Creation: Create original radio artworks for broadcast. Details regarding scope, number of works and duration to be confirmed in conversation with mentors, in consideration of the artist's individual work.
Engagement: Three workshops and/or listening sessions with WGXC's volunteer programmers.
To Apply:
Please send your resume and a detailed letter of interest to
info@wavefarm.org
by May 31, 2019. Your letter of interest should include the following elements:
a statement demonstrating your personal interest in broadcast as a creative medium, including a brief description of the type of radio works to be produced during the Fellowship
links to two work samples of your own radio work
a sample playlist of selected works by artists who you consider influential to the radio art field
a brief outline or description of a sample workshop or listening session for WGXC's volunteer programmers
Eligibility:
This pilot Radio Artist Fellowship program opportunity is open to radio artists whose primary residence is in the United States. The Fellowship stipend will appear as "Other Income" on 1099s issued in conjunction with tax years 2019 and 2020.
Women and people of color are encouraged to apply.


This project is supported in part by an award from the National Endowment for the Arts. To find out more about how National Endowment for the Arts grants impact individuals and communities, visit www.arts.gov.



More information about other Wave Farm opportunities:
Wave Farm Residency Program
Media Arts Assistance Fund for Artists (in Partnership with NYSCA EMF)
WGXC 90.7-FM Program Application