WGXC-90.7 FM
A Day of Percussion at the Marimba Tree
Jul 22, 2023: 12pm- 6pm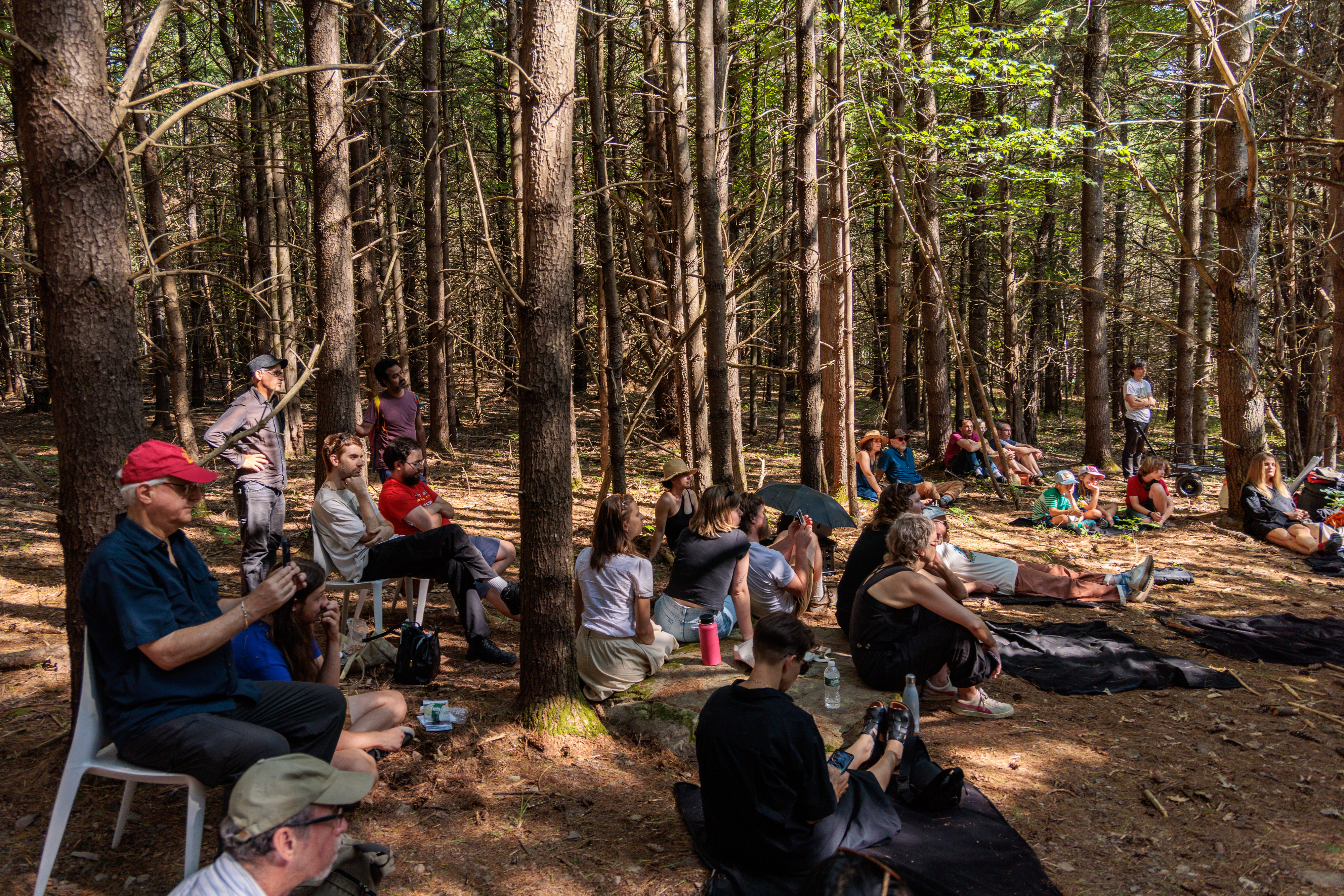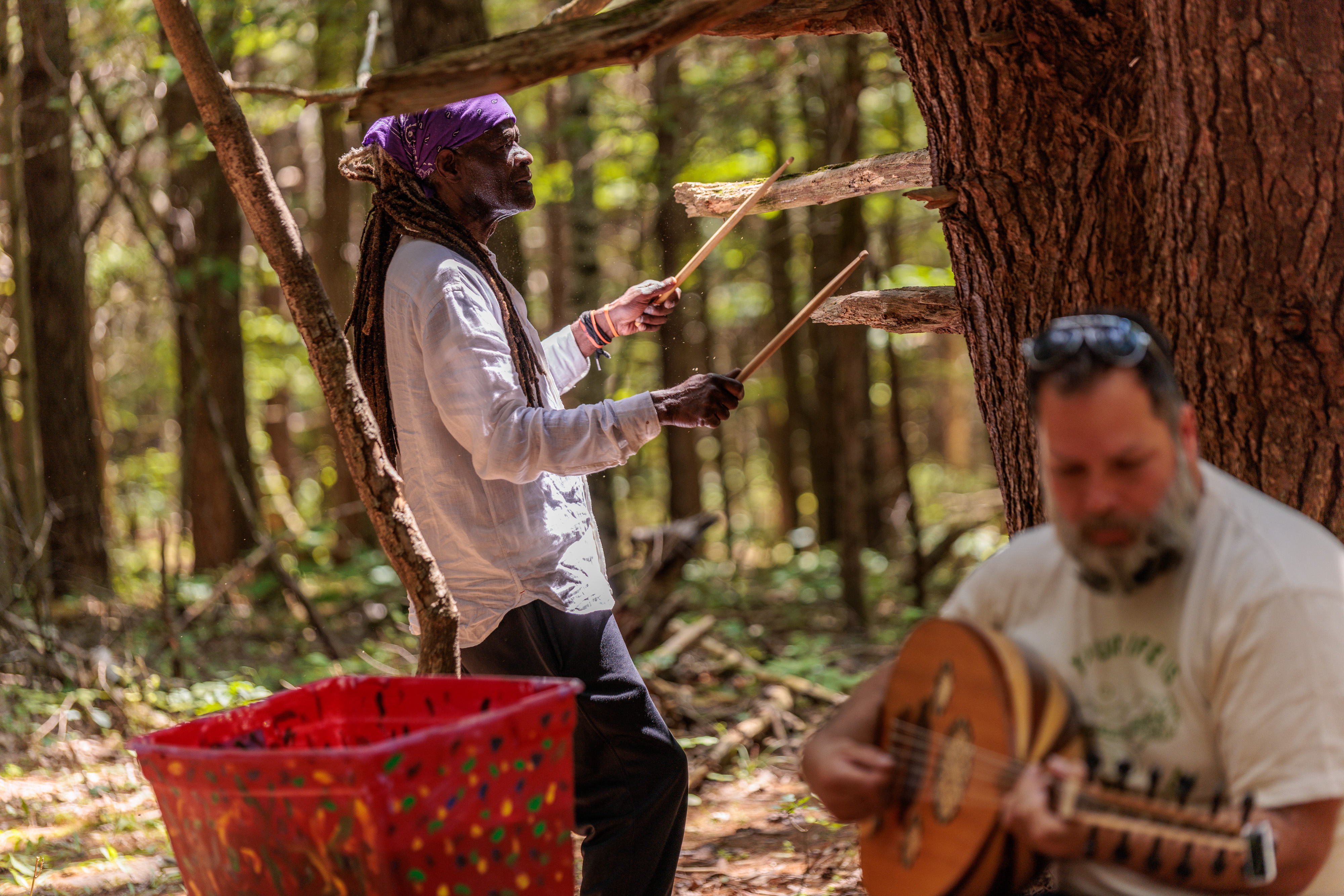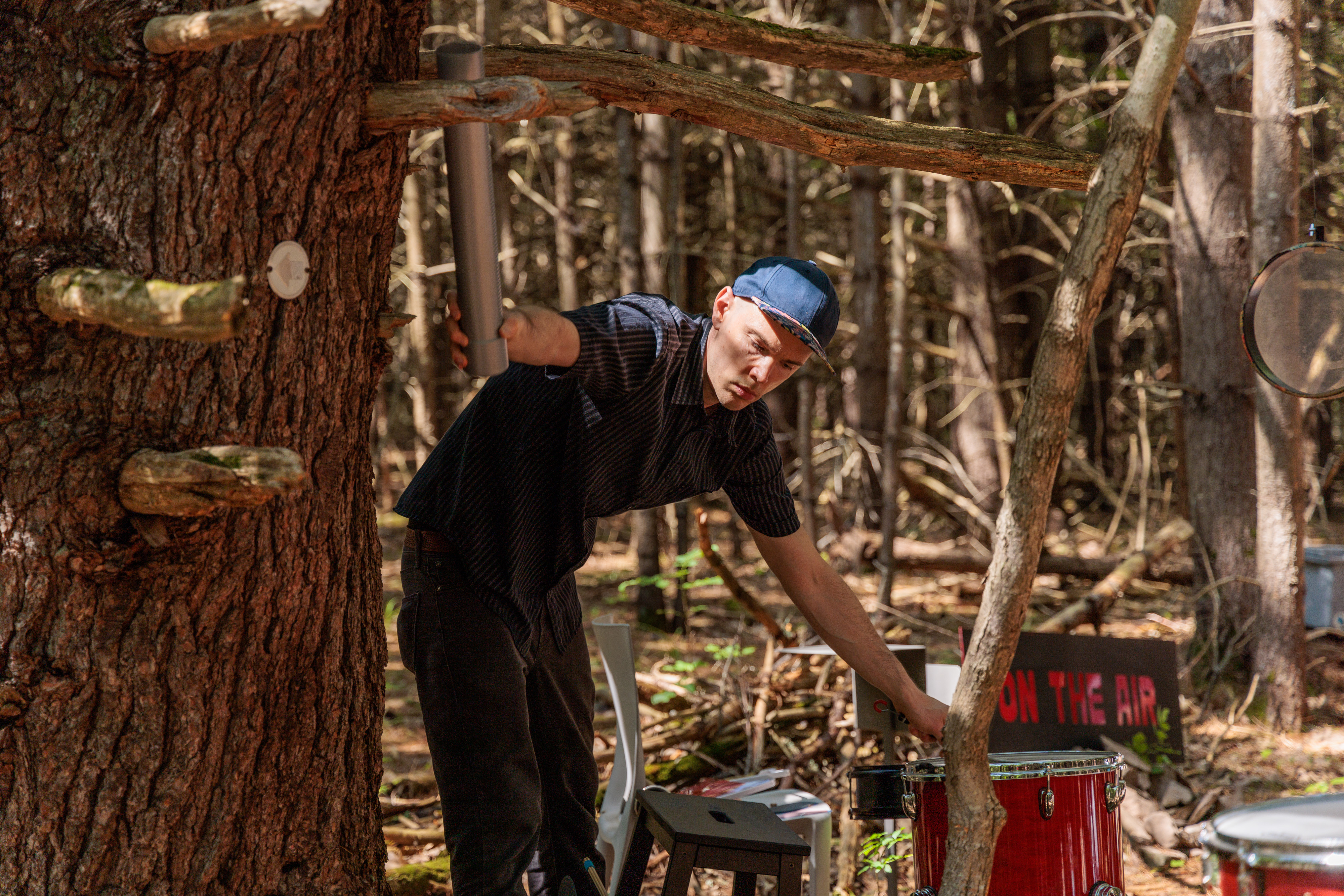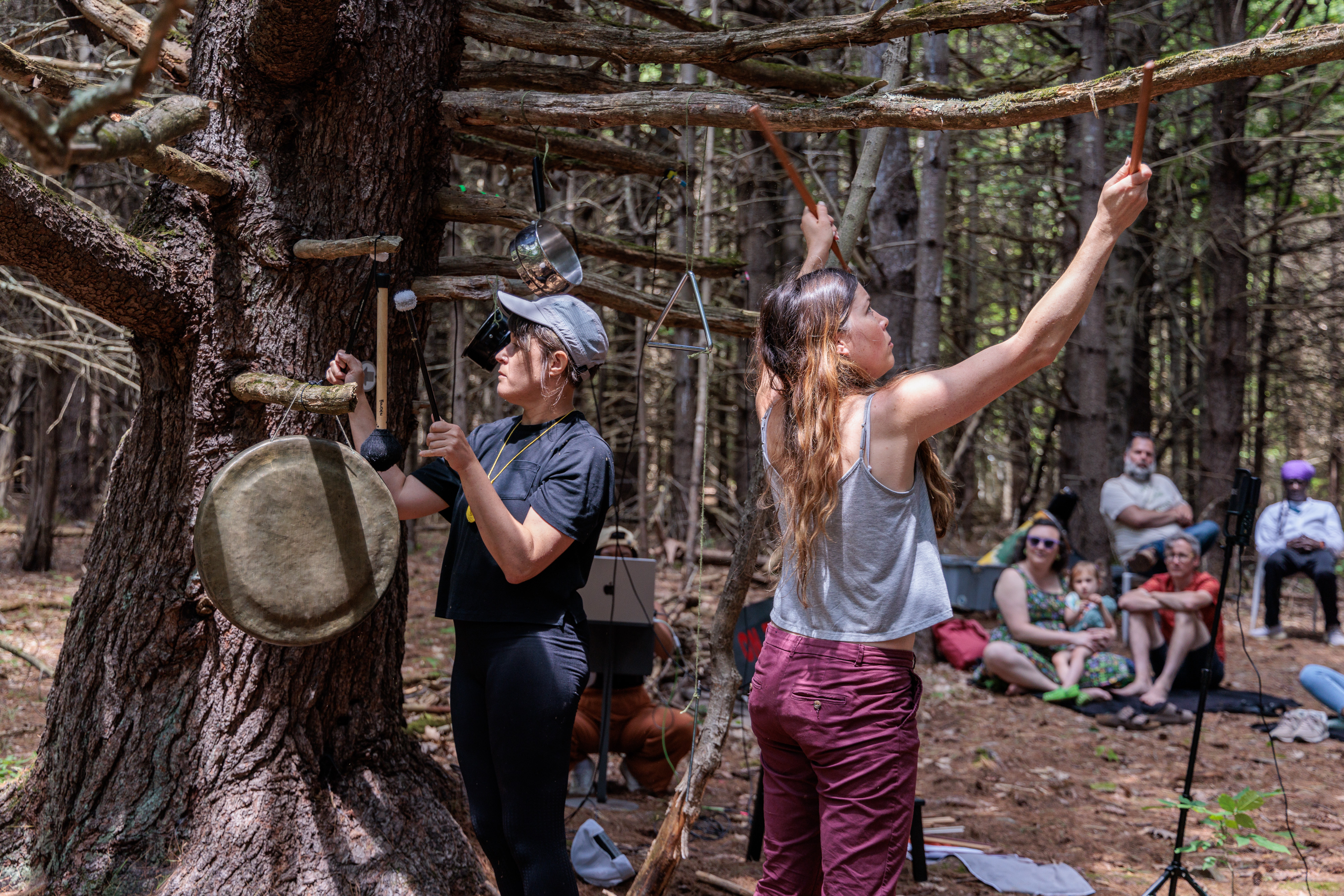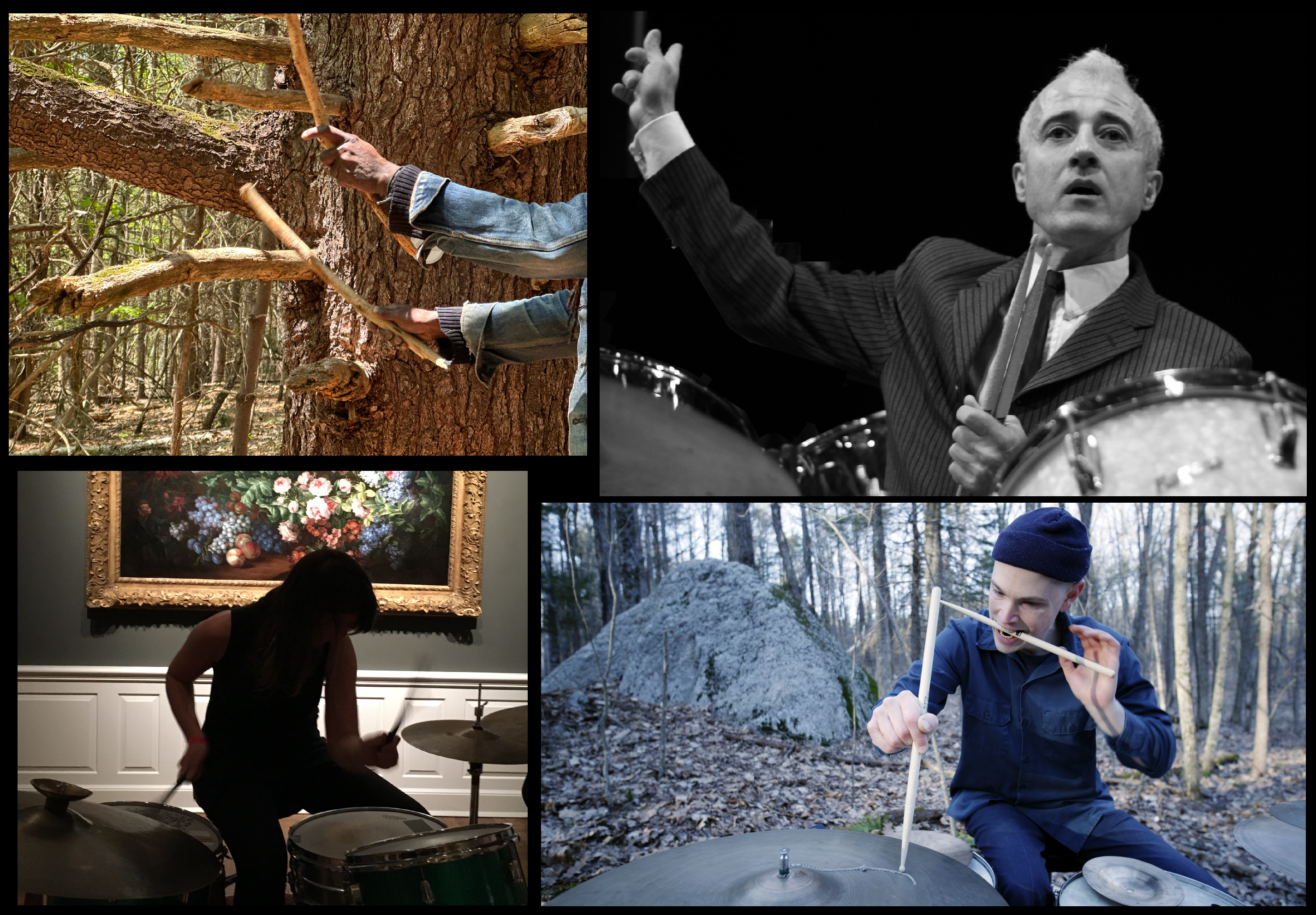 During the 2023 edition of Upstate Art Weekend On Saturday, July 22, join us from noon to 6 p.m. for a lively afternoon of performance by percussionists at the Wave Farm Marimba tree, along with self-guided tours of the Wave Farm Art Park Installations.
1 p.m. Lisa Schonberg with Leah Bowden and Melanie Medina, improvisation with percussion and electronics, with sounds of insects amplified through sculptures on site.
2 p.m. Azouke Legba with Gilad Melchior, Gamelan performance with water and marimba tree.
3 p.m. Chris Corsano, improvised solo performance for bark, branch, trunk, and suspended objects.
4 p.m. Bobby Previte
Lisa Schonberg (1977, Staten Island) is a percussionist, composer and ecological sound artist. She documents soundscapes, insects, and habitat through sound works, writing, and multimedia collaboration. Informed by her background in entomology, Schonberg is interested in revealing and challenging assumptions about insects and other overlooked and/or avoided nonhumans. Since 2017 she has been collaborating with Brazilian entomologists on ATTA (Amplifying the Tropical Ants), a project investigating bioacoustics of ants and other invertebrates in Amazônia. Other recent work includes investigations of old-growth forests in Oregon, endangered Hawaiian bees, fungi, and plastics. Schonberg's compositions are performed by percussion ensembles Secret Drum Band, Antenna and UAU, and solo. She is the author of Text Scores for Getting to Know the Invertebrates, The Hylaeus Project, and the The DIY Guide to Drums, and has performed or otherwise presented work at FILE Festival (BR), TBA Festival (PDX), Harvestworks, Z42 (Rio de Janeiro), the Pompidou, the Brooklyn Museum, Bosque da Ciencia (BR), the American Museum of Natural History, and Museo Reina Sofia (SP), and given workshops at Pioneerworks, the Fuller Initiative Land Lab (OR), and the Greenpoint Library (NYC). Her collaboration with Allie ES Wist on sensing fungi/fungal sensing, Sensory Kinship of the Third Kind, has been presented at Pioneerworks, NY Fungus Fest, and the Emerge Festival (AZ). Schonberg has toured the US and internationally in her bands Kickball, Explode into Colors and STLS, and has completed residencies with Labverde, the Banff Centre, Pioneerworks, HJ Andrews Experimental Station, and Signal Fire. Her work has been supported by the the Media Arts Assistance Fund (Wave Farm/NYSCA), the Association for the Study of Literature and Environment, the Oregon Arts Commission, the Oregon Community Foundation, Arc Teryx, the Regional Arts and Culture Commission (OR), & The Andy Warhol Foundation for the Visual Arts. She is currently completing her doctorate degree in Electronic Arts at Rensselaer Polytechnic Institute.
Dr. Leah Bowden is a percussionist and music scholar specializing in experimental music, world music, jazz and popular idioms. Her current projects include The Forest, a New York-based percussion quintet, and Baby Bushka, a theatrical eight-woman band that reimagines the music of Kate Bush. Her research focuses on Max Roach and M'Boom, and she is the archivist for M'Boom co-founder Warren Smith.
Melanie Medina is an LA-based multi-instrumentalist and songwriter. She received a Bachelors' in Jazz Guitar Studies, and played for various ensembles in San Diego before relocating to Los Angeles in 2022. She has played extensively in the orchestra pit as a theater musician, and performs in the San Diego-based Kate Bush tribute band Baby Bushka with Bowden.
Azouke Legba is songwriter, rhythm guitar player, drummer, and the cohost (together with Carline Murphy) of the weekly radio show on Wave Farm's WGXC 90.7-FM, Li Le, Li Tan, a Creole language radio program meaning "it's the time, it's the hour." The show's mission is to promote Haitian language, music, arts and culture; to raise awareness and to discuss Haiti's history and its relevance to today's world; and to share news on current events happening here in the counties and in Haiti. Legba is band member with Mother Fletcher, Samba Yo, Azaka, and appears on the Smithsonian Recordings of Rhythms of Rapture.
Chris Corsano (b. 1975, USA) is an upstate NY-based drummer who has been active at the intersections of collective improvisation, free jazz, avant-rock, and noise music since the late 1990's. He began a long-standing, high-energy musical partnership with saxophonist Paul Flaherty in 1998. Their style, which they occasionally refer to with (semi-)tongue-in-cheek humor as "The Hated Music", combines modern free-jazz's ecstatic collectivist spirit and the urgency and intensity of hardcore punk.
A move from western Massachusetts to the UK in 2005 led Corsano to develop his solo music--a dynamic, spontaneously-composed amalgam of extended techniques for drum set and non-percussive instruments of his own making: e.g. bowed violin strings stretched across drum heads, modified reed instruments, and stockpiles of resonant metal. In February 2006, Corsano released his first solo recording, The Young Cricketer, and toured extensively throughout Europe, USA, Australia, and Japan. He spent 2007 and '08 as the drummer on Björk's Volta world tour, all the while weaving in shows and recordings on his days off with the likes of Evan Parker, Virginia Genta, C. Spencer Yeh, and Jandek.
Moving back to the U.S. in 2009, Corsano returned focus to his own projects, including a duo with Michael Flower, Vampire Belt (with Bill Nace), Rangda (with Richard Bishop and Ben Chasny) and his solo work, further expanded in its use of contact microphones and synthesizers. In 2017, he received the Foundation for Contemporary Arts Grants to Artist Award.
Corsano's dedication to collective improvisation has led to collaborations with many kindred spirits and his appearance on over 150 records and 1000 live performances. He's worked with, among others: Paul Dunmall (released by the label: ESP-Disk), Joe McPhee (Roaratorio), Okkyung Lee (Open Mouth), Mette Rasmussen (Hot Cars Warp Records & Clean Feed), John Edwards (OTOroku & Dancing Wayang), Sylvie Courvoisier (Relative Pitch), Nate Wooley (No Business & Astral Spirits), Jim O'Rourke & Akira Sakata (Drag City & Polystar), Merzbow (Family Vineyard), Jessica Rylan (Load Records), Nels Cline (Strange Attractors), Heather Leigh (Volcanic Tongue), Ghédalia Tazartès (Ultra Eczema), Ken Vandermark (Audiographic), and Sunburned Hand Of Man (Manhand).
Bobby Previte is a composer and performer whose work explores the nexus between notated and improvised music. One of the seminal figures of the 1980s New York 'Downtown' scene, Previte is the recipient of the 2015 Greenfield Prize for music and was a Guggenheim Foundation Fellow in 2012. He has received multiple awards for composition from the NEA, NYFA, NYSCA, New Music USA, The Jerome Foundation, The New York State Music Fund, Lower Manhattan Cultural Council, and the American Music Center. Mr. Previte has been an artist-in-residence at the Rockefeller Foundation in Bellagio, Italy, Civitella Ranieri, The Montalvo Arts Center, The Hermitage Artist Retreat, and nine times at the MacDowell Colony.
His original compositions have been recorded and released on Sony, Elektra, Rykodisc, Palmetto, New World, Ropeadope, Tzadik, Thirsty Ear, Cantaloupe and Rarenoise. Leading a plethora of diverse ensembles from his instrument, the drums, he has collaborated with many of the leading lights in and beyond the world of music, including master composer John Adams, iconic singer Tom Waits, pantheon filmmaker Robert Altman, and most recently, rock legend Iggy Pop. His music has been labeled as 'utterly original,' by the New York Times, while The New Yorker has said his ensembles 'speak in visionary tongues.' Mr. Previte has given master classes at schools and universities around the world including The Eastman School of Music, The New School, Bard College, and Princeton University. His recent work includes: TERMINALS, Five Concertos for Percussion Ensemble and Soloist, with SO Percussion, released October 28th, 2014 by Cantaloupe Music, GONE, with Bobby Previte & the Visitors, released summer 2016 on the forTune label, TERMINALS QUARTETS, the percussion only version of Terminals, summer 2016, by Cantaloupe Music, and MASS, a music in nine parts for choir, pipe organ, and metal trio, released April 2017 by Rarenoise Records. His newest work, RHAPSODY, a song cycle on the subject of migration, was commissioned by the Greenfield Prize at the Hermitage Artist Retreat, and premiered April 21, 2017 at New College in Sarasota, Florida. Scored for acoustic guitar, harp, piano, voice, drums and saxophone, and featuring a powerhouse band of Zeena Parkins, John Medeski, Nels Cline, Fabian Rucker, and Jen Shyu, RHAPSODY was released in January, 2018 by Rarenoise.