WGXC-90.7 FM
Dec 31, 2016: 2pm - 3pm
WGXC 90.7-FM: Radio for Open Ears
90.7-FM in NY's Upper Hudson Valley and wgxc.org/listen everywhere
http://www.wgxc.org/
Wave Farm Radio
wavefarm.org 1620-AM | Simulcast mid-6 a.m. and Saturdays on WGXC 90.7-FM.
https://wavefarm.org/listen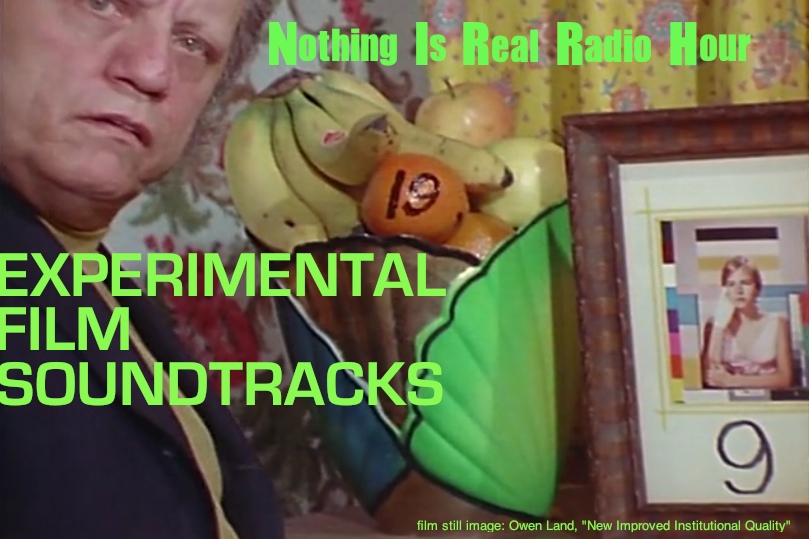 For this edition of NIRRH, host Sam Sebren presents a selection of soundtracks from experimental films made since the sixties. Included are works by early pioneers like structuralist Owen Land (George Landow), underground icons Jack Smith and Tony Conrad, the folklore and musique concrete of Henry Jacobs, electronics for commercials and stage by Daphne Oram, plus more recent electronic work from artist Ryan Trecartin, Sebren's own soundtracks, and more. While imagining the visual possibilities to accompany these sounds, listeners will experience the audio in a new context.
The Nothing Is Real Radio Hour, created by Sam Sebren broadcasts on WGXC 90.7-FM from 2:00 p.m. to 3:00 p.m. on the fifth Saturday (of months with 5 Saturdays) as part of Wave Farm's Transmission Arts and Experimental Sound programming. The Nothing Is Real Radio Hourincludes sound and transmission arts works by Sebren, and occasionally works by other artists, both pre-recorded and performed live in the studio.
In a multidisciplinary practice, much of Sebren's recent work has challenged notions of accepted reality in art, advertising, and public spaces. In mediums including sound, Sebren's work blurs actual, imagined, and technological realities as he critiques socio-political rules & regulations in our consumer "culture" and urges his audience to smile and re-think our priorities.