WGXC-90.7 FM
Nov 23, 2020: 3pm - 4pm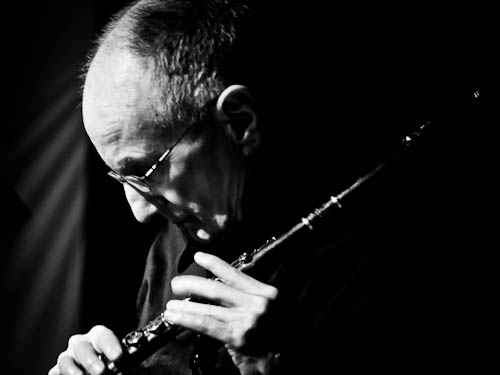 Produced by Roulette Intermedium.
Solo works by the saxophone, flute, and wind instrument master, composer, and visual artist (1940-2020), recorded at Roulette on October 13, 1994. A founding member of the Philip Glass Ensemble and a key player on seminal minimalist compositions including pieces by Steve Reich and Terry Riley, his collaborators include La Monte Young, Christian Wolff, David Behrman, Harold Budd, Alvin Curran, Arthur Russell, Annea Lockwood, Frederic Rzewski, and more. Gibson was a technical innovator (circular breathing, for one), an adventurous champion of esoteric instruments, and a uniquely curious and generous creative soul. Photo: Peter Gannushkin.
Tracking The Odds: The Roulette Concert Archive is a monthly hour-long radio special produced by Roulette Intermedium (roulette.org) and broadcast in partnership with Wave Farm's WGXC 90.7-FM and Standing Wave Radio. The broadcasts feature selected highlights from Roulette's New York experimental music space dating from the early 1980s to the present. Thousands of rare, formative, and often unheard recordings by innovators and adventurous musicians populate the archive. Tracking The Odds airs the fourth Monday of the month from 3 p.m. to 4 p.m. and is archived at wavefarm.org.
Founded in 1978, Roulette operates a 400-seat concert hall on Atlantic Avenue in Brooklyn with a focus on experimental and unorthodox music and performance across all genres and media. It's archive of thousands of audio and video recordings is currently being restored.