WGXC-90.7 FM
Sep 27, 2023: 10am - 11am
WGXC 90.7-FM: Radio for Open Ears
90.7-FM in NY's Upper Hudson Valley and wgxc.org/listen everywhere
http://www.wgxc.org/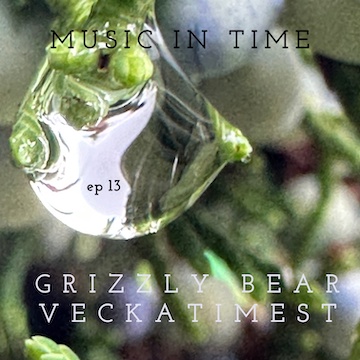 Hosted by Evan McCormick.
In this broadcast, listeners travel back to 2009, and the rainiest summer in the Hudson River Valley since the 1800s. That May, Grizzly Bear released their acclaimed album Veckatimest, recorded at Allaire studios in Ulster County, which became something of a soundtrack to that waterlogged summer. Host Evan McCormick uses the album to ask how the weather -- and rain in particular -- can frame the way listeners hear and remember certain music. Highlighting songs from other moments in time marked by record rainfall in the Hudson Valley, including the summer of 1975, September 1999, and August 2011. The broadcast also features an interview with Joe DeManso, host of WGXC's "Better Weather," who gives us a recap of summer 2023's weather weirdness. Tune in and stay dry!
Music does not just exist. It exists in specific times and places, and in the sonic world of each individual listener who engages with it. That's the basic idea behind "Music in Time," which explores the social and political context in which songs and albums emerge, are listened to, and reflected on over the years. Each broadcast will focus on a single album, detailing the social and political circumstances surrounding its release and moments in time that made certain music resonate anew. How is music shaped by these historical moments, and, in turn, how does it shape the histories that we remember?
By day, Evan McCormick is a historian at Columbia University, where he is part of the Obama Presidency Oral History project, interviewing a range of people — from cabinet members to ordinary folks — about their memories of the Obama years. By night McCormick is a music lover and singer-songwriter, recording under the stage name Egan Caufield. For most of his life these two worlds remained separate, but after relocating to Catskill, in 2020, he chose to bring history and music together over the airwaves, and Music in Time was born.
Playlist:
Really Don't Care / Demi Lovato
Stereo Electronic Music No. 2 / Bülent Arel
Two Weeks / Grizzly Bear
I Live With You / Grizzly Bear
Ready, Able / Grizzly Bear
Crash on the Levee / Bob Dylan & The Band
Landslide / Fleetwood Mac
Gimme Shelter / The Rolling Stones
I Don't Believe in the Sun / The Magnetic Fields
Goshen / Beirut
A Child's Question, July / PJ Harvey
The Rains Came / SIR DOUGLAS QUINTET
Afrique Victime / Mdou Moctar