WGXC-90.7 FM
Feb 06, 2021: 7pm - 8pm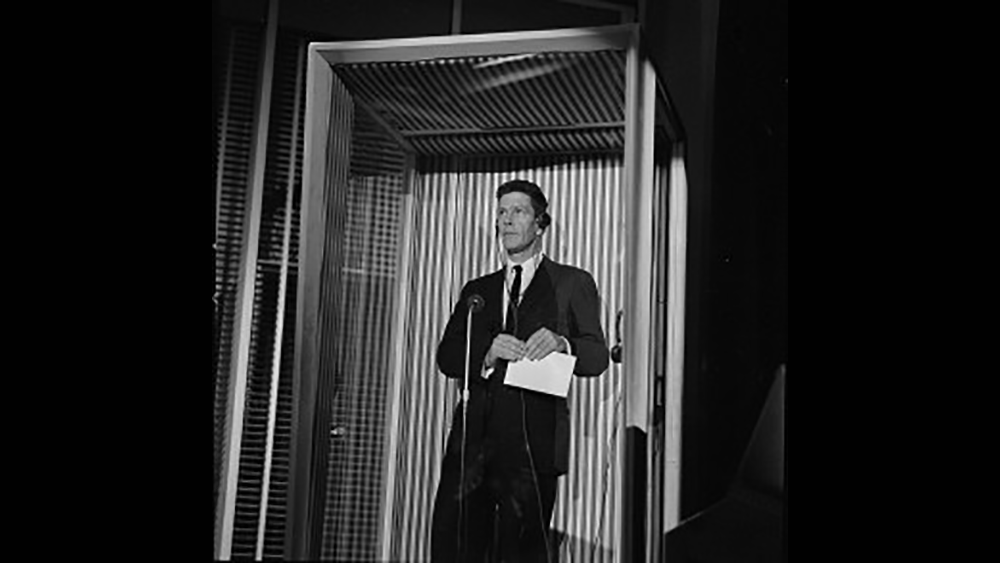 Hosted by Laura Kuhn, Executive Director of the John Cage Trust.
Stefano Pocci is fondly known at the John Cage Trust as our "Italian Correspondent" for his tireless sleuthing into all things having to do with John Cage in Italy. He originally set out to locate the missing footage of Cage's 1959 appearances on Lascia o Raddoppia? (loosely translated as "Double or Nothing?"), a popular Italian quiz show that aired over Radiotelevisione italiana (RAI) on which Cage made five weekly appearances as a contestant, answering a string of increasingly difficult questions on the subject of mushrooms posed by the show's host, Mike Bongiorno. Cage was triumphant, winning the grand prize of 5 million Lire (roughly $8,000), which went toward the purchase of a grand piano for his Stony Point home and a Volkswagen bus for the fledgling Merce Cunningham Dance Company.
The same can't be said for Stefano in terms of finding the missing footage, but his nearly two decades of work has not been in vain. He's unearthed a wealth of documentary materials, much of which can be found on his amazing website, johncage.it. These relate not only to Cage's RAI appearances, but his 1959 composition for moving train, Alla Ricerca del Silenzio Perduto (familiarly known as "Il Treno"), and Cage's work in general at the Studio di Fonologia, where Cage was in residence at the invitation of the composer Luciano Berio (whose wife at the time was American-born Cathy Berberian, a singer who became well known for her performances of Cage's Aria). For a summary of Stefano's earliest endeavors, see Kuhn's Blog at johncage.org, to which he was an invited contributor.
All Things Cage is a weekly program featuring conversations between Laura Kuhn, Director of the John Cage Trust, and Cage experts and enthusiasts from around the world. If you'd like to propose a guest or a topic for a future program, write directly to Laura at lkuhn@johncage.org. She'd love to hear from you.
The late Pulitzer Prize-winning biographer Kenneth Silverman once described his Begin Again: A Biography of John Cage (Knopf, 2012) as the hardest book he'd ever written. This was because, as he put it, pick up any rock and there's John Cage! Indeed, Cage was not only a world-renowned composer, numbering among his compositions the still notoriously tacet 4'33", but a ground-breaking poet, a philosopher, a chess master who studied with Marcel Duchamp, a macrobiotic chef, a devotee of Zen Buddhism, a prolific visual artist, and an avid and pioneering mycologist. He was also life partner to the celebrated American choreographer, Merce Cunningham, for nearly half a century, and thus well known in the world of modern dance.
No wonder, then, that nearly everyone who encounters the man or his life's work has something interesting to say about John Cage!