WGXC-90.7 FM
State's first passive house nears completion
Jan 23, 2011 4:23 pm
[caption id="" align="alignright" width="200" caption="This Passive House, in Claverack, was designed by Dennis Edlick Architect and will not only be the first such home in New York State when completed in the coming weeks, but one of only 11 in the nation. Click on photo for more information."]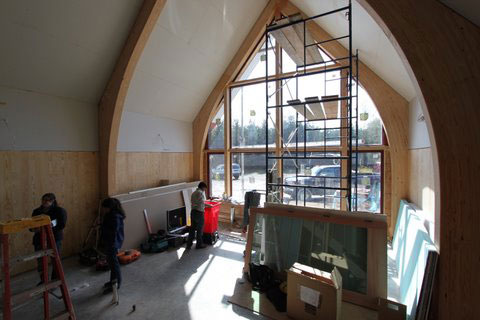 [/caption]The state's first certified passive house, in rural Claverack, gets a nod in the January 23
Register-Star
, which reports on the final days being spent completing the 1,650 square-foot, three bedroom home being built by Chatham-based Bill Stratton Building Company, designed by architect Dennis Wedlick, after seven months construction. A "showroom for brand new, green products from companies like General Electric, Philips and Mitsubishi," the Claverack home is the 11th certified passive house in the United States and has been featured, to date, in a number of eco-home building publications, as well as on the Sundance Channel.
Passive house does not mean passive solar, Wedlick explained. While passive solar "puts more focus on the sun," passive "puts more focus on the entire envelope to reduce the amount of energy you need to heat and cool." About 90 percent less energy, in fact. Similarly sized homes cost around $3,000 a year in energy costs, said Wedlick. This one will probably cost $450 in energy costs per year. That includes heat and electric.



For more information e-mail hudsonpassiveproject@denniswedlick.com, or visit www.thegoodhome.com.