WGXC-90.7 FM
Radio Roundup
Aug 16, 2014 12:02 am
Parry Teasdale in The Columbia Paper writes
an editorial about the weekly's coming website updates. "The idea is to expand online before Google, Facebook and Amazon merge into a single company that feeds us, walks our virtual dogs and fills out our election ballots," Teasdale writes, without any details of what those changes may entail. Currently, "over the last 30 days Google tells us that our website had 6,466 'unique visitors' and 25,367 pageviews, not including our Facebook traffic," he writes, noting that may be a quarter of Columbia County households.
Read the full story in The Columbia Paper.
[caption width="640" align="alignleft"]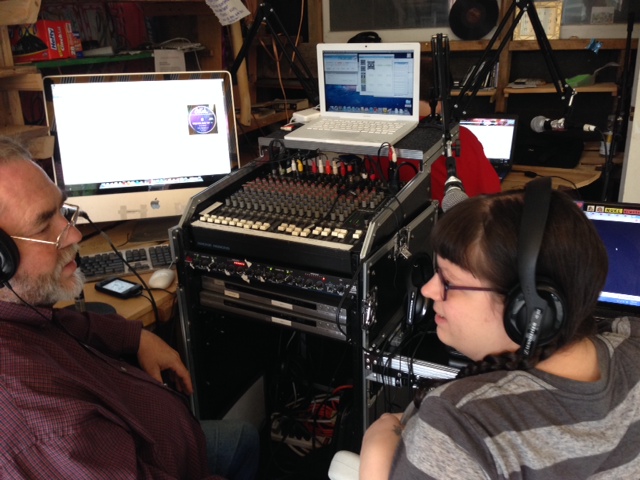 Peter Krug and Jill Sutton hosting the "WGXC Afternoon Show" through the new WGXC Satellite Studio.[/caption]After WGXC's Satellite Mini-Pledge Drive two weeks ago raised almost $1000, WGXC acquired a new rack-mount remote unit, with a small table attached, which will allow for remote broadcasts throughout the Hudson Valley. The unit was hooked up at the Catskill Community Center this week, where Peter Krug and Jill Sutton hosted the "WGXC Afternoon Show" Aug. 12. On Sept. 1, the station will wheel it over to its new home at the Catskill Library. There, it will host several shows on the community radio station, but also, sometimes, it will be wheeled away for remote broadcasts.
The Daily Freeman reports
that WMHT-TV will air the broadcast premiere of the independent film, "To Be Forever Wild," made in the Hudson Valley, at 7:30 p.m. on August 20. The film chronicles people the filmmakers met, the places they visited and the history discovered in the Catskill Mountains, with filmmakers staying in a small red cabin once used by Jack London and now loaned to artists by the Catskill Center.
See the full story in The Daily Freeman.