WGXC-90.7 FM
Radio Roundup
Sep 06, 2014 12:02 am
WGXC's new satellite studio rolled into the Catskill Library's Carnegie Room, this week, broadcasting the "WGXC Afternoon Show" Sept. 2 with hosts Jill Sutton and Peter Krug. The satellite studio will allow both continuing live shows on WGXC originating from Catskill -- a studio had previously been in the Catskill Community Center -- as well as transmissions from festivals, performances, and other events around the WGXC listening area. This Sunday, Sept. 7 at 10 p.m., tune in "Rock 'n' Roll Martian" from the Library, the show formerly known as "Sunday Night Mixtape" with Sutton hosting.
Jamie Larson on the Rural Intelligence website
previewed "
Groundswell
," WGXC's exhibition Sept. 13 at the Olana State Historic Site. The Olana Partnership and Wave Farm's WGXC 90.7-FM present "Groundswell" at Olana State Historic Site for site-specific performance and works in sound, installation, broadcast, and movement. Over a dozen artists will reflect on and react to Olana and its integral viewshed as an ambitious and early environmental work. Groundswell will feature installations and performances from: Kenseth Armstead, William Basinski, Steve Bull, Jane Carver, Ellen Driscoll with Daniela Gomez, Michael Garofalo, Mckendree Key, Hélène Lesterlin, Jack Magai, Man Forever, Laura Ortman, Mau Schoettle, and Bryan Zimmerman. There are three sound art events this weekend in the area Sept. 12-14, 2014: Basilica Soundscape (Fri.+Sat. nights); Groundswell (Sat. afternoon); 440hz at Second Ward Foundation (Sun. evening.)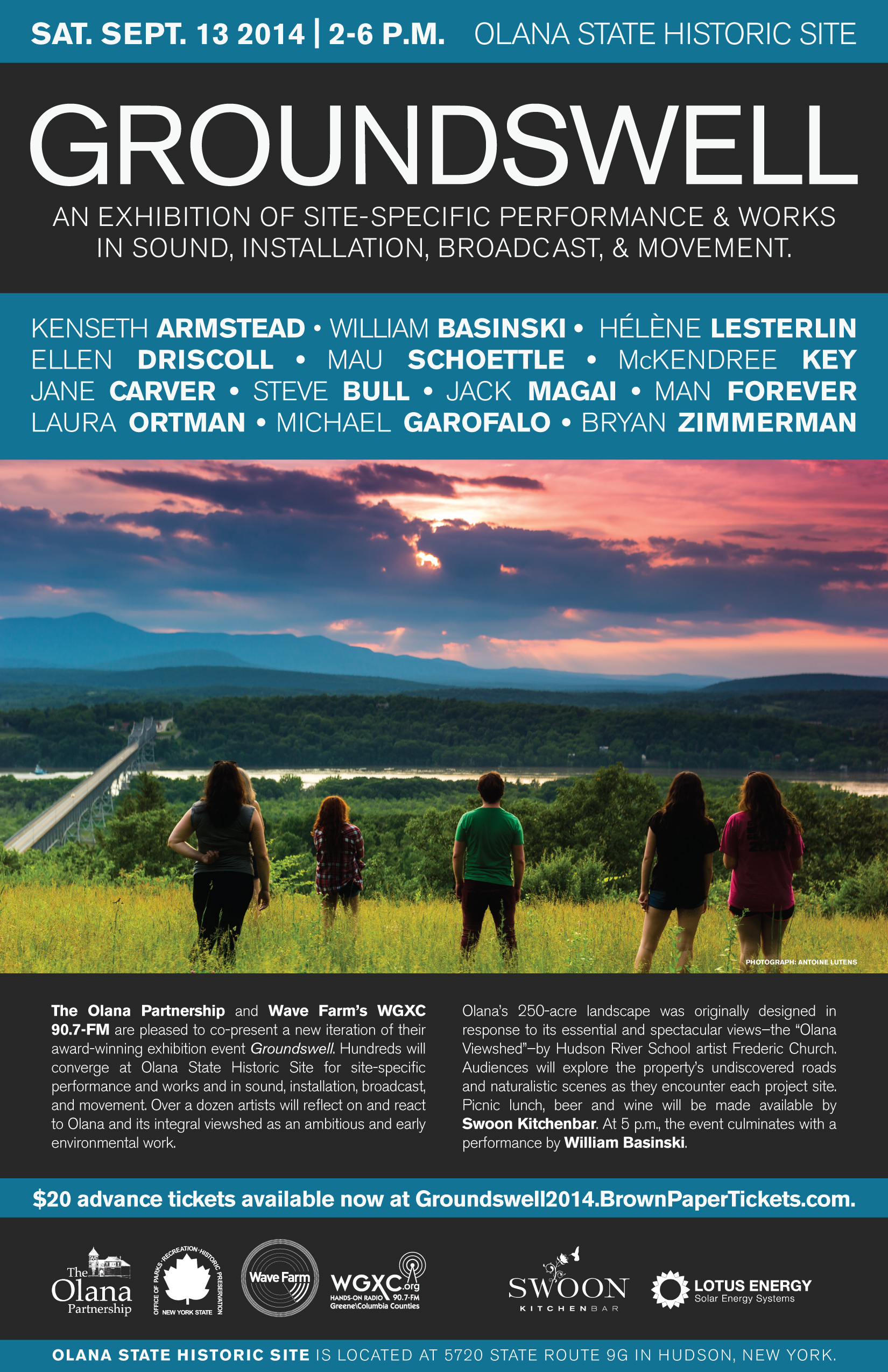 Finally, the WGXC Fundraising Advisory Committee meets at 6 p.m. Sept. 9, at the WGXC Hudson studio, 704 Columbia St., floor 2. The public is welcome to attend, and volunteer with the community radio station.