WGXC-90.7 FM
Sound Art Revisited by Alan Licht, with Annea Lockwood, Zach Poff, and Grant Smith
Oct 11, 2019: 7pm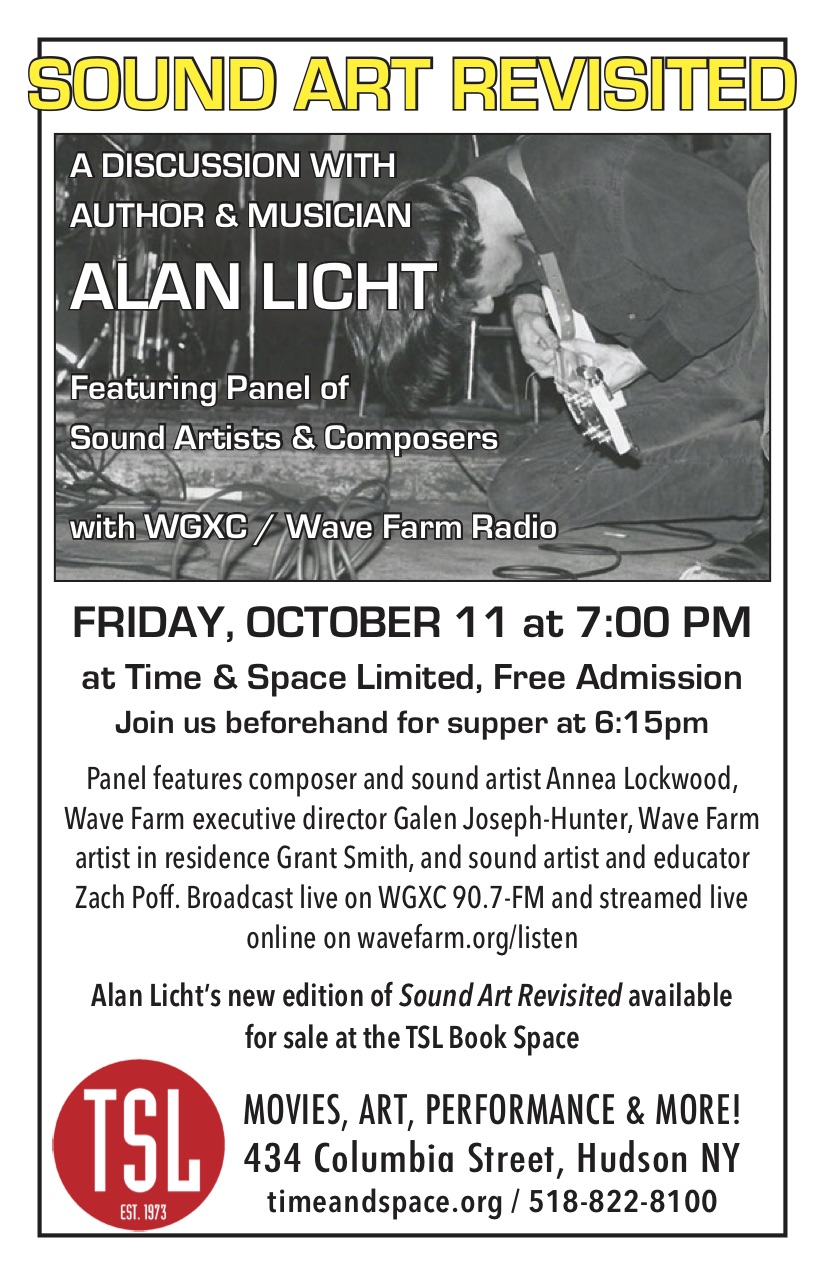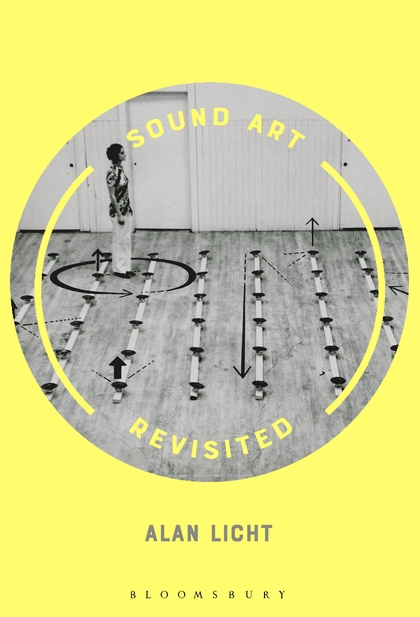 A TSL Book Space event, musician and artist Alan Licht visits TSL to discuss the new edition of his work Sound Art Revisited (Bloomsbury Publishing, 2019). Licht will be joined in conversation by composer and sound artist Annea Lockwood, Wave Farm artist in residence Grant Smith, sound artist and educator Zach Poff, and Wave Farm executive director Galen Joseph-Hunter.
This event is being broadcast live on WGXC 90.7-FM in New York's Upper Hudson Valley, and streamed live online on Wave Farm Radio. Panel and broadcast at 7 p.m. (PLEASE NOTE: Dinner preceding the panel has been cancelled.)
From Bloomsbury:
The first edition of Sound Art Revisited (published in 2007 as Sound Art: Beyond Music, Between Categories) served as a groundbreaking work toward defining this emerging field, and this fully updated volume significantly expands the story to include current research since the book's initial release. Viewed through a lens of music and art histories rather than philosophical theory, it covers dozens of artists and works not found in any other book on the subject.
Locating sound art's roots across the centuries from spatialized church music to the technological developments of radio, sound recording, and the telephone, the book traces the evolution of sound installations and sound sculpture, the rise of sound art exhibitions and galleries, and finally looks at the critical cross-pollination that marks some of the most important and challenging art with and about sound being produced today.
ALAN LICHT is a musician and author based in New York. He has lectured widely on sound art, curated several sound art exhibitions, and served on faculty in the Music/Sound department at the Bard College Milton Avery Graduate School of the Arts. Licht has appeared on over 100 recordings that range from indie rock to minimalist composition to free improvisation. As a solo artist, he has released eight albums of experimental guitar including Sink the Aging Process, A New York Minute, and Four Years Older. He is the editor of Will Oldham on Bonnie Prince Billy (2012), a contributing music editor at BOMB magazine, and writes frequently for Artforum and WIRE. More on Licht at alanlicht.com
ANNEA LOCKWOOD's compositions range from sound art and environmental installations to concert music. Recent works include Water and Memory, for the Holon Scratch Orchestra, Tel Aviv; In Our Name, for baritone Thomas Buckner, cello and sound files, based on poems by prisoners in Guantánamo; Becoming Air, a collaboration with Nate Wooley, for solo trumpet; and Wild Energy, a collaboration with Bob Bielecki – a multi-channel. site-specific installation focused on geophysical, atmospheric, and mammalian infra and ultra sound sources, commissioned by the Caramoor Festival of the Arts. Her music has been presented in many venues and festivals, most recently MASS MoCA, Café Oto (London), and the Big Ears Festival. It has been issued on CD and online on the Gruenrekorder, Black Truffle, Lovely Music, New World, 3Leaves, XI, EM and other labels. annealockwood.com
GRANT SMITH is an artist and writer working on sound, transmission, text, domestic and social projects in Loughborough Junction, South London. Smith co-founded the Soundcamp cooperative with Kirsty Collander-Brown and Maria Papadomanolaki in December 2013 soundtent.org. Soundcamp's Reveil (2014-2019), a 24 hour broadcast of the sounds of daybreak on International Dawn Chorus Day each year presented in partnership with Wave Farm and broadcast on WGXC 90.7-FM. During a residency in October 2019, Grant will collaborate with Sam Baraitser Smith to set up and sign-post a long term listening point at the Wave Farm property in Acra, Greene County, as the first Experimental Site of Acoustic Commons. soundtent.org
ZACH POFF is a New York area media artist, educator, and maker-of-things. He employs unique sound techniques to explore the web of social and ecological relationships that challenge and sustain us. In 2015 he received a commission from Wave Farm to create Pond Station, a long-term acoustic ecology project that live-streams the underwater sounds of a pond. Poff's algorithmic remixes of popular media uncover hidden subtexts lurking inside familiar forms (Radio Silence, Video Silence). He currently teaches Sound Art at Cooper Union School of Art in NYC and leads workshops on "expanded" sound recording at UnionDocs, colleges, and arts organizations. zachpoff.com
WAVE FARM is a non-profit arts organization driven by experimentation with broadcast media and the airwaves. A pioneer of the Transmission Arts genre, Wave Farm programs provide access to transmission technologies and support artists and organizations that engage with media as an art form. Major activities include the Wave Farm Artist Residency Program, Transmission Art Archive, WGXC 90.7-FM, and the Media Arts Assistance Fund in partnership with NYSCA EMF. wavefarm.org