All Things Cage:
Laura Kuhn, John King, and Adam Tendler
Nov 26, 2022: 7pm - 8pm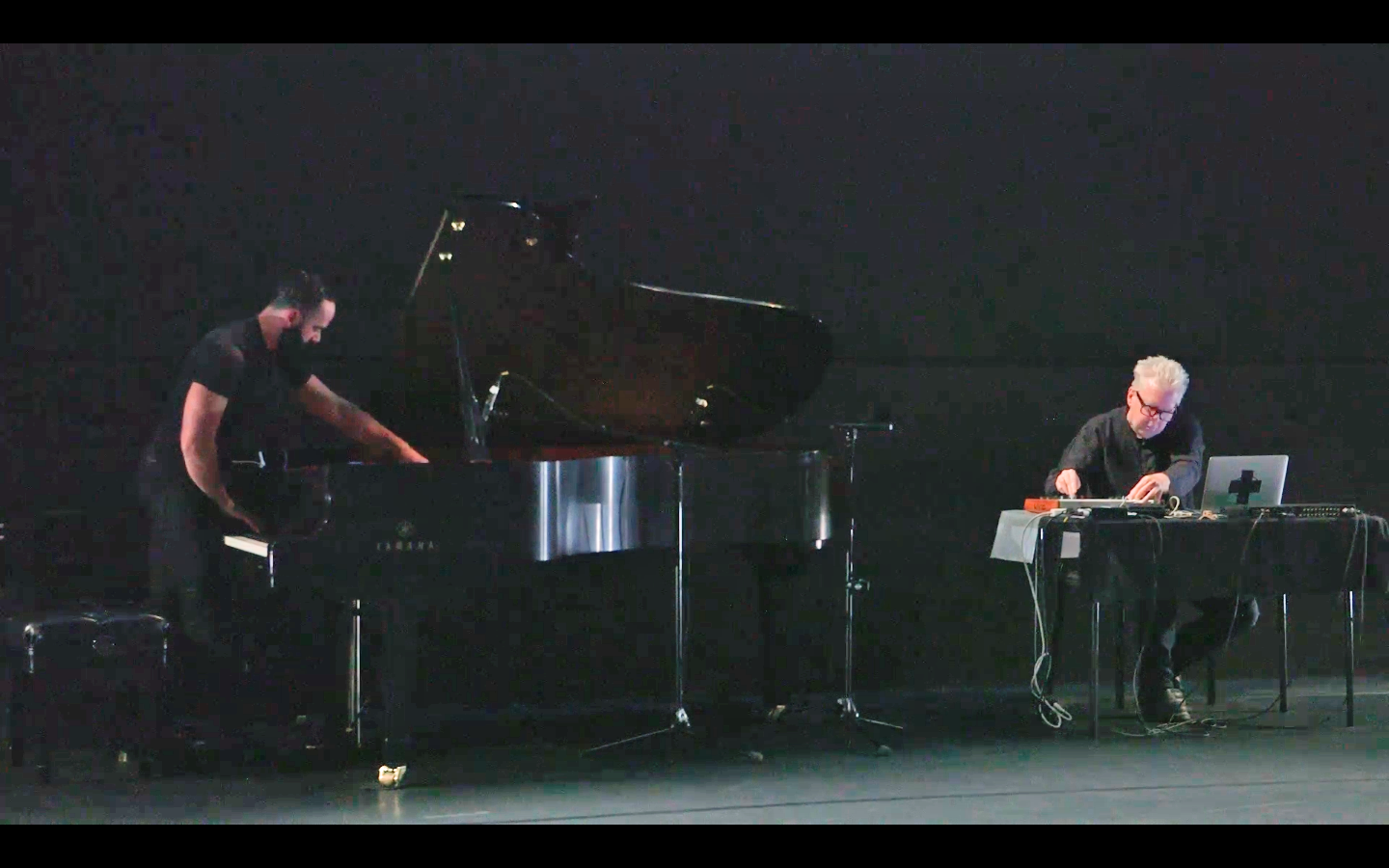 Hosted by Laura Kuhn, Executive Director of the John Cage Trust.
Laura Kuhn talks with John King and Adam Tendler, two musicians long associated with the work of both Merce Cunningham and John Cage, about their recent collaboration on "Unavailable Memory: In Conversation with Cunningham & Cage," a marvelous program conceived and curated by Patricia Lent and Tendler for the Baryshnikov Arts Center, Oct. 27-29, 2022. The following notes were provided by Lent, the short version of what turned out to be a complex and extremely interesting program:
Unavailable Memory: In Conversation with Cunningham & Cage is an evening of dance and music presenting two works by Merce Cunningham and six piano compositions by John Cage. Alongside and interwoven with these historic works will be new choreography by four seniors from The Juilliard School, a new trio by Bebe Miller, and new music by John King.

Totem Ancestor (1942), performed by Mac Twining and pianist Adam Tendler, open the program, followed by Loops for Three, a new arrangement of Cunningham's Loops (1971) for Molissa Fenley, Justin Lynch, and Chaery Moon. Loops for Three will be performed with telemetries³, a new composition by John King. Juilliard's Matt Johnson, Griffin Massey and Lindsay Phillips will present new solos developed with mentorship by Jean Freebury and Melissa Toogood, and danced to four Cage prepared piano works played by Tendler. These Cage compositions, all dating from the 1940s, were the music for four early Cunningham dances. Little is now known about that early choreography aside from anecdotal accounts and a few images. The evening will close with a new trio for Bebe Miller, Angie Hauser, and Darrell Jones danced to Cage's Dream.

Unavailable Memory is designed to engage the participants and audience in a multi-faceted conversation between music and dance, youth and maturity, reconstruction and invention.
Click here for the complete program, which provides a complete list of works performed. At the end of tonight's "All Things Cage" we'll listen to John Cage's Dream, the last work heard on the BAC program.
"All Things Cage" is a weekly program featuring conversations between Laura Kuhn, Director of the John Cage Trust, and Cage experts and enthusiasts from around the world. If you'd like to propose a guest or a topic for a future program, write directly to Laura at lkuhn@johncage.org. She'd love to hear from you.
The late Pulitzer Prize-winning biographer Kenneth Silverman once described his Begin Again: A Biography of John Cage (Knopf, 2012) as the hardest book he'd ever written. This was because, as he put it, pick up any rock and there's John Cage! Indeed, Cage was not only a world-renowned composer, numbering among his compositions the still notoriously tacet 4'33", but a ground-breaking poet, a philosopher, a chess master who studied with Marcel Duchamp, a macrobiotic chef, a devotee of Zen Buddhism, a prolific visual artist, and an avid and pioneering mycologist. He was also life partner to the celebrated American choreographer, Merce Cunningham, for nearly half a century, and thus well known in the world of modern dance.
No wonder, then, that nearly everyone who encounters the man or his life's work has something interesting to say about John Cage!