Radio Hopes and Dreams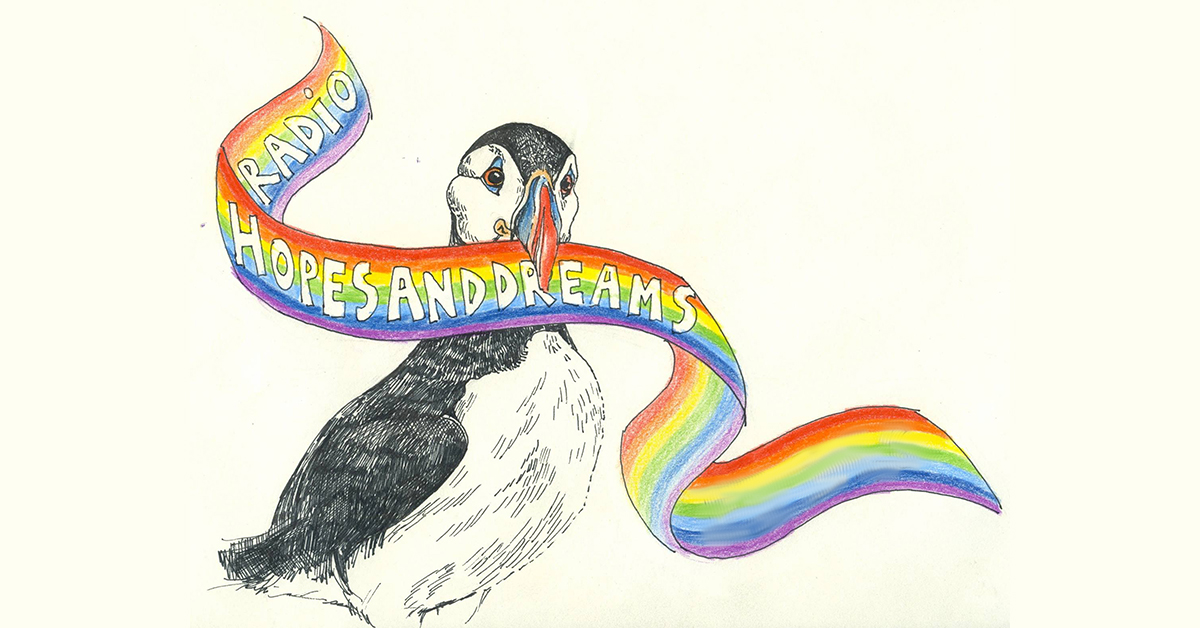 Use the player above to listen when there is live content streaming.
Radio Hopes and Dreams – Laboratory for a social just ecological transition, is a mobile, artist-run radio station founded by artists Elin Már Øyen Vister (NO) and Margrethe Kolstad Brekke (NO) in 2016. RHAD is an artistic radio concept mixing DIY radio journalism with artistic forms of radio production, broadcasting and solidarity work. Radio Hopes and Dreams' Sonic waves for a social just ecological transition is presented in collaboration with Lydgalleriet and Bergen Kunsthall "The Ocean."

August 30 - October 31: Online Stream, in partnership with Wave Farm Radio.
September 9 - October 30: Live broadcast on local Bergen FM radio
September 11, 12, 13, 15: Live broadcast in public space. with artists Amber Ablett and Vikram Kolmannskog, Elin Már Oyen Vister, Hanan Benammar, Magdaleéna Manderlová, Margrethe Kolstad Brekke, Karen Werner/Sabine Pop and more tbc.
Radio Hopes and Dreams (RHAD) - Soundscape Røst edition is contextualizing the global/local issues of the rapid changes in the planets sonic environments as a result of the ongoing loss of global biodiversity caused by the seemingly never-ending greed of industrialization and neo liberal capitalist extractionism. Climate change and loss of biodiversity as well as human pressure on habitats, 150 years of industrial fishing and pollution are all factors affecting the global seabird populations and the planets complex marine ecologies. RHAD will makes in-depth investigation into themes revolving around climate change, climate crisis, ecological grief, biodiversity and social and environmental justice. RHAD will present artistic and interdisciplinary material from a wide range of local and international contributors and guests. Sonic art, literature, poetry, music, DJ sets and live music, people knowledge, scientific and artistic research, and conversations, as well as features and dialogues with the people of Bergen. The content will consist of sonic material suitable for people of all ages, with one of the days dedicated to children and youth.
The broadcast will begin streaming a stereo mix of Elin Már´s work "Røster III, which is part of the group exhibition "The Ocean" opening the 28th of August at Bergen Kunsthall and then continue through the opening of the "Soundscape Røst2010-2020" exhibition in Lydgalleriet opening on the. 4th of September. The exhibition will create a starting point for the stream and FM broadcast taking place in Bergen's public space 10-13.09.2021. RHAD is produced and curated by Elin Már Øyen Vister and Magdaléna Manderlová (CZ) but could not be done without our collaborators such as Julie Lillelien Porter and Lydgalleriet.
Radio Hopes and Dreams celebrates the hope that lies in grassroot movements across the world, often led by decolonial POC, and indigenous movements on the frontlines. We are inspired by indigenous decolonial and eco -feminist and queer efforts and a social just ecological transition. Our aim is to listen to -and give space to a diversity of voices.
Radio Hopes and Dreams voices wish to expose double standards of the wealthy nation state of Norway, still colonizing Sápmi with greenwashing extractive industries, as well as giving away common land of the people to a myriad of extractive industries. We keep in mind to always question and challenge white patriarchal privilege. We are earth and water protectors stand in solidarity with land, people and beings on the global frontlines. Radio Hopes and Dreams wish to acknowledge Norway as a nation state of 2 peoples (Norwegian and Sámi) and many minorities encompassing a map of many thousands of years of migration of humans to-and from the lands of Fennoscandinavia.
RHAD is supported by KORO, Norsk Kulturråd, Lydgalleriet and Bergen Kunsthall and the rather underpaid labor of many artist colleagues. Thank you!
Links: instagram.com/radiohopesanddream/
facebook.com/Hopesanddreamsradio
radiohopesanddreams.wordpress.com/program/