WGXC-90.7 FM
May 23, 2022: 3pm - 4pm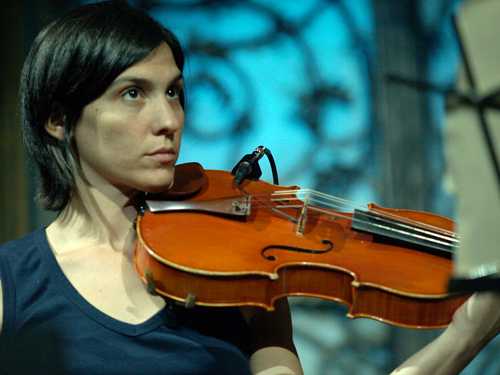 Produced by Roulette Intermedium.
This edition of Tracking The Odds features composer and violist Jessica Pavone in excerpts from four projects recorded at Roulette between 2008 and 2021. Pavone's work for traditional and hybrid string quartet reflects a personal exploration of long tones and sympathetic vibration, influences from Beethoven to Leonard Cohen, and the integration of improvisation that amplifies the unique voices of the players. This program includes excerpts from Songs of Synastry and Solitude for quartet, Brick and Mortar for string ensemble, Lull for octet plus percussionist Brian Chase, and a piece with her band, The Pavones. Other projects include The J. Pavone String Ensemble and a duo with guitarist Mary Halvorson as well as participating in ensembles led by Anthony Braxton, Jason Cady, Jeremiah Cymerman, Matana Roberts, Henry Threadgill, and Matthew Welch.
"Tracking The Odds: The Roulette Concert Archive" is a monthly hour-long radio special produced by Roulette Intermedium (roulette.org) and broadcast in partnership with Wave Farm's WGXC 90.7-FM and Standing Wave Radio. The broadcasts feature selected highlights from Roulette's New York experimental music space dating from the early 1980s to the present. Thousands of rare, formative, and often unheard recordings by innovators and adventurous musicians populate the archive. Tracking The Odds airs the fourth Monday of the month from 3 p.m. to 4 p.m. and is archived at wavefarm.org.
Founded in 1978, Roulette operates a 400-seat concert hall on Atlantic Avenue in Brooklyn with a focus on experimental and unorthodox music and performance across all genres and media. It's archive of thousands of audio and video recordings is currently being restored.