WGXC-90.7 FM
Sep 27, 2021: 3pm - 4pm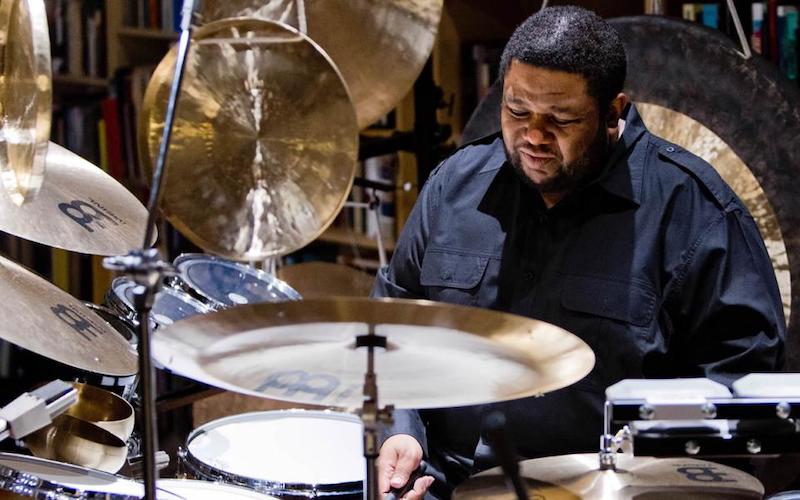 Produced by Roulette Intermedium.
Tyshawn Sorey is admired as both an exquisite drummer and adventurous composer (he didn't win a MacArthur just for his great groove). He also plays trombone and piano and writes in no genre and every style mixing jazz, classical, 20th Century experimental, open improvisation, stochastic, and with a mindful presence that is entirely unique. In this edition we hear excerpts from two performances, Sorey's Double Trio with Cory Smythe (piano), Christopher Tordini (bass), Fung Chern Hwei (violin), Kyle Armbrust (viola) from 2015 and his New Quartet with Taylor Ho Bynum (brass), Aaron Stewart (woodwinds), and John Escreet (piano) from 2010.
Tracking The Odds: The Roulette Concert Archive is a monthly hour-long radio special produced by Roulette Intermedium (roulette.org) and broadcast in partnership with Wave Farm's WGXC 90.7-FM and Standing Wave Radio. The broadcasts feature selected highlights from Roulette's New York experimental music space dating from the early 1980s to the present. Thousands of rare, formative, and often unheard recordings by innovators and adventurous musicians populate the archive. Tracking The Odds airs the fourth Monday of the month from 3 p.m. to 4 p.m. and is archived at wavefarm.org.
Founded in 1978, Roulette operates a 400-seat concert hall on Atlantic Avenue in Brooklyn with a focus on experimental and unorthodox music and performance across all genres and media. It's archive of thousands of audio and video recordings is currently being restored.
Pictured: A screening, reading, and performance for Henry Hills' film "Money" at Roulette (1985) with dancer Pooh Kaye surrounded by (L-R) John Zorn, Tom Cora, Ciro Baptiste, (obstructed, possibly Sally Silvers), Abigail Child, Diane Ward, Susie Timmons, Alan Davies, Bruce Andrews, Ikue Mori, Jim Staley, Butch Morris. Photo: Lona Foote.