WGXC-90.7 FM
Sep 26, 2022: 3pm - 4pm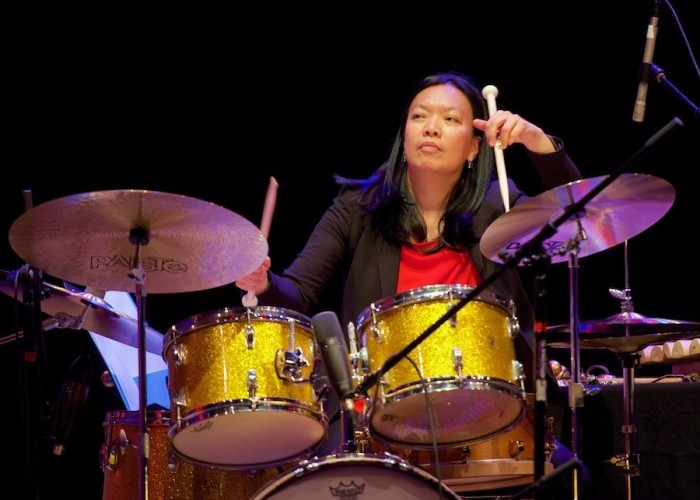 Produced by Roulette Intermedium.
Composer, percussionist, and sound artist Susie Ibarra in two projects recorded in concert at Roulette. Duo and trios with bassist Mark Dresser and violinist Charles Burnham from 2003 and a 2006 duo with Roberto Rodgriguez (electronics, claypot, cajon la peru, percussion). We hear Ibarra on a variety of instruments from acoustic and electric kulintang (a set of gongs) to trapset, always informed by her Filipino roots through melodies and rhythms. Ibarra is known for her innovative style and cultural dialogue as a composer, improviser, and humanitarian. She is passionate about the intersection of tradition and avant-garde and how this informs and inspires interdisciplinary art, education, and public service.
"Tracking The Odds: The Roulette Concert Archive" is a monthly hour-long radio special produced by Roulette Intermedium (roulette.org) and broadcast in partnership with Wave Farm's WGXC 90.7-FM and Standing Wave Radio. The broadcasts feature selected highlights from Roulette's New York experimental music space dating from the early 1980s to the present. Thousands of rare, formative, and often unheard recordings by innovators and adventurous musicians populate the archive. Tracking The Odds airs the fourth Monday of the month from 3 p.m. to 4 p.m. and is archived at wavefarm.org.
Founded in 1978, Roulette operates a 400-seat concert hall on Atlantic Avenue in Brooklyn with a focus on experimental and unorthodox music and performance across all genres and media. It's archive of thousands of audio and video recordings is currently being restored.