WGXC-90.7 FM
Sep 14, 2021: 12pm - 2pm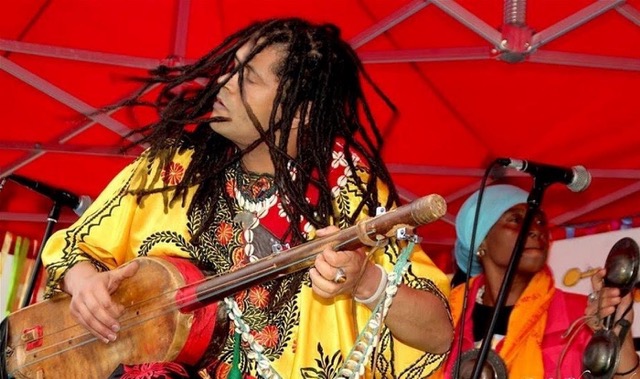 In this broadcast, a focus on Moroccan Gnawa music, with special emphasis on collaborations with western, often jazz musicians. The music is based in healing and prayer and is usually performed at night for local communities, guided by Gnawa "maalem," or master musicians, along with their groups and dancers. A key feature is the use of the sentir, a three-stringed long-necked lute, and the castanet-like qraqab. The broadcast will begin with traditional Gnawa music and segue to collaborations with western musicians including Don Cherry, Adam Rudolph, Archie Shepp, Wayne Shorter, Bill Laswell, Pharoah Sanders, the Kronos Quartet and Joshua Abrams. Featuring music by Si Mohammed Bel Hassan Soudani; Brahim Belkani; Night Spirit Masters; Hassan Hakmoun with Don Cherry and Adam Rudolph; Groupe Bambara with Maalem Hassan Zghari; Abdellah El Gourd with Randy Weston; Maalem Kouyou with Wayne Shorter; Dar Gnawa of Tangiers with Archie Shepp; Maalem Mahmoud Ghania with Pharoah Sanders; the Kronos Quartet with Hassan Hakmoun; and Joshua Abrams Natural Information Society.

After the local news at noon, "Overlooked" is a show focusing on overlooked and under-heard jazz, improvisational, and other fringe music, from early roots to contemporary experiments, a mix of familiar to rare, classic to weird. Live from the shadow of Overlook Mountain in Ulster County.
Host Rob Saffer is the former Executive Director and Producer of the Creative Music Foundation. While living in Brooklyn for 25 years, he served on advisory boards for Celebrate Brooklyn and Symphony Space. He also curated the Brooklyn Museum's summer jazz series and helped found The Mingus Big Band.