WGXC-90.7 FM
Nov 25, 2019: 3pm - 4pm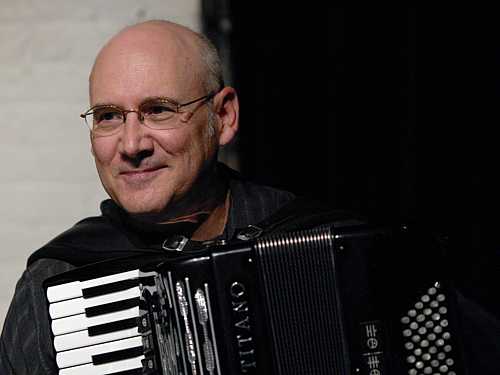 Produced by Roulette Intermedium.
Composer, accordionist, and long-time conduit for new music Guy Klucevsek is profiled here with three concert recording excerpts from the Roulette Archive: an April 2002 duo and exchange of tunes and play with saxophonist/composer Phillip Johnston; live renditions from his album, Stolen Memories, from a 1997 concert with his Bantam Orchestra (Sarah Parkins, violin; Margaret Parkins, cello; Steve Rust, bass); and the Bellows Brigade from 2017 (Will Holshouser, accordion; Nathan Koci, accordion, bass accordion; Kamala Sankaram, accordion, voice) including a heart-melting homage for his friend and accordion compatriot, Pauline Oliveros. Klucevsek is a major contributor to the accordion renaissance over decades. His music reverberates with sounds of the ballroom, the beer garden and the concert hall, fusing elements of regional accordion styles with jazz and avant-garde music.
Tracking The Odds: The Roulette Concert Archive is a monthly hour-long radio special produced by Roulette Intermedium (roulette.org) and broadcast in partnership with Wave Farm's WGXC 90.7-FM and Standing Wave Radio. The broadcasts feature selected highlights from Roulette's New York experimental music space dating from the early 1980s to the present. Thousands of rare, formative, and often unheard recordings by innovators and adventurous musicians populate the archive. Tracking The Odds airs the third Thursday of each month at 1 a.m. ET and is archived at wavefarm.org.
Founded in 1978, Roulette operates a 400-seat concert hall on Atlantic Avenue in Brooklyn with a focus on experimental and unorthodox music and performance across all genres and media. It's archive of thousands of audio and video recordings is currently being restored.
Pictured: A screening, reading, and performance for Henry Hills' film "Money" at Roulette (1985) with dancer Pooh Kaye surrounded by (L-R) John Zorn, Tom Cora, Ciro Baptiste, (obstructed, possibly Sally Silvers), Abigail Child, Diane Ward, Susie Timmons, Alan Davies, Bruce Andrews, Ikue Mori, Jim Staley, Butch Morris. Photo: Lona Foote.