WGXC-90.7 FM
Mar 22, 2021: 3pm - 4pm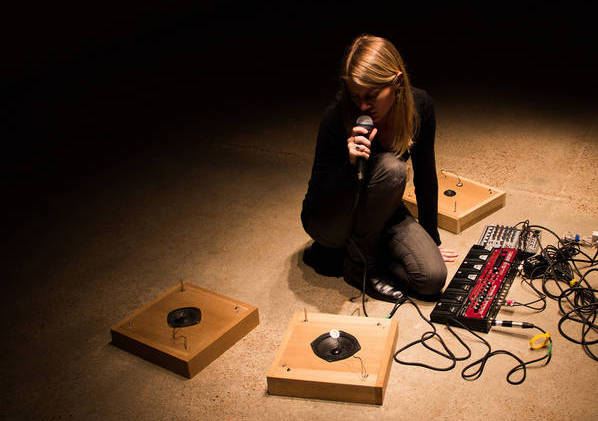 Produced by Roulette Intermedium.
Lesley Flanigan is a New York composer/performer who builds her own instruments using minimal electronics, microphones, and speakers and mixing these with traditional instrumentation that often includes her own voice. Flanigan embraces the transparency and residue of process as well as noise and imperfections. In this episode we hear Flanigan solo, in duos (with master programmer R. Luke Dubois and guitarist James Moore of Dither), and with a vocal quartet, all recorded in concert at Roulette. Trained as a sculptor whose work often utilized found objects, her discovery of circuit-building and homemade oscillators connected to discarded speakers inspired a transition to a career in sound.
Tracking The Odds: The Roulette Concert Archive is a monthly hour-long radio special produced by Roulette Intermedium (roulette.org) and broadcast in partnership with Wave Farm's WGXC 90.7-FM and Standing Wave Radio. The broadcasts feature selected highlights from Roulette's New York experimental music space dating from the early 1980s to the present. Thousands of rare, formative, and often unheard recordings by innovators and adventurous musicians populate the archive. Tracking The Odds airs the fourth Monday of the month from 3 p.m. to 4 p.m. and is archived at wavefarm.org.
Founded in 1978, Roulette operates a 400-seat concert hall on Atlantic Avenue in Brooklyn with a focus on experimental and unorthodox music and performance across all genres and media. Its archive of thousands of audio and video recordings is currently being restored.