WGXC-90.7 FM
Weekend in review
May 27, 2014 6:56 am
Some of the stories that made the news Sat., May 24 through Tues., May 27:
Adam Clayton and David Lee reported in the Register Star
a grease fire significantly damaged a Valatie building early Sat., May 24. The fire began on the stove and worked its way into the walls of the apartment building. No injuries were reported, but all six tenants were displaced. Wayne Huyck (h-AY-k), Niverville's fire chief, said the building is a total loss.
Jim Planck reported in The Daily Mail
the Catskill Park Coalition, an alliance of 26 Catskill Park advocacy, not-for-profit and special interest groups, has launched a new website to present the Catskill Mountains to the public. Member groups range from the New York City-based Natural Resources Defense Council to the Catskill Mountain Club, a decade-old hiking and outdoor events group. The coalition is committed to broadening public appreciation of Catskill Park. The website can be found at
www [dot] Catskill Park Coalition [dot] org
.
Wlliam J. Kemble reported in the Daily Freeman
Bard College held its 154th graduation, Sat., May 24. U.S. Rep. Nancy Pelosi delivered the commencement address advising the 455 graduates to treasure being from a small school that makes a big impact. Pelosi cited the Bard Prison Initiative as an example. She said the program, once a senior project, is now a model recognized by Gov. Andrew M. Cuomo for educating incarcerated youth statewide.
[caption id="" align="alignleft" width="180"]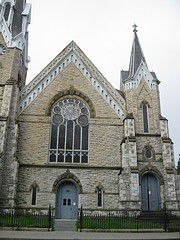 First Presbyterian Church
(Doug Kerr via Flickr.com)[/caption]
Adam Clayton reported in the Register Star
the First Presbyterian Church in Hudson announced the restoration of the church's rose window is set to begin. The announcement was made at the 19th annual Friends of the First Presbyterian Church meeting, Sat., May 24. The Friends have raised $157,000, a little less than $7,000 shy of its $164,000 goal. Friends president Phil Forman said the window will be restored this year. Chuck Woodard, of Architectural Stained Glass of Great Barrington, Mass., will handle the restoration.
As reported Sat., May 24, the
Federal Communications Commission last week
granted the renewal
to free103point9 of the license for WGXC 90.7-FM through 2022, as part of a
process to get each AM, FM, noncommercial educational FM, FM translator, and Low Power FM station
throughout the country to renew their licenses.