WGXC-90.7 FM
Cuomo's weather woes continue
Nov 27, 2014 12:04 am
[caption width="335" align="alignright"]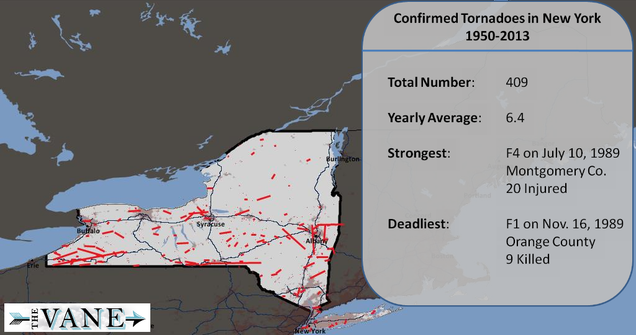 From The Vane website.[/caption]Andrew Cuomo and the weather don't seem to be getting along these days. Four months ago, the governor of New York claimed the state just recently started seeing tornadoes. [audio mp3="http://newsroom.wgxc.org/wp-content/uploads/2014/11/Cuomo-says-NY-does-not-get-tornadoes.mp3"]PLAY AUDIO[/audio] (There have been 409 tornadoes in New York since 1950.) Last week, the governor gave a press conference where he defended his slow reaction to the huge snowstorm in Buffalo that left 13 dead by saying the National Weather Service was late and wrong with their forecast. Actually,
several days before the storm
, NWS Buffalo pointed out that the following week's pattern "has all the makings of a historic or at least well remembered lake effect event." The Weather Channel's Sam Champion did a whole segment to defend the Buffalo NWS office, saying there was "no question whatsoever" that the forecast was correct. For this week's Thanksgiving storm on the busiest travel day of the year, Cuomo is being criticized by neighboring governors for a commercial vehicle ban on I-84 Wed., Nov. 26.
The Hartford Courant reports
that Connecticut Transportation Commissioner James Redeker asked his New York counterpart for New York to allow "essential vehicles to reach their destination." And Michael Riley, president of the Motor Transport Association of Connecticut, told the newspaper that Cuomo is, "pretty quick on the trigger" when it comes to shutting down the interstate during many storms. "It really does screw up adjacent states," he said of the closures. Riley's group, as well as the Connecticut Food Store Association, Empire State Energy Association, the Pennsylvania Motor Truck Association, Connecticut Energy Marketers Association and the New York Oil Heating Association, all signed a letter to Cuomo asking for exemptions to the I-84 ban.