WGXC-90.7 FM
Monday headlines and audio
Sep 26, 2011 12:11 am
Governors ask for federal disaster aid
Over the weekend the governors of New York, New Jersey, Pennsylvania, and North Carolina issued a joint, bi-partisan statement pleading for representatives in Congress to put aside their political games and pass money to fund the emergency operations for recovery from Hurricane Irene and Tropical Storm Lee. Andrew Cuomo, of New York, Chris Christie of New Jersey, Tom Corbett of Pennsylvania, and Bev Perdue of North Carolina released this statement:
"Our states have been hit hard by Hurricane Irene and Tropical Storm Lee. While the flood waters have receded and the storms are passed, the damage to communities, businesses and infrastructure remains significant. Billions of dollars in loss and destruction pose a serious threat not only to local and regional economies, but to the nation's economic recovery. Our states' governments and our citizens are doing their part to restore and rebuild. The federal government must also do its part. Federal assistance for the victims of storms and floods should be beyond politics. Within 10 days of Hurricane Katrina, Congress passed and the President signed over $60 billion in aid for the Gulf Coast. It's been 28 days since Irene and Lee started battering our states. We urge this Congress to move swiftly to ensure that disaster aid through FEMA and other federal programs is sufficient to start rebuilding now."
Storm aid deadline nears for communities
William J. Kemble in The Daily Freeman reports that local governments face a deadline of this Friday, Sept. 30, to apply for federal funds for repairs to roads, bridges, and other public facilities damaged by Tropical Storm Irene. Tropical Storm Lee, which roared through our area a week after Irene, delayed the assessment process for many towns, and some are just overwhelmed with too much to assess, Kemble reports.
Read the full story in The Daily Freeman.
Hurricane grant program for nonprofits in Greene and Ulster counties
Julia Reischel in The Watershed Post reports that the Dutchess County-based Dyson Foundation has established two hurricane relief grant programs for nonprofit organizations in several affected counties, including Greene and Ulster. From their press release:
"Nonprofit organizations can apply for emergency funds to assist the organization to recover from Hurricane Irene incurred damages or losses with a one-page narrative describing the uninsured damages or losses and a budget and/or invoice of estimated recovery costs. Applicants are advised to submit these two documents to submissions@dyson.org. The Dyson Foundation will also make grants to nonprofit organizations providing direct services to residents of the Mid-Hudson Valley. These funds are to provide emergency financial assistance to support people impacted by Hurricane Irene. The Foundation will accept applications from organizations with well-established emergency financial assistance programs. These funds are available for qualified nonprofits to distribute to Mid-Hudson Valley residents to cover a broad range of needs resulting from Hurricane Irene. Nonprofit organizations wishing to apply for these funds can submit a one page narrative description of the expected use of the funds and a supporting budget to submissions@dyson.org. Please note that this funding is not being offered directly to individual residents."
Read the full story in The Watershed Post.
Road reopened
The
New York Department of Transportation reports
that Route 145 in Greene County between Travis Hill Road and CR 352 in Preston Hollow, is once again fully open. The road had been closed since damage from the storms associated with Hurricane Irene.
Two announcements Monday
Two announcements are expected at local press conferences Monday, Sept. 26:
• An official from the U.S. Department of Agriculture will join Scenic Hudson, Dutchess Land Conservancy, state officials, Town of Red Hook officials, other public officials, and local farmers to announce a major initiative to preserve Hudson Valley farms—on highly scenic and prime agricultural acres in Dutchess County and Columbia County. "This initiative provides the farmers with funds they can invest in the viability of their agricultural business operations. The farms supply fresh, healthy produce and meats to consumers via local and New York City greenmarkets and direct sales to homes and restaurants," according to Scenic Hudson. At 10:30 a.m. at Northwind Farms, 239 West Kerley Corners Rd., Red Hook.
• Columbia County Board of Supervisors, Columbia Economic Development Corporation, and USDA Rural Development host a groundbreaking ceremony of Greenport Crossings, a mixed use development on the site formerly occupied by V & O Press. "This groundbreaking is for Phase One of the larger project. The total project, which is redeveloping a brownfield site, will result in three new separate buildings totaling almost 80,000 square feet and result in the creation of 100 new jobs," according to the Columbia Economic Development Corporation. With Rep. Chris Gibson, and others. At 12:30 p.m. at Greenport Commons, Fairview Ave., Greenport.
MONDAY AUDIO CLIPS
Click on title or "PLAY CLIP" to listen to mp3 audio recordings.
[caption id="" align="alignleft" width="240" caption="Photo from Boing Boing."]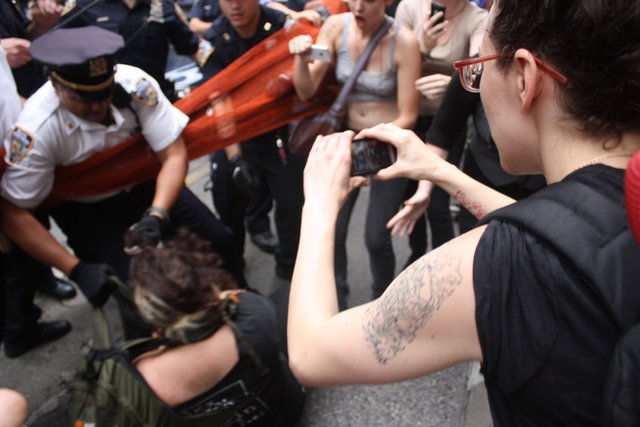 [/caption]•
Occupy Wall Street Protest News Report: 20110926
Produced by Kelly Benjamin for WGXC. 3:10. News report with interviews, live sound of the protests surrounding the lack of regulation on Wall Street, filed late Sunday, Sept. 25.
PLAY CLIP
•
A Very Incomplete Calendar: 20110926
Produced by Terry Doyle. 4:28 From Terry Doyle's "Imprint" radio show Sunday nights at 11 p.m. on WGXC, here is Doyle's roundup of regional music events this week. Doyle previews the "
Concert for the Catskills
" benefit concert this Sat. Oct. 1 and Sun. Oct. 2 at the Michael J. Quill Center in East Durham. All proceeds go to Community Action of Greene County for those impacted by the recent storms in our area.
PLAY CLIP