WGXC-90.7 FM
Sandy's impact on twin counties less severe than expected
Oct 30, 2012 7:18 am
[caption id="" align="aligncenter" width="545"]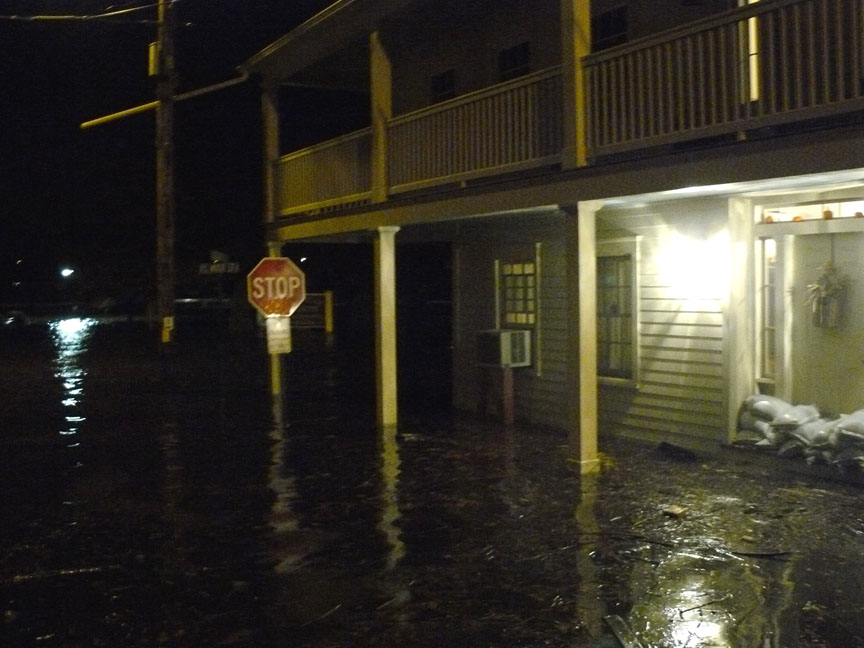 Corner of 2nd and Water streets, Athens, 5 a.m., Tues., Oct. 30. The water rose three to four feet above normal levels, Monday night. (Photo by Sam Sebren)[/caption]
Kyle Adams reports in The Daily Mail
Greene County saw scattered power outages, flooding, downed trees and power lines, and some road closures, but overall the impact of "Superstorm" Sandy proved to be less severe in Columbia and Greene counties than expected. Central Hudson reported less than 1,000 customers without power in Greene County this morning, mostly in the towns of Hunter, Jewett and New Baltimore as a result of high winds. In Catskill, flood waters closed down lower Main St., below Henry, as well as upper and middle W. Main St. The water began to recede around 4:30 a.m. Those roads are expected to be re-opened early this morning, but may have to be closed again at high tide, later today. A Code Red emergency alert was issued in Coxsackie at 3 a.m., as a result of flooding on South River St.
NY Alert is reporting Route 385 N and S are closed until further notice in the town of Athens at 5th Street. due to flooding. New York State Hwy 22 at County Route 21 in Hillsdale remains closed due to downed trees and wires across the road.
John Mason and Nathan Mayberg report in the Register Star
a state of emergency declared in Columbia County Monday night will continue through 7 a.m., Tuesday. The National Weather Service's flood warning will remain in effect through Tuesday morning for areas along the Hudson River in both counties. Residents in the valley regions, away from the Hudson River, a NWS spokesman said, should be safe from flooding. Winds have slowed, but the rain will continue off and on through Wednesday.
Central Hudson reported
approximately 1,400 customers are without power in southern Columbia and northern Dutchess counties, as of early Tuesday. An expected restoration time was not available. In addition, 30,000 households are without power in Ulster County. As of 6 a.m., Tuesday,
NYSEG reported
1,200 customers without power in Columbia Co.
National Grid reported
more than 3,000 customers without power in the Capital Region, 524 in Columbia Co. Officials remind anyone without electrical power:


Do not use generators, gas grills or other combustible devices in your home


If you reside alone, make arrangements with neighbors to check on each other if your area is experiencing a power outage


Basic non electronic phones should work during power outages


The latest update on the Columbia County Emergency Management Office Facebook page:
The State of Emergency will be allowed to expire at 7 a.m. this morning. It will NOT be extended. All county buildings will be open and employees should report to work as usual. There are still some scattered road closures and power outages so residents are encouraged to use caution when on the roadways. There is flooding along the Hudson River effecting some roadways.