WGXC-90.7 FM
Solar energy still on local upswing, Chamber told
Jan 26, 2011 6:41 am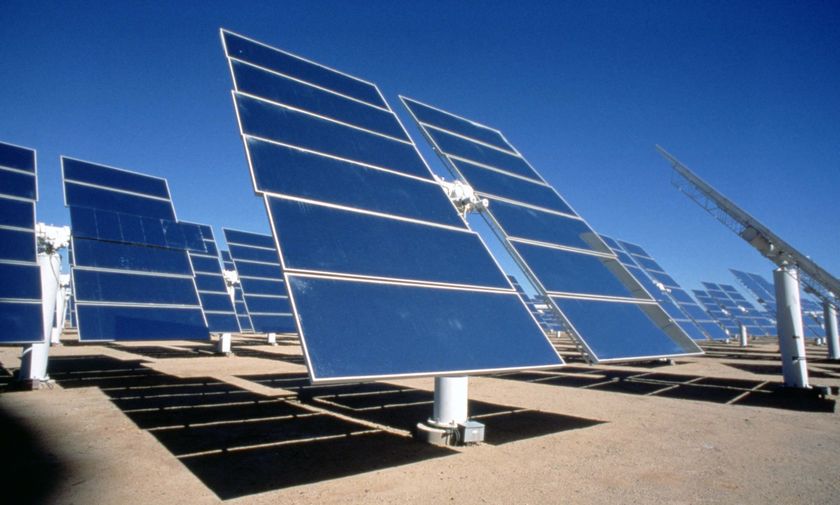 Almost as if keyed into the President's State of the Union speech yesterday, and its talk of giving our nation a new "Sputnik moment" in terms of new energy and other forms of technological innovations, the head of
The Solar Energy Consortium
said that the Mid-Hudson Valley can become a hub of solar energy manufacturing despite recent setbacks, and he called on locals to keep faith in the effort.
The Daily Freeman
reported on January 26 that Vincent Cozzolino spoke at a recent breakfast meeting of the Ulster County Regional Chamber of Commerce at the Kingston Holiday Inn, saying the region's fledgling solar energy industry created 534 jobs in Ulster County in 2010 and 808 across the state. Cozzolino also called for continued support of the industry, which he has estimated will take three years with an annual $5 million federal contribution to become self-sustaining, and called for renewed advocacy on its behalf by the Chamber of Commerce, efforts for which the chamber's president, Ward Todd, later said will begin immediately. Cozzolino spoke in the wake of the announced closing of a solar energy firm in Dutchess County and layoffs at one in Saugerties.
He put the number of layoffs at Precision Flow Technologies at "40-ish," but said on Tuesday that the Saugerties-based company also added 10 jobs in another division.
He said Precision Flow had been producing eight machines per week that build LED equipment but that number dropped to three per week during 2010.
Last year's demand was driven by a "bubble" created when the Chinese government decided "it wanted to get into the LED business" and offered a 100 percent subsidy for buildings and equipment, Cozzolino said.
Cozzolino described Precision Flow as still being a "strong company" and said the business recently added a "solar metrology" division when it acquired a small company that makes solar inspection tools. Precision Flow "beefed up" the small staff to 10, he said.
At the time of the layoffs, Precision Flow officials would not comment on the situation.
After becoming one of four subcontractors under a $2.8 million congressional earmark administered by Saratoga County-based C9 Corp., Precision Flow officials said they would build a 40,000-square-foot manufacturing facility at TechCity in the town of Ulster and increased job-creation estimates from 190 to about 375.
Regarding the ailing SpectraWatt, in southern Dutchess County, Cozzolino said on Tuesday that officials have been meeting with representatives from "many companies" that hope to buy the East Fishkill-based photovoltaic cell manufacturer.
SpectraWatt in December filed a notice with the state Department of Labor that its plant was closing and its 117 employees would begin to be laid off on March 20.
Cozzolino, who is co-chief executive officer and founder of The Solar Energy Consortium, has said that, despite the notice, SpectraWatt is looking for ways to avoid closing, and regional business, government and solar energy officials are trying to help.
Separately, Cozzolino took issue with a recent New York Times commentary (http://ow.ly/3J3uQ) in which Harvard economics professor Edward Glaeser argued green energy cannot produce a large number of manufacturing jobs because China's cheap labor force will attract them even if innovation comes from the United States.
He also contested Tuesday's Freeman editorial (http://bit.ly/hNatDe) that argued "a good, hard and honest reassessment of the potential of any solar energy industry to generate lasting jobs here might well be in order."
"Let me tell you, grandpa and great-grandpa never had that in their repertoire: 'I'm going to take these manufacturing jobs and send them to China,'" Cozzolino said to applause. "They just didn't think that way. They thought about how they had to get more efficient."
Because solar technology will continue to evolve, Cozzolino said, American innovation can keep the jobs here.