WGXC-90.7 FM
National media return to Prattsville
Aug 27, 2012 11:59 am
[caption id="" align="aligncenter" width="600"]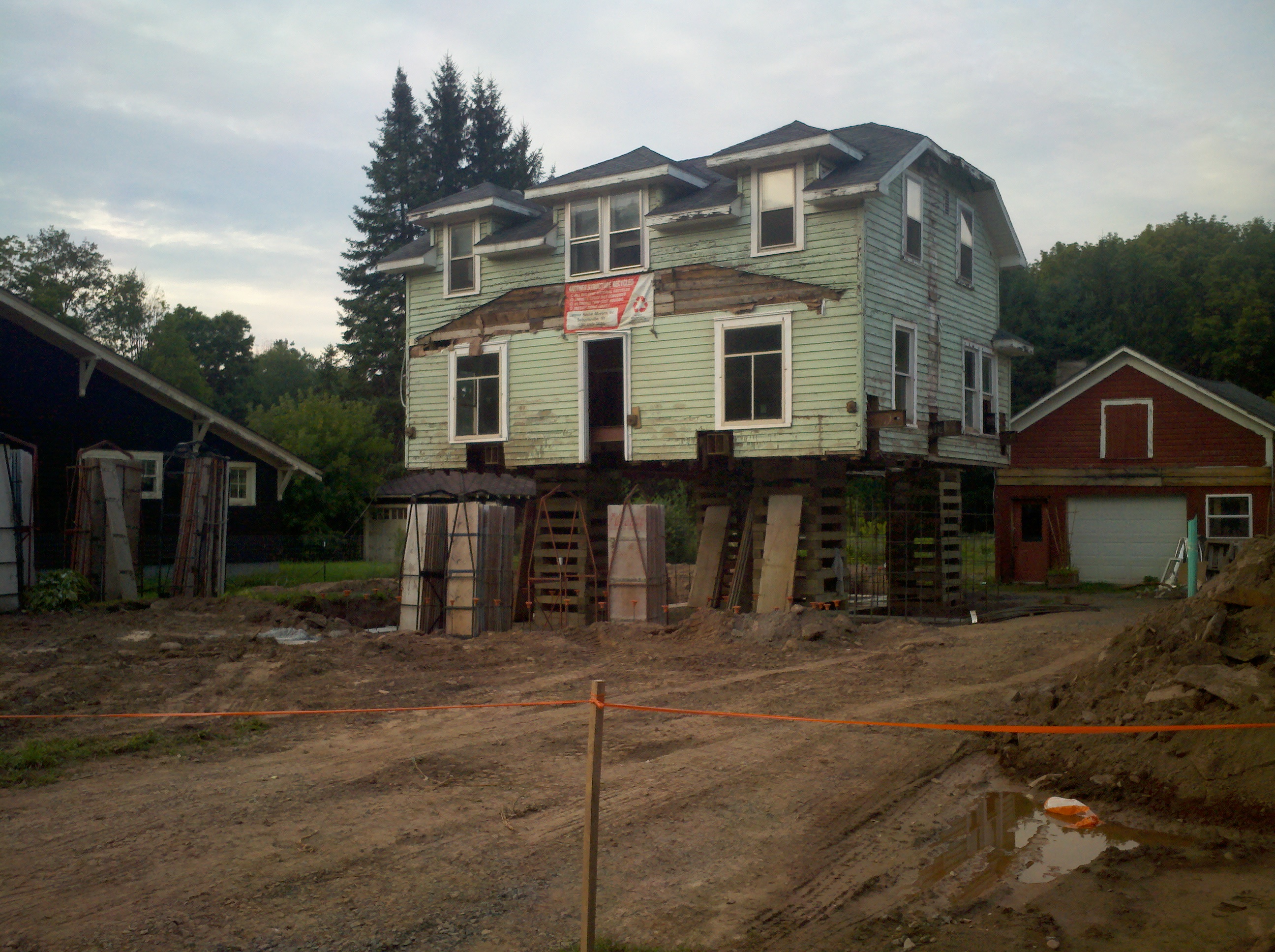 A house on Main St. (Route 23) in Prattsville Sat., Aug. 25, 2012. Photo by Jess Puglisi.[/caption]
Noah Rosenberg has a feature piece at The New York Times
about the slow return of normalcy in Prattsville and other towns dotted across the remote Catskill Mountains landscape which suffered from the effects of Hurricane-turned-Tropical Storm Irene on August 28, 2011. Everyone seems to have a flood story: the generations-old business that washed away; the new trailer that was split in half; the family dog that disappeared; the museum whose collection was practically erased. Increasingly, the story line includes frustration over the money that ran out, but there are also cries of hope, even celebration, as evinced in Prattsville over the weekend. The town held its first Mudfest, a series of fund-raising events that drew hordes of people from beyond this small enclave, whose pre-storm population peaked around 600. Children streaked down slides into mud pits. Bands played at barbecues. And dozens marched to the Schoharie Creek for a Native American blessing of the very body of water that a year ago jumped its banks and devastated the town. Kevin Piccoli, who is chairman of the nonprofit Prattsville Relief Fund and the town's Economic Development Corporation, said securing aid was tricky. "Every town is going after this one pot of money, so it's extremely competitive," he said, noting that the relief fund had raised $310,000 for about 90 families and that he had filed paperwork for up to $3 million in grants. "We're trying to keep a stiff upper lip and every day just get a little bit further," he said.
The rest of Mr. Rosenberg's report can be found at The New York Times
.
New York magazine's Josh Dean also wrote a long account of the storm, focusing on Prattsville,
here
. His story is called "
Please God Stop the Rain: The day, one year ago, that Hurricane Irene nearly drowned Prattsville, New York, population 700
."
Jennifer Kabat in Salon writes
, "Hurricane Irene, one year later: The Catskills and its thriving community of artists are still struggling to pick up the pieces" about the
Prattsville Art Center
, and its residency program which has international artists working with local youth.
The Wall Street Journal
's Hilke Schellmann traveled to Prattsville, with this report.