WGXC-90.7 FM
Candidates make last campaign push
Nov 04, 2014 4:42 pm
[caption id="attachment_37352" align="alignleft" width="300"]
Rep. Chris Gibson (R-Kinderhook) on election day in front of the Saugerties Senoir Center.[/caption]Candidates criss-crossed the WGXC listening area Tue., Nov. 4, looking for last votes before the polls close at 9 p.m. WGXC caught up with State Senator Cecilia Tkaczyk, her Republican opponent George Amedore, and Rep. Chris Gibson, who is running against Democrat Sean Eldridge. Tkaczyk was in Catskill, rallying the troops at the Greene County Democrats headquaters on Main St. Gibson and Amedore traveled together, arriving in the afternoon at the Village Diner in Saugerties, and walking along Main St. talking to voters. Last election, in 2012, Tkaczyk beat Amedore by 18 votes in a vote that took several months to count. Clearly, these candidates were taking each and every vote very seriously. Click below to hear the interviews.
[caption id="" align="alignright" width="200"]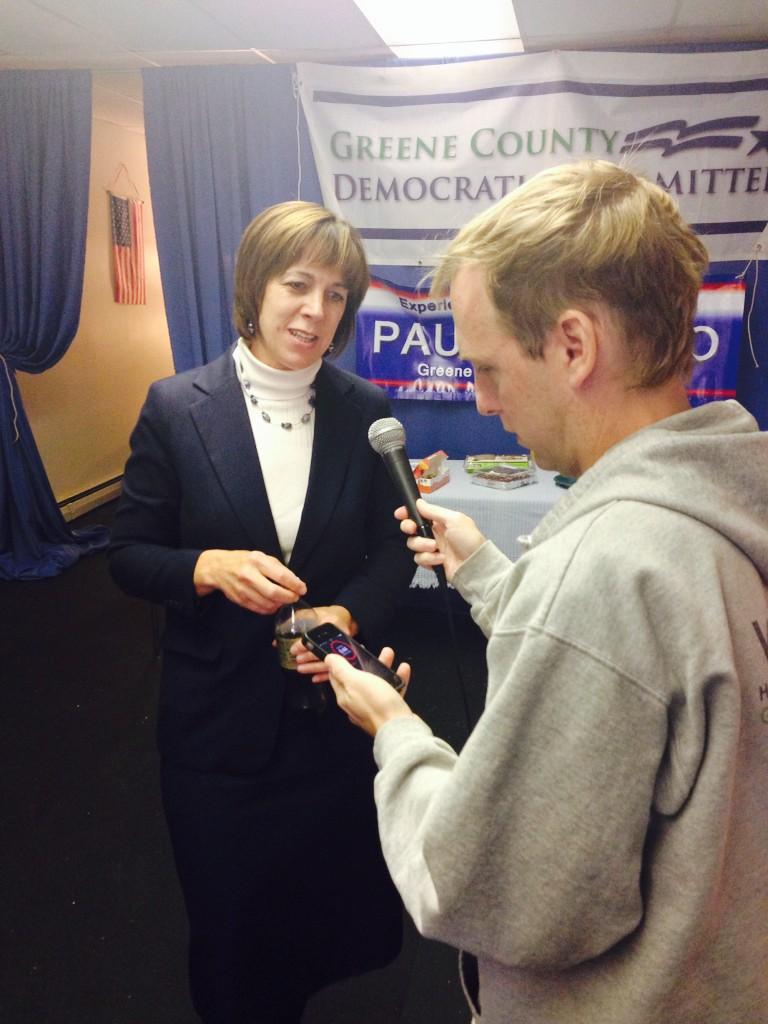 State Senator Cecilia Tkaczyk talks to WGXC's Tom Roe. Photo from Cecilia Tkaczyk Twitter feed.[/caption]
• Click
here
to hear Rep. Chris Gibson discusses his last-minute campaigning in Saugerties in front of the Village Diner.
PLAY AUDIO
• Click
here
to hear George Amedore, running for State Senate in District 46, talks with WGXC in Saugerties.
PLAY AUDIO
• Click
here
to hear State Sen. Cecilia Tkaczyk talks to WGXC on election day in Catskill.
PLAY AUDIO
[caption id="attachment_37357" align="alignleft" width="300"]
George Amedore, running for State Senate in District 46, campaigning on election day at the Saugerties Senior Center.[/caption]