WGXC-90.7 FM
Brooklyn Raga Massive
Nov 21, 2020: 7pm - Nov 22, 2020: 8am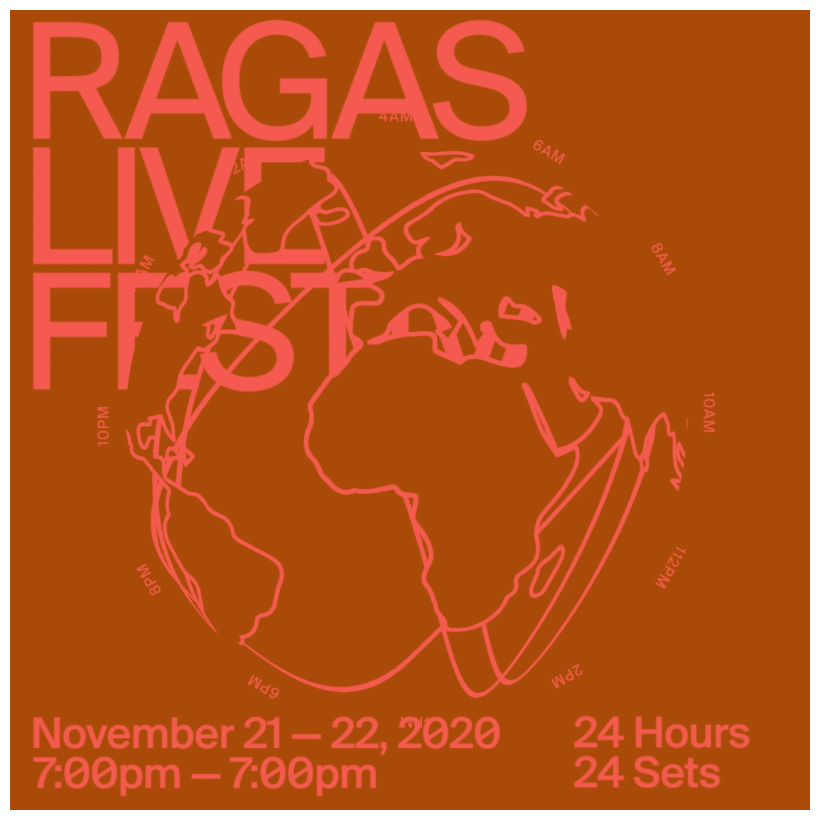 Live on WGXC 90.7-FM until Sunday at 8 a.m., to listen to the rest of the Ragas Live Festival which continues until 7 p.m. tune in on Wave Farm's Standing Wave Radio channel at wavefarm.org/listen.
Wave Farm is pleased to serve as a broadcast partner for the 2020 edition of Ragas Live Festival, a 24-hour broadcast featuring over 60 musicians performing in locations around the globe.
The festival was born in 2012, a 24 hour/24 set live radio broadcast on New York City's WKCR 89.9 FM featuring over 50 musicians. Roughly meaning "color the mind," raga are musical modes or essences from the Indian Classical Music tradition. Each raga has its own range of emotions associated with a specific time of day. The music harmonizes holistically with the subtle changes in light and with the various emotions associated with times such as sunset, high noon or midnight. The original concept was to beam out 24 hours of raga which largely conformed to this cycle, but also reflected the innovations occurring within the music today. These innovations have led to what is now has been recognized as a "Raga Renaissance," and the festival grew to become a popular live event at Brooklyn's Pioneer Works.
In 2020 Ragas Live Festival will expand to include performances from all around the world including Terry Riley (Himitsu, Japan); Zakir Hussain (San Francisco, CA, USA); Toumani Diabate (Abidjan, Côte d'Ivoire); Betsayda Machado y Parranda El Clavo (El Clavo, Venezuela); Brooklyn Raga Massive: IN D (Manhattan, NYC, USA); 3G: feat. VIkku Vinayakram & Selvaganesh (Chennai, Tamil Nadu, India); Toko Telo (Morondava, Madagascar); Andy Statman (Manhattan, NYC, USA); Womanly Voices (of Jodhpur RIFF) (Jodhpur, Rajasthan, Inda); Alam Khan (Kentfield, CA, USA); Derek Gripper (Capetown, South Africa); Krishna Mohan Bhatt (Brooklyn, NYC, USA); Raga Maqam: Amir ElSaffar with Brooklyn Raga Massive; Mysore and Karthik Nagaraj (Mysore, Karnataka, India); AACM Percussion Ensemble directed by Swapan Chaudhuri (San Raphael, CA, USA); Dhun Dhora (featuring the Dhol Drummers of Rajasthan) (Jodhpur, Rajasthan, India); Parvathy Baul (Kamardanga, West Bengal, India); Jay Gandhi (Manhattan, NYC, USA); Arun Ramamurthy (Manhattan, NYC, USA); Roopa Mahadevan (Brooklyn, NYC, USA); Prince Nepali (Kathmandu, Nepal); Flute Shashank (Chennai, Tamil Nadu, India); Anantha Krishnan (Chennai, Tamil Nadu, India); Charumathi Raghuram (Chennai, Tamil Nadu, India); Abhik Mukherjee (Brooklyn, NYC, USA); Samarth Nagarkar (Brooklyn, NYC, USA); and Ask Hafiz (Manhattan, NYC, USA.)
More information at ragaslive.org