WGXC-90.7 FM
Saturday, January 26, 2013 local almanac
Jan 26, 2013 12:01 am
[caption width="500" align="alignleft"]
From http://earthsky.org/[/caption]
Solar Weather
Solar radiation, as observed by NOAA over the past 24 hours, was below average. No large solar radiation storms are expected. Radio reception is expected to be normal this weekend.
Weather right now
[caption id="" align="alignleft" width="128"]
Cairo: High 28F; low 19F.[/caption]
[caption id="" align="alignleft" width="125"]
Catskill: High 25F; low 18F.[/caption]
FAR LEFT:
The temperature on the far left is from the Hawthorne Valley Farm Weather Page.

MIDDLE TEMP:
Cairo from Weather Underground page.

FAR RIGHT:
Catskill from Weather Underground page.
Local weather forecast
Today's forecast is specific to Acra, in Cairo in Greene County
:
Friday Overnight
: A 50 percent chance of snow showers, mainly before 3 a.m., with less than an inch possible and a low around 7. Wind chill values as low as -2.
Saturday
: Scattered snow showers, mainly between 1 p.m. and 5 p.m. Partly sunny, with a high near 19. Wind chill values as low as -3. Overnight, partly cloudy, with a low around 7. Wind chill values as low as -7.
Sunday
: Sunny, with a high near 22. Northwest wind 9 to 14 mph. Sunday night, partly cloudy, with a low around 6.
Monday
: A 40 percent chance of snow. Cloudy, with a high near 29. Monday night a 50 percent chance of snow, freezing rain, and sleet. Cloudy, with a low around 27.
Sunrise today:
7:14 a.m.
Sunset today:
5:03 p.m.
Length of the day:
9 hrs., 49 min.
Midnight to 5:59 a.m.:
Free103point9 Transmission Arts overnight
Transmission art, radio art, radio theatre, sound experiments, free jazz, creative composition, noise, acoustic ecology from
free103point9
, air Saturdays on
WGXC 90.7-FM
in the Hudson Valley.
12:02 a.m. – 3 a.m.: "
Radio Stew: Telapathy
"
Preview Matmos new album, "The Marriage of True Minds" Feb. 19 on Thrill Jockey, about telepathy. At first, people thought radio was a way to speak to the dead. This show will explore that topic. Mind control tracks, hypnosis, ether, ghosts, haunted radios, and more.
3 a.m. – 4 a.m.: "
Upstate Radio Theatre: 20130126
"
Adventures of Sherlock Holmes "The Bruce-Partington Plans" 11-6-39; Gunsmoke "Personal Justice" 9-27-59.
4 a.m. – 5 a.m.: "
What's the Frequency, Kenneth?: Guns and B(i)tter
"
The gun violence debate...how it's being portrayed by the politicians.. the gun lobbyists...and the media..told thru narration, music and soundbites from host Paul Fischer. This program contains actualities including..NRA Pres, David Keene, Vice Pres., Joe Biden, Sen. Charles Schumer, Pres. Obama, Alex Jones, Gov. Chris Christie, Gabby Giffords, Mark Kelley w/Diane Sawyer, NRA ad, counter ad from gun control advocates, Richard Blanco, inaugural poet..excerpt from "One Today", Bob Schieffer w/ Jon Stewart, Newtown police chief,...from C-Span, political and media websites..for illustrative, analysis and commentary purposes.
5 a.m. – 7 a.m.: "
Shortwave Hours: Miami Hamfest Preview
"
Two hours of shortwave radio-oriented programming, starting with solar weather, news on meteor showers and ham radio, and other reports. Other reports include:
5:15 a.m.: "
The RAIN Report
" "Hamfest Chair, Tom Morris/KG4CYX, talks about chairing the Miami hamfest, coming up Feb. 1-2."
5:30 a.m., "
The Shortwave Report
" with host Dan Roberts and international news via shortwave radio. This week's show features stories from Spanish National Radio, Radio Deutsche-Welle, the Voice of Russia, Radio Havana Cuba, and NHK World Radio Japan.
6 a.m.: "
Glenn Hauser's World of Radio
" Listening to international broadcasts.
6:30 a.m.: "
Amateur Radio Newsline
" This week: "Hams in Iceland and Greenland get new spectrum; hams down-under get use of special prefix for Australia Day; the United States hits yet another all time high in Amateur Service license holders; AMSAT North America's main website hacked and two operations from Laos get DXCC credit."
7 a.m. – 8 a.m.: "
Saturday Morning Serial: January Songs
"
A tour of the songs, and sounds, of January from Julie London ("June in January"), Max Roach ("January V"), Elton John ("January"), Pilot ("January"), the Goo Goo Dolls ("January Friend"), The Avett Brothers ("January Wedding"), Bruce Cockburn ("January In the Halifax Airport Lounge"), Bert Jansch ("The January Man"), Mountains ("January 17"), Psychic Ills ("January Rain"), and Thurston Moore ("January").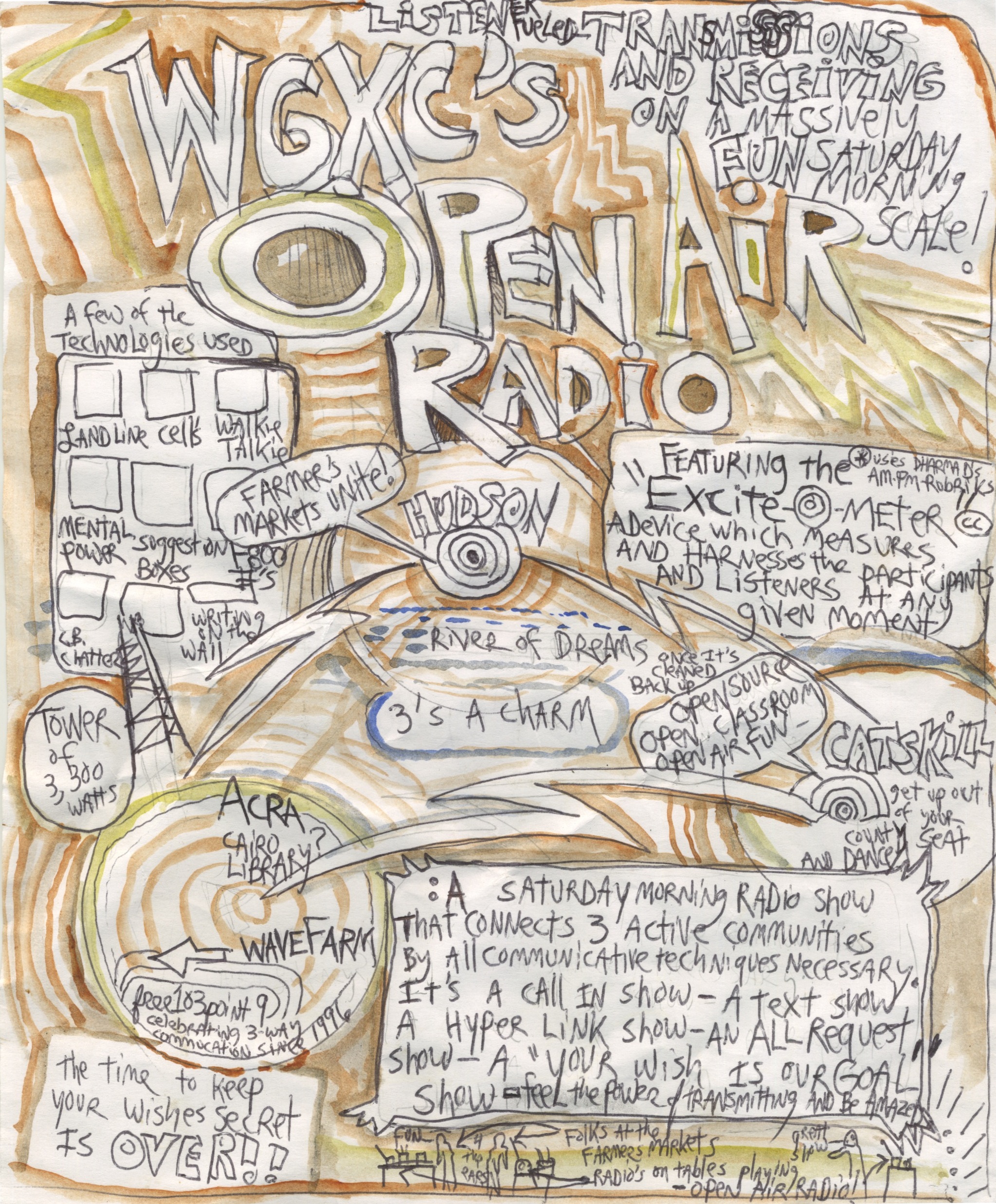 8 a.m. – 10 a.m.: "
Open Air: CB Radio Network
"
Matt Bua hosts live from the Catskill Community Center. This is a live transmission art show about local transmissions. As many local frequencies, signals, and transmissions will be mixed in. Check in on CB radio, weather radio, shortwave, scanners, cell phones, strings-and-cups, or whatever else we can tune in. Call in at 518-219-WGXC. Tweet requests @WGXC. This week, a CB radio will arrive in Catskill during the show, and try to tune in parts of Greene County, and Acra specifically, from the new CB radio at the Catskill Community Center. "Open Air" is looking for a regular channel on CB Saturday mornings, and looking for folks with CB radios to contribute to the show. Contributions of currently unused CB radios are welcome too. Other features include solar weather, shortwave news, and more.
10 a.m. – 10:30 a.m.: "
Radia: Bloop
"
Radia Show 408: "Bloop" by Claire Serres for Radio Campus Bruxelles. Radia is an international network of radio stations interested in new and forgotten ways of making radio art. Each week a different station takes a turn creating a show for all the others. The Bloop is a submerged frequency, it diffuses in depth. Can you capture it ? I catch it, play again again. In her work, Claire Serres uses microphones and vocal attacks to detect the origin of Bloop.
11 a.m. – noon: "
Framework: Soundmap
"
This regular edition features Roland Etzin, Tattered Kaylor, Mecha/Orga, Stefan Paulus, Flavien Gillié, Aporee Soundmap contributions by Maciej Janasik, Nikolaj Terent'ev, Tsan-Cheng Wu, Ryan Urban, and Damir Kustic, and an intro by Alexa Carollo.
Noon – 2 p.m.: "
Soundwalk Collective Tenth Anniversary Series
"
Tenth Anniversary series will showcase selected works that have both defined and defied the soundscape genre. At noon on Saturdays in the month of January, Soundwalk Collective will showcase eight places on the planet, and their unique sounds. These programs were broadcast first in Nov., 2012 on Resonance FM in London. This week: "Ayahuasqueros," recordings from the Amazon, Peru 2012; noon
"The Only Good System Is A Sound System," recordings from Berghain, Berlin, 2012; 1 p.m.
2 p.m. – 3 p.m.: "
Radius: Klaus Filip, Nicolaj Kirisits
"
Radius is an experimental radio broadcast platform based in Chicago, IL, USA. Episode 25: Klaus Filip / Nicolaj Kirisits "Cultural Morphing" 56:21 Statement: Cultural Morphing is an experiment in creating a multi-perspective image of reality from the simultaneous experience of a geographic line by the individual expression of a perceived personal reality.
3 p.m. - 4 p.m.: "
Human Machine: 20130126
"
Produced by Jeremy Kelly.
4 p.m. – 6 p.m.: "
Saturday Afternoon Show: 20130126
"
Lies from Lance Armstrong, and songs that sound dubiously like one another. Chuck Berry's "Sweet Little Sixteen" vs. The Beach Boys' "Surfin' USA." The Chiffons "He's So Fine" vs. George Harrison's "My Sweet Lord." Marvin Gaye's "Hitch Hike" vs. The Velvet Underground's "There She Goes Again." Manu Dibango's "Soul Makossa" vs. Michael Jackson's "Wanna Be Startin' Somethin'." Public Enemy's "Security Of The First World" vs. Madonna's "Justify My Love." Also, new music from Richard Chartier and William Basinski, Distant Correspondent ("Merge"), Yo La Tengo ("Stupid Things"), Mountains ("Sand"), The Flaming Lips ("Sun Blows Up Today"), Buke & Gase ("Houdini Crush," "General Dome"), The Strokes ("One Way Trigger"), Matmos ("Teen Paranormal Romance"), and others. Hosted by Tom Roe.
6 p.m. – 6:30 p.m.: "
This Week in Radio News: 20130126
"
After the weekly presidential radio broadcast, the news. Radio news from the weeks, including a report from Free Speech Radio News about the United Nations investigation into radio-controlled drone strikes. Plus, "The RAIN Report," solar weather, and other news.
6:30 p.m. – 7 p.m.: "
PiratesWeek: Free Radio Weekly
"
Pirates FM and shortwave stations are covered by this show from Ragnar Daneskjold in upstate New York. Stations logged per the Free Radio Weekly. Also, off air recordings from the stations All Along the Watchtower, Rave on Radio, and Radio Gaga.
7 p.m. – 8 p.m.: "
Some Assemby Required: People Like Us
"
Episode 246 of the mash-up show. Featuring work by The Bran Flakes, Cassetteboy, Colatron, the Cranial Fishers, DJ Danger Mouse, E-603, Greater Than One, Douglas Kahn, Lasso The Moon, Bernard Parmegiani and People Like Us.
8 p.m. – 11 p.m.: "
Betsi Krisniski, Stephen Bluhm, DJ Jake Perry
"
Live performances. Live webstream for this, and most, shows at Spotty Dog Books & Ale available from free103point9 and WGXC at http://comm.free103point9.org:8000/spottydog.mp3.m3u. This show will be broadcast on free103point9 Online Radio and WGXC 90.7-FM live. Betsi Krisniski is Hudson Valley singer-songwriter. Stephen Bluhm is a singer-songwriter/crooner.
11 p.m. – 11:59 p.m.: "
Baseball Radio
"
An after-hours tribute to the legendary Baltimore Orioles manager Earl Weaver, including a rarely-heard version of his weekly radio show, and clips of him arguing with umpires, and more. Weaver died Jan. 18, 2013. Animal Collective released an album last year, "Centipede Hz," about aliens beaming radio signals, with featured air checks from Baltimore radio, and nods to DJ Johnny Walker from WFBR. This show will tell the story of a boy and his radio, cut-ups and mash-ups, and other radio stories. Rebroadcast from Jan. 23.
12:02 a.m. – 2 a.m.: "
Opening To Channel: 20130127
"
From Newtown Radio, "Opening To Channel" jan 24 2013 from Greg Fox. usaisamonster - your life is worthwhile; autopsy - destined to fester; elvin jones - shadowland; hella - bodyguards harmonic; pc worship - satan's ashes; redman - jersey yo!; talk normal - warrior; phantomsmasher - anubis innertube; nora dean - valet; lou reed - busload of faith; i ching reading - 8 (holding together) &rt; 29 (the abysmal, water); john coltrane & rashied ali - mars; i change reading - 58 (the joyous, lake) &rt; 5 (waiting); john fahey - in christ there is no east or west; jackie-o motherfucker - a mania; MOOD - Peace Infinity (feat. Talib Kwali); sun ra - there are other worlds (they have not told you of); crowbar - no quarter; boredoms - super good; fushitsusha - magic VI; zappa - zoot allures; the fugue - askamedic; genghis tron - rock candy; melvins - leeech; tibetan monks - closing prayers.
2 a.m. - 4 a.m.: "
Scanner: A Retrospective in Seven Parts Preview
"
Preview of seven-part series focusing on the extraordinary work of Scanner (British artist Robin Rimbaud) who traverses the experimental terrain between sound, space, image and form, creating absorbing, multi-layered sound pieces that twist technology in unconventional ways. Every evening, Feb. 3-9, midnight to 6 a.m. ET (-5 GMT), WGXC and free103point9 will air works chosen by the artist, from his early controversial work using found mobile phone conversations, through to his focus on trawling the hidden noise of the modern metropolis his restless explorations of the experimental terrain have won him international admiration.
4 a.m. – 5 a.m.: "
Some Assembly Required: Omer Fast
"
Episode 83 of mash-up show. Featuring intervew with Omer Fast, the soundtrack to his video collage composition, "CNN Concatenated," and tracks by Antediluvian Rocking Horse, B'O'K and ADMacHine, The Bran Flakes, Buttfinger, The Evolution Control Committee, DJ Pantshead and The Tape-beatles.
5 a.m. – 6 a.m.: "
Off The Hook: Aaron Swartz Memorial
"
WBAI's "Off The Hook" airs at 7 p.m. Wednesdays, covering the hacker community with a call-in show. Don't call in here, this is a rebroadcast from Jan. 23.