TRANSMISSION ART ARCHIVE
N.B.Aldrich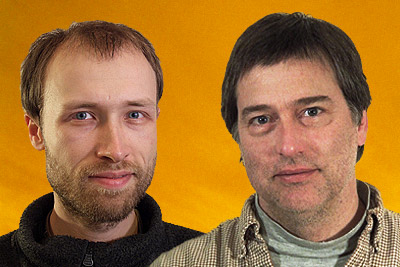 N.B.Aldrich is a New Media artist, musician and educator residing in Sedgwick, Maine, USA, who creates installation, video, performance and acousmatic art. Prior to earning an MFA in Electronic Music composition at Bennington College, he spent ten years as a theatre director and artistic director. Working as a sound designer and composer for theatre and dance performances over twenty five years, he challenged the traditional complementary role of audio as a design element by constructing large-scale works that operate as thematic partners with text and/or movement.
The current work is largely rooted in speculation about systems of organization, whether biological, physical, sociological or cognitive. This speculation provides a platform from which to question how the world works and conceive, if not an answer, at least a model for understanding and a chance to contemplate how some of the logic of the Information Age plays out. He has shown work internationally at such venues as Artists Space, the Casoria Contemporary Art Museum, the Festival de Arte Sonore, the Singapore National Museum, Dance Theatre Workshop, the Portland Museum of Art and the Hipersonica Festival, among many others.
He has taught Music, Sound Design, Electronic Music, Electronic Art & Media History and Installation Art courses at Bennington College, Rockport College and the University of New Hampshire and is currently an adjunct Associate Professor in the New Media Department and the Intermedia MFA Program at the University of Maine at Orono. He has written about Sound Art and sound artists such as Chris Mann, Stephen Vitiello, Annea Lockwood and Alvin Lucier.