WGXC-90.7 FM
Governor unveils the Women's Equality Act
Jun 05, 2013 5:18 am
[caption id="" align="alignright" width="324"]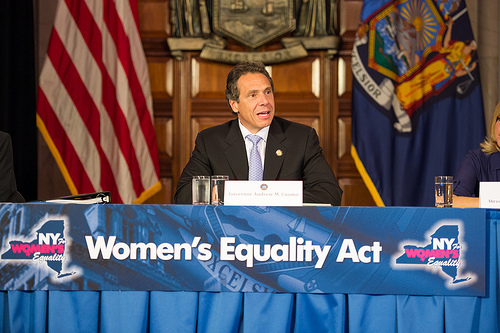 Gov. Andrew M. Cuomo, June 4, 2013.
(Governor's Office, via Flickr)[/caption]
Jimmy Vielkind reports in the Times Union
Gov. Andrew M. Cuomo, Tues., June 3, unveiled a sweeping "bill of rights" for women that would toughen laws against human trafficking, domestic violence, gender-based discrimination and pay inequity. The Women's Equality Act also includes language creating an affirmative right to abortion as established by the United States Supreme Court in the 1973 decision
Roe v. Wade
. The provision, made public nearly five months after Cuomo first described it in the State of the State presentation, does not expand rights granted by Roe and other court decisions. In a statement released Tuesday, Cardinal Timothy Dolan and New York's Catholic bishops expressed approval of the first nine points of the Act, but said they were "profoundly distressed" by the abortion provision. A spokesperson for Senate Republic Leader Dean Skelos called inclusion of the abortion language "a political maneuver designed to curry favor with extremists..." 
Read the full story in the Times Union
.