Noise! 2009
Jun 23, 2009 - Jun 27, 2009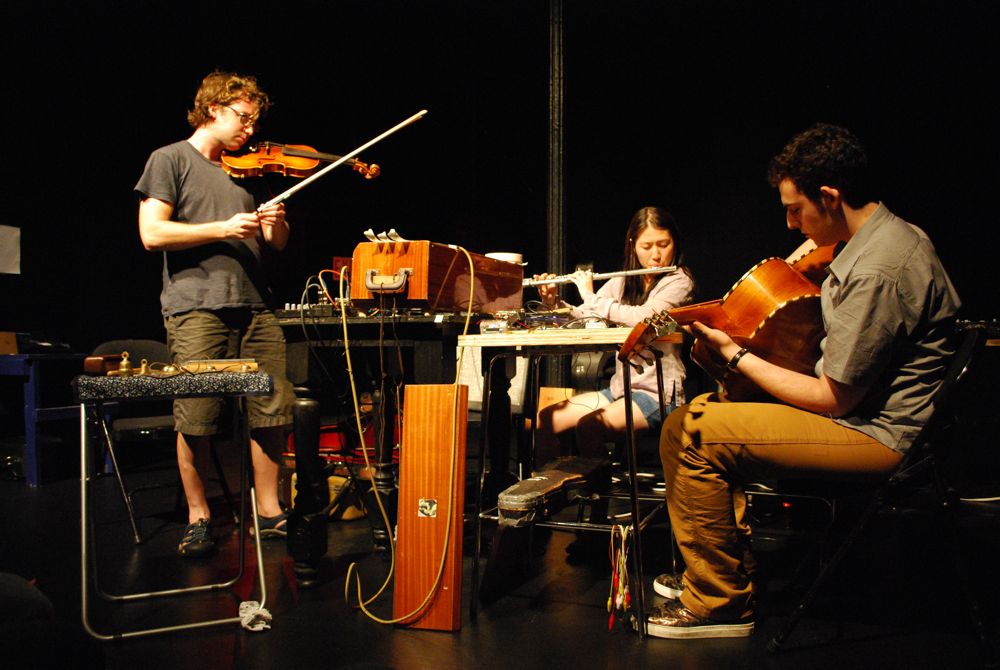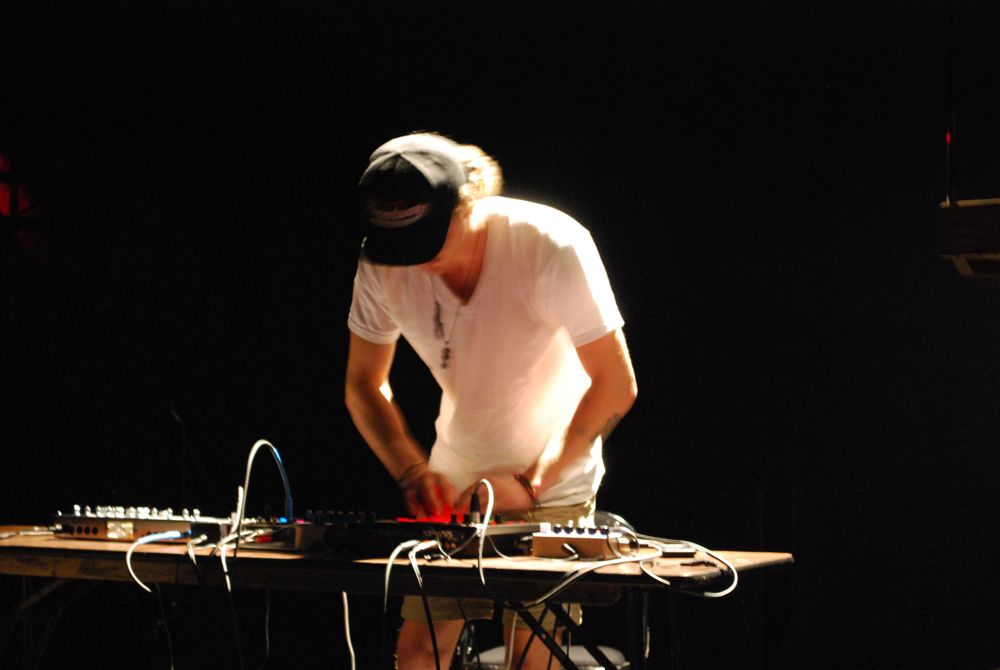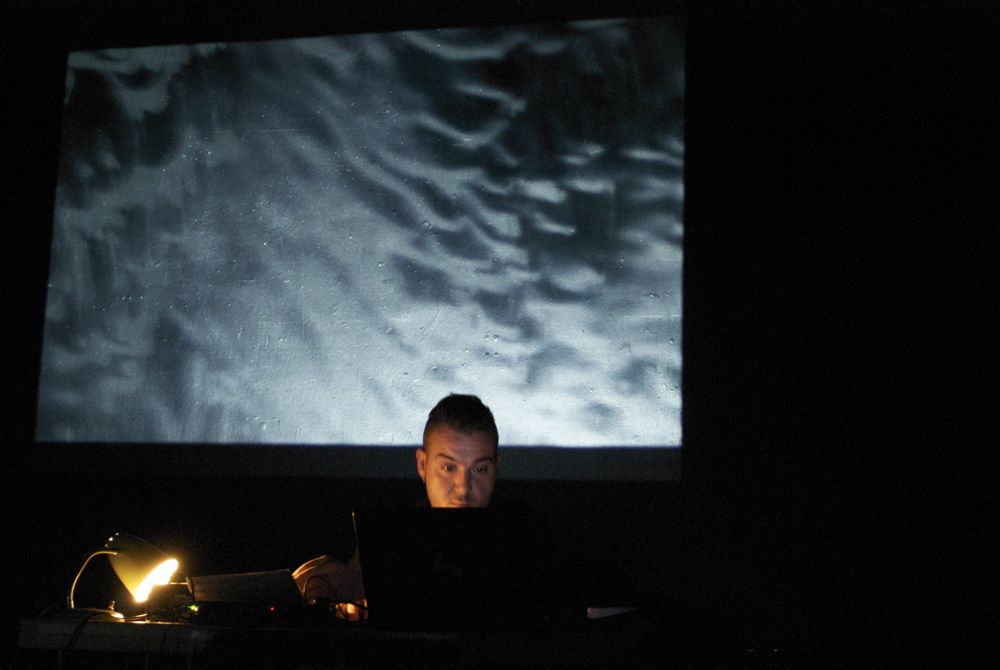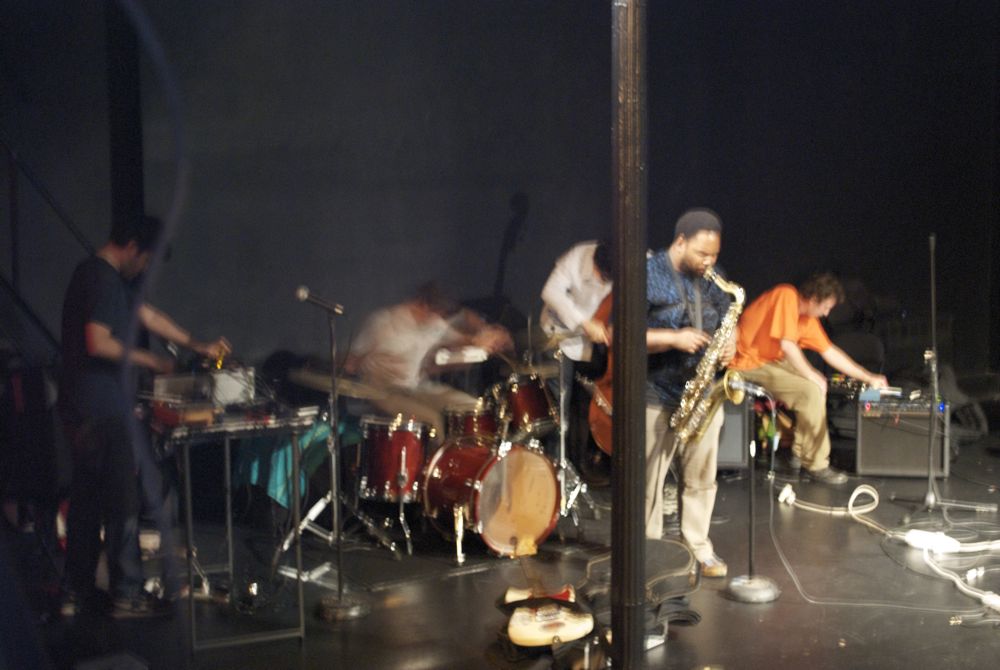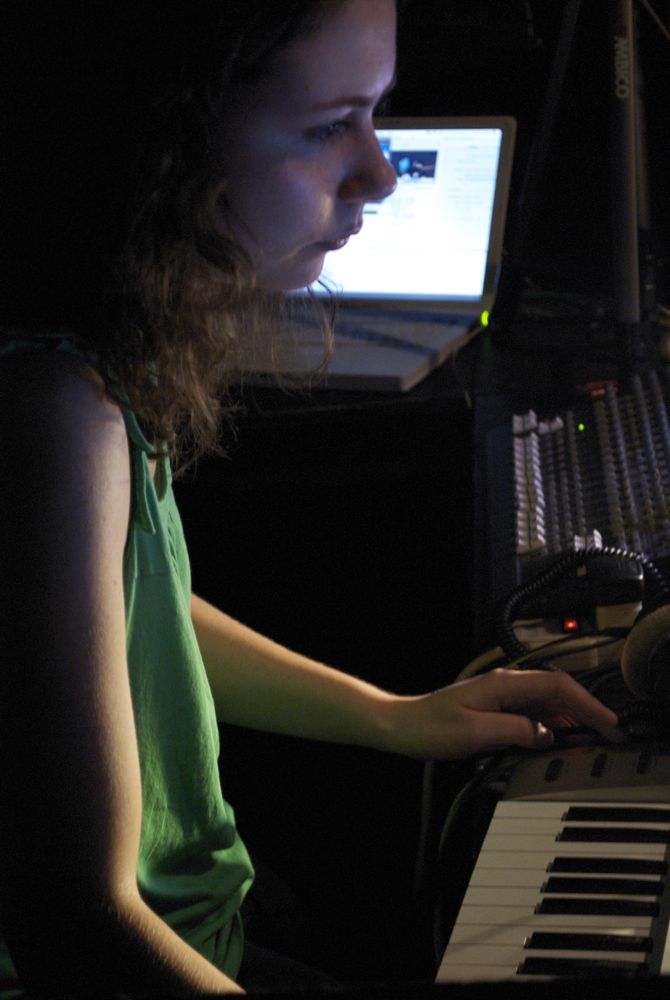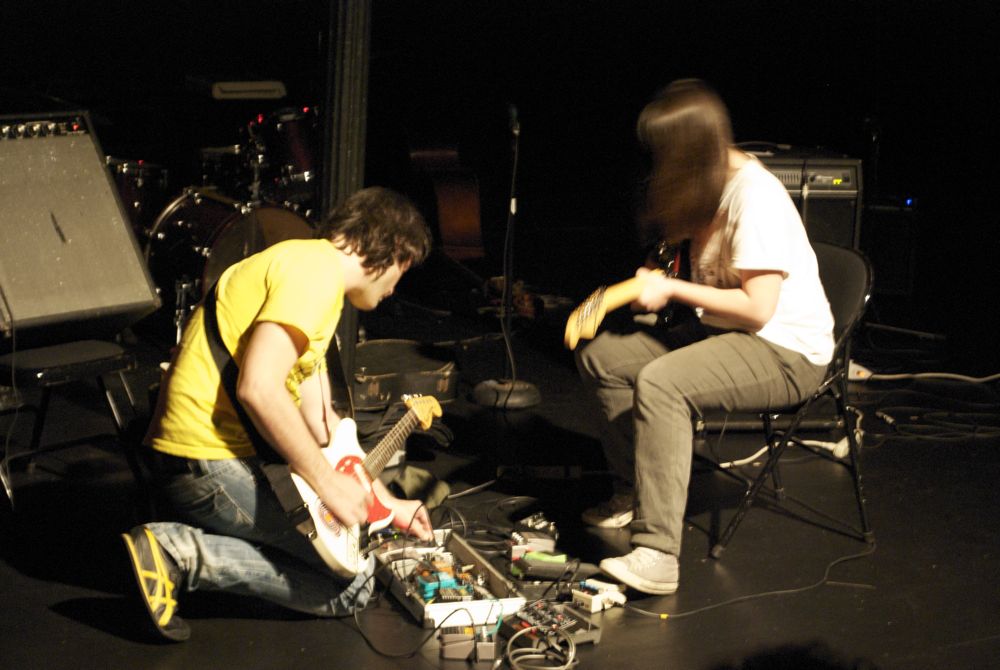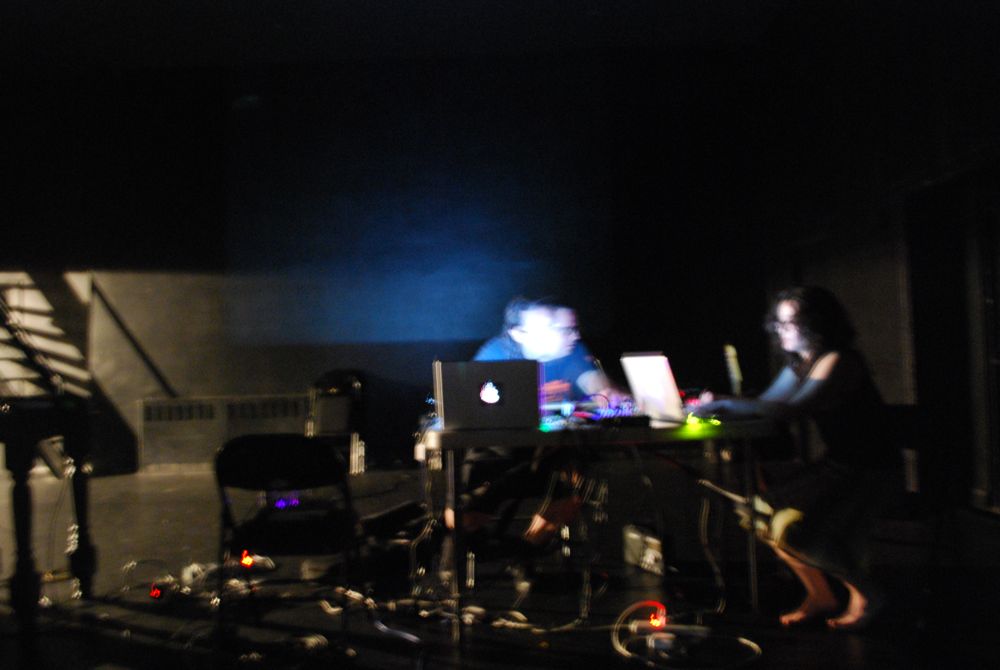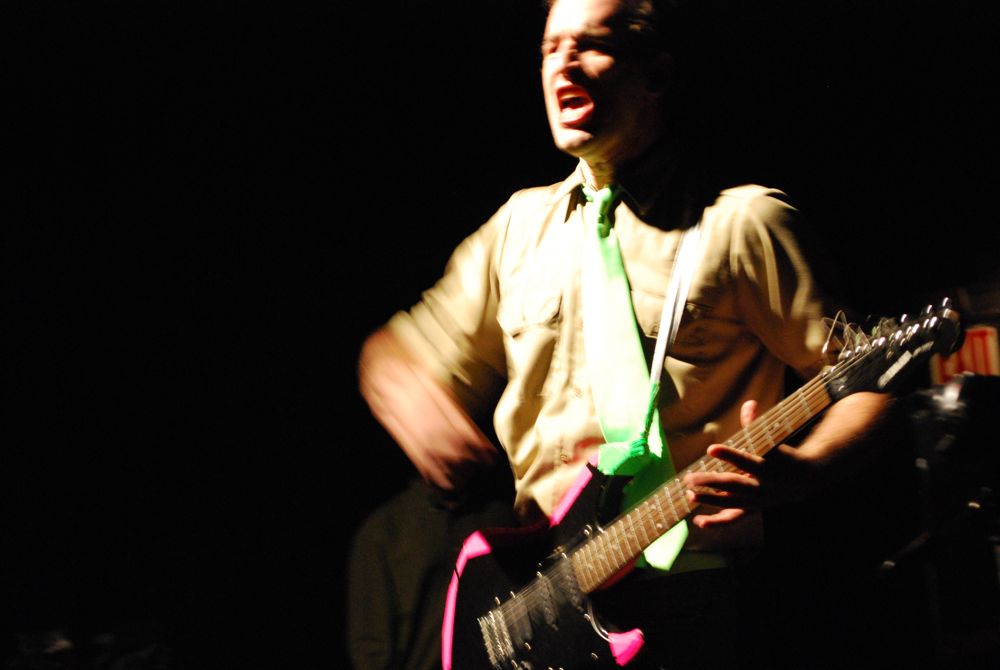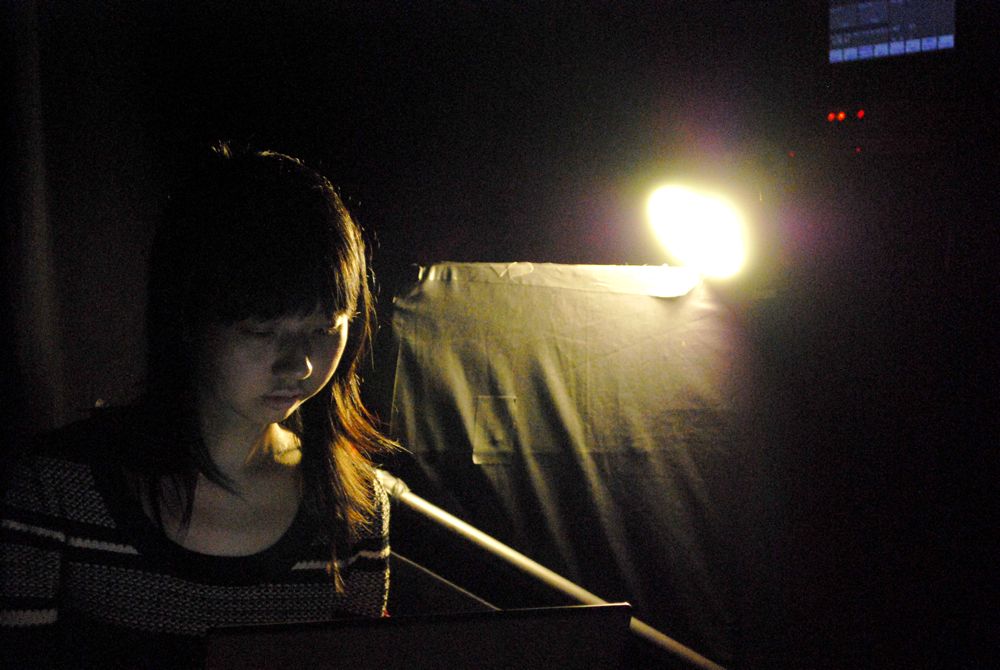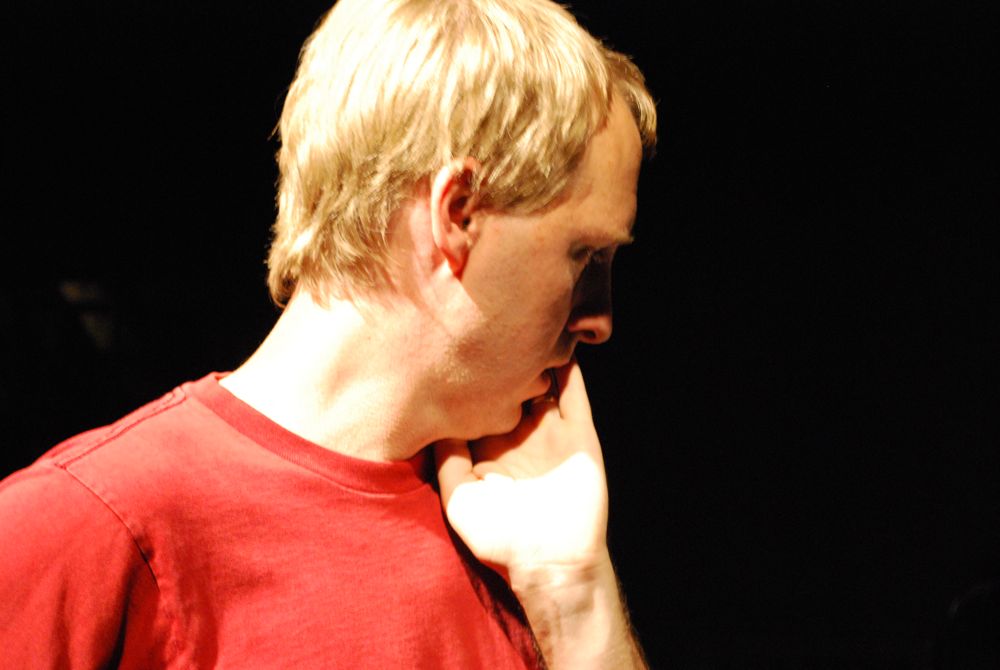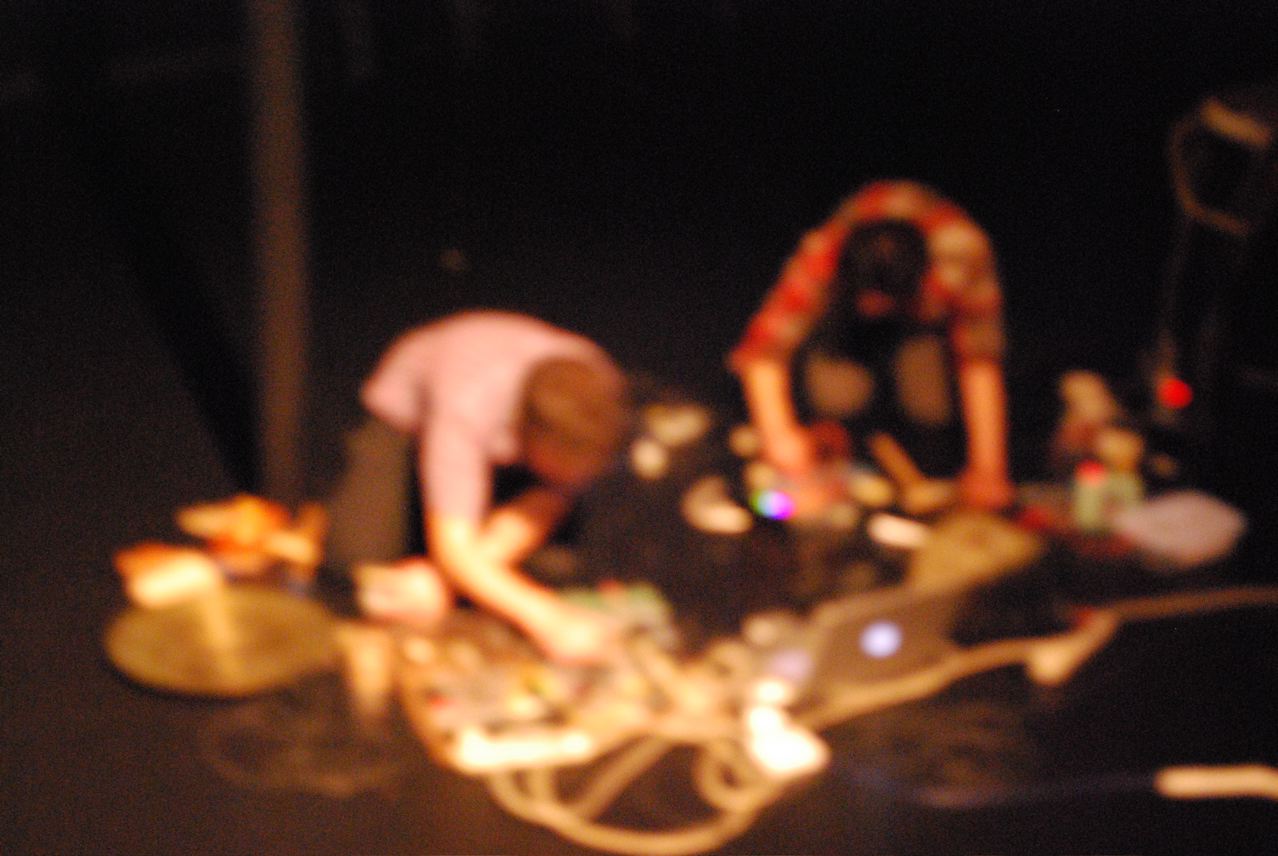 Join us in celebrating the fifth annual Noise! festival. This four-night, multi-arts event is designed to promote interest in new forms of sound art and features short compositions and performances by established and emerging artists. This year, each evening opens with a remote performance from an artist transmitting their performance from another location.
Tune in live video stream each night at www.free103point9.org
TUESDAY, JUNE 23, 8 P.M.
Carlos Giffoni
Oneohtrix Point Never
Gunung Sari
opening transmission: Robert Peterson (Athens, Georgia)

THURSDAY, JUNE 25, 10 P.M.
Sawako
Radio Shock
Jeremy Slater and Tamara Yadao
Tom Roe
opening transmission: Radio Cegeste (Sally Ann McIntyre) (New Zealand)

FRIDAY, JUNE 26, 10 P.M.
George Steeltoe Ensemble
Reverse Mouth
Aza
Maria Papadomanolaki
opening transmission: Anika (Athens, Greece)

SATURDAY, JUNE 27, 10 P.M.
GDFX
Giancarlo Bracchi
Ann Adachi/Richard Kammerman/Gregory Reynolds
opening transmission: Stephen Pellegrino (Pittsburgh, Pennsylvania)

Co-presented by free103point9 and Ontological Theater.
PERFORMERS
(in alphabetical order)
ANN ADACHI/RICHARD KAMMERMAN/GREGORY REYNOLDS

Gregory Scott Reynolds believes that the activities of making and listening to sounds have the potential to aid us in achieving focused, sublime and beneficial states of mind. He finds something alchemical in the physical act of bringing objects into vibration and, after many years of playing the alto saxophone in a variety of contexts, has switched to violin, harmonium and percussion in an effort to further his experience with vibrating bodies. The last year has found him fruitfully collaborating with the dancer Mariko Endo and performing with a variety of electronic and acoustic musicians, dancers and video artists.
Richard Kamerman prefers small sounds to large sounds but that doesn't mean they are always performed as quiet sounds. He also likes accidental sounds and collecting his instruments from people's trash on the street. He has no time for cigar breaks.
Ann Adachi is a flutist, pianist and multi-media performer, working with sound, the moving image, and performance. Compositions involve through-composed music for one or more acoustic instruments, and in some pieces, interaction with video and light as sculptural and environmental element. Ann is a member of the Eidolon Ensemble which performs original compositions monthly in New York. Education includes Berklee College of Music (B.M.), and Massachusetts College of Art (course work).
ANIKA began as a music project in 1998 by A.G in London. Drawing influences from the likes of Chrome, Neu, Suicide and Brian Eno, ANIKA creates an amalgam of analogue and digital synthesis, fusing the experimental avant-garde of the late 20th century with cyberpunk and contemporary electronics.
From 1998 to 2004, ANIKA recorded demo tapes in a four cassette recorder in London, Newcastle and Athens. 'A:0507', featuring 16 cut-up, brooding soundscapes, is ANIKA's first full-length Lp, released in December of 2008. It is preceded by 'A:0304', a 12" vinyl Ep, released in 2005.
LIVE001:D-EYE TRANSMISSION is the very first live show by ANIKA that will be performed via stream from Athens, Greece. A.G and V.G will present a 30-minute show of electronic music taken from the two official releases, with the use of phased synthesizers, e-drums, rhythm samplers, effect processors and pre-recorded tapes.
AZA is the performing and recording name of Greek experimental, sound artist Constantinos Lamprou, who was born in Athens in 1979. Aza's sound lives up to the noise tradition of sparse, minimalist, sample-based electronica, with affection for unusual frequencies. Working more as a collector of sonic instances rather than as a musician, Aza filters the everyday life to discover the essence of our auditory experience. His syntheses intermit an assemblage of ordinary sounds in a variety of "raw" states with frequencies at the edges of human hearing and melodic instrumental interferences. Seemingly emerging from the subconscious, his sound is never self-referential. Contrariwise, Aza's abstractive repercussion entails the construction of a complex soundscape that draws the audience in to a pure auditory vacuum, characterized by a pervasive undercurrent psychosomatic experience.
As a reformist experimental artist, Aza does not side entirely with either traditional structures of music or with radical postmodern experimental structures. While both elements are to be found interchangeably in play within his work, they are drawn as tools for broadening the narrative capacity of his sound, not as a criterion of form. Aza does not concern himself with the melody embedded in music but with the non-melody, which appears to be lacking from music. This absence of "non-melody" emerges mutually in both opposing strains of musical structures and eventually turns the subject of debate into a disagreement on form. For Aza however, form is impulsive and of secondary importance to the overall creative production. His entry in the debate on sonic semiology, a mere part of a larger and older debate on aesthetics; Aza repeatedly demonstrates through his work how the binary distinctions between function and form, sound and noise, harmony and ataxia are inadequate to justify the prevalence of a new kind of beauty alien to previous times. By investigating the inherit beauty that is to be found within non-melody, whether non-melody belongs to music or to noise, it becomes clear how large a part 'absence' plays in the conceptualization of his work.
Throughout his sonorous investigations, Aza distorts the phenomenon in search for the phenomenal and what comes out, sometimes as a composition and sometimes as an intermission, is a new space for the audience's objective existence and subjective experience. In his own words, Aza defines his sound as that which stands "between you and the speaker". He is involved in the evanescent gap that occurs in-between the transmitter and the recipient and attempts to broaden that intermediate space in which everything is still in a state of flux, where nothing is either concrete nor fluid, and this includes our very own existence and experience, our objective and subjective selves.
GIANCARLO BRACCHI is a multi-instrumentalist, sonic artist and musician residing in Long Island City, NY. He began playing music at an early age, teaching himself guitar and playing saxophone in school band with additional forays into the violin and other various stringed instruments. In high school, he went on to play in a hardcore band which transfixed his attention to extreme sonics and the cathartic uses of sound. As a solo artist and as part of his duo with Juan Matos Capote Thick Wisps, he has shared stages with Talibam!, Blues Control, Elliott Sharp, Growing, Mudboy and Bunnybrains. He also runs the record label Viking Foundry and records collectively under the moniker Eroded Goat, as well as releasing material under the nom de plume of Mangoon. His most recent works have been an exercise in tone sculpting and synthesis, conjuring galaxious sound ghosts from his instruments; besides utilizing hacked hardware and self assembled theremins, mini-synths, loopers and larger analog synths, Bracchi also explores the sounds of metals grating, chains rolling and decaying wastelands of vocal death. In addition, he also broadcasts a weekly show, DJ Mangoon Presents on free103point9 and has provided interstitial DJ'ing for several special events. His newest project sees him collaborating with fellow free103point9 radio host Tom "Radio Ruido" Mulligan and partner and free103point9 archiving consultant Jennifer Cohlman. This will be his third consecutive noise fest.
GDFX
Anyone who's familiar with the Brooklyn and Baltimore scenes has run across GDFX at one point or another. You might know him better as one of the members of Teeth Mountain and the newest drummer for Liturgy. Or maybe you're looking forward to seeing him on his current stint backing Dan Deacon as part of Deacon's 14-person touring ensemble. And if you're really in the know, maybe you've booked a show at Market Hotel through him or are hip to his micro-label Infinite Limbs. Either way, Greg Fox is a man who wears many hats whose solo project goes by the title of GDFX.
GDFX sees Greg step away from the drum kit and take a stab at twisting knobs. Filled with integrity, we're actually fond of his work as GDFX because of it's pop-sensibilities. Much like our friend Dan Friel — although with heavier nod to the 8-bit gods — Greg's hob-knobbery (like that one?) is filled with plenty of catchy hooks. Too bad few of them are present in the clip below, because as fate would have it, Greg's gear — along with a flash card that held the last five years of GDFX material — was stolen before his New Year's show with, ironically enough, Dan Friel and These Are Powers.
The CARLOS GIFFONI sound can be described as psychedelic electronics for the new era of death and destruction hope music. He is a Venezuelan artist who resides in the New York City area since the year 2000, applying feedback systems, modular manipulation, rewired electronic instruments, analog and digital synthesis to the composition of electronic music pieces, as well as improvising live with local and international renown musicians. Carlos remains very active performing live in New York and in a number of tours and festivals in the US, South America, Europe and Japan. He is the curator of the No Fun Fest, a yearly event in Brooklyn bringing together a wide variety of international experimental musicians. He is also a member of No Wave/Noise/Rock trio Monotract.
In 1999 the GEORGE STEELTOE ENSEMBLE began experimenting in free jazz and other improvisational forms through weekly "church" sessions at the Lexington, KY home of Brian and Elisa Osborne. The group originally performed mostly as a quartet with Jeff Chapple, Jay Dunbar, Lathan Hardy and Brian Osborne. It has since taken many shapes, performing throughout the US and participating actively in New York's free music community since 2001. Currently the Ensemble's line-up includes Brian Osborne on drums, Lathan Hardy on sax, Michael Barker on electronics, and Tom Blancarte on bass; with Jay Dunbar, Marc Zajack, Jeffrey Shurdut, and Michael T. Jackson joining frequently. The following people have also played in the Ensemble over the past ten years: Dylan Angell, Andrew Barker, Ed Bear, Casey Block, Daniel Carter, Ed Chang, Tom Clark, Ross Compton, Marcus Cummins, Peter Evans, Dave Farris, Walker Hancock, Trevor Healy, Sam Hicks, Erik Hinds, Joel Lambdin, Elisa Osborne, Melissa Putz, RADAR Dance, Speight Rhue, Mark Savage, Blaise Siwula, and Robin Siwula. In 2006 George Steeltoe Ensemble released their first recording titled Church of Yuh, which Blastitude dubbed "refreshingly nasty garbage jazz all the way, maybe even a new kind of fire music". The group's sound made WIRE imagine "the Art Ensemble of Chicago jamming with Jackie-O Motherfucker". Prefering live performance over recordings; the group's only other relase is a 3" on Primecuts, which documents the group, eight strong, on a day off during their 2007 Spring Tour.
GUNUNG SARIis an experimental performance group based in Brooklyn, New York. Formed in late 2005, they have performed in festivals like Bent Fest (2006, '07, '08), LaSuperette at Eyebeam, Noise! Fest organized by free103point9 radio at The Ontological Hysteric Theater (2007), Flow at Monkeytown, Phi Phenomena, and Frequencies Exhibition. They have also played in venues such as The Lower Manhattan Cultural Council, Issue Project Room, and Cakeshop.
Their influences range from obscure gamelan and folk music from Southeast Asia, to the avant noise of downtown New York and Brooklyn. They combine home-made electronics, analog boxes, percussions, saw, wood, metal, and toys in their performances. They also do video projections at times, and in some events utilize the computer as a tool for sound and image synthesis.
As a collaborating unit, they are interested in the similarities and differences regarding the physicality of manipulated circuits and more traditional instruments such as percussion, and using these opposing means in interplay of the intentional and interference.
Gunung Sari is Nick Lesley, Stanley Ruiz, and Michael Dotolo. Their latest recording is available at Neck and Tongue music.
Oneohtrix Point Never is the solo project of Brooklyn-based electronic musician Daniel Lopatin. He attended Hampshire College where he studied aesthetic philosophy and electronic music, later releasing his senior thesis recording on Naivsuper under the alias Dania Shapes. Utilizing freeware audio editing programs in conjunction with synthesizers, the Dania Shapes sound was a neo-romantic derivation of glitch music that opted for an ornate, hands-on melodic approach rather than systematized processes of degradation. At the same time, Lopatin began recording as Oneohtrix Point Never, abandoning the glitchwork of DS for a more open-ended approach to recording and live performance. Using a variety of synthesizers, sequencers and loopers, Lopatin employs a technique he refers to as grid layerage which abstracts the organizing elements of automated synthesizer arpeggiation via blurring, decay and melancholic repetition. Lopatin's longstanding interest with the old masters of the synthesizer and their ensuing diaspora is met equally by his fascination with the amateurism and ubiquity of stock synthesizer music, and often works with motifs commonly associated with minimalism, contemporary noise, Berlin School, 80s new age, b-films, darkwave, ambient, fusion, and techno. Rather than focusing purely on sentiment or style alone, the radical promise of OPN is found in its ability to generate a music in which these disparate worlds sympathetically resonate towards the personal, inneffable and innate. Lopatin is also member of Infinity Window with Taylor Richardson of Prehistoric Blackout and Purple Haze. He is currently living in Brooklyn, New York.
MARIA PAPADOMANOLAKI is a sound artist from Greece who works with field recording, voice and telematic performance. In 2004, after completing studies in French literature and language in Greece, she moved to the UK. There, she received grants to complete a degree in Digital Music, followed up by an MA in Sound Art. For more than 10 years, Maria has been performing in various projects ranging from No Wave to melodic electronica. Her music has been aired on BBC 6, Resonance FM and Soundart Radio among others. In April 2009, she released her first EP as dalot under an independent label. Her sound installations have been exhibited in the UK (Audio Forensics, IMT Gallery, London | University of Brighton Gallery, Brighton) and Greece (Athens Video Art Festival). For her latest project entitled Trajectory, Maria collaborated with distinguished artists such as Peter Cusack (UK) and Manu Luksch (UK/Austria). Her compositions for dance and video have been featured in many festivals such as the 700IS International Experimental Short Film Festival (Iceland), the 'Video ex' International Experimental Film and Video Festival (Switzerland), the National Dance Festival (Athens, Greece), the Sunrise Festival (UK), National Review of Live Art (Glasgow) and the Soundwaves Festival (UK). Maria has also been working for radio since 1999 and most recently for Resonance FM (UK). She is currently collaborating with free103point9 (New York) as a co-editor for a publication on transmission art and as a co-curator and assistant to a variety of events and festivals.
For the last 35 years STEPHEN PELLEGRINO has been composing music for dance and theatre. Since the early 80's he has been creating an ongoing, multi-sectional, interdisciplinary music/theatre opera series called DRYWALL. He has been the recipient of numerous grants and commissions.
ROBERT PETERSON is a member of "Birds Ear View" (with collaborators Jon Barraclough and Alexandra Wolkowicz .) About Birds Ear View, they write, "The ways in which urban environments interfere with wildlife on the ground are self-evident. We are keen to find out more about how wildlife is affected in the air, especially in a city that is built to reach high into the sky. With the help of NYC Audubon, the charity that protects wild birds living in the city, we learned that thousands of birds fly into skyscrapers during migration season in autumn and spring every year. They are distracted by lights at night and cannot see the buildings because of their mirror-glass surfaces during the day. As audio-visual artists, we now propose to gather 'evidence' of these collisions in the form of artworks for development and subsequent publication and dissemination. Our project evokes connected themes such as: man's desire for the bird's eye view and the ability to fly; how architecture is designed to reflect nature, causing these tragic deaths and ultimately how art (gathered field evidence) might influence science and urban planning in the future."
RADIO CEGESTE is Aust-NZ writer/curator Sally Ann McIntyre, who has been broadcasting and live djing self-reflexive radio and experimental sound, initially through her involvement as programmer and producer of two weekly shows with independent broadcaster RDU98:3FM (1998-2003), and subsequently in physical locations as varied as art project spaces, dance party ambient zones, parks, pubs, and new media art festivals, as well as over the airwaves of a variety of radio programmes and stations, from the mini FM project station Radio Kiosk, to community broadcaster Volcano Radio 88:5 (Lyttelton), to Resonance FM (London). Her project Radio Cegeste weaves a radio-poetics of the ether drawing on transmission art, sound poetry, post-lyric conceptual poetics and experimental documentary, with an emphasis on drift-aesthetics, mnemonic fragility, neglected and incidental sound, locality and the practice of highly attentive listening: field recordings combine with the dial-flicking marginalia of the broadcast spectrum, sonic ephemera normally edited out of 'legitimate' radio journalism, the anecdotal uncertainties of oral historic accounts of place, the spillage of signal from electronic objects, live and pre-recorded filtered, digitally macerated spoken texts, unstable architectures of bandwidth static, associated old and new media-materiality, and the flickering of transmission's blind spots in 'dead air' overlay. sound portraits with a highly localised focus, each weaves a microscopically attentive, yet nomadically restless non-narrative, its scrutiny infused with the debris of signal, becoming both an aleatory archaeology and a "textual genetics" of radio.
RADIO SHOCK is a one-man band that plays sometimes danceable, often dissonant, noise-party music. Radio Shock will make you want to get up and dance while trying to trip you up at the same time. Created by M*P*Lockwood specifically to tour and entertain live audiences, Radio Shock is designed for maximum mobility. The music is made using only a found Yamaha keyboard, a uniquely tuned guitar, and a collection of Toys'R'Us noise-makers (sometimes played all at the same time), all of which can be carried on M*P*'s person. M*P*Lockwood has been a member of the critically-acclaimed No-Core band Cock Robot , and one half of the laptop-hardcore duo LOTUS . At this show Radio Shock will employ a "broadcast your voice over the radio" microphone toy, and other radios.
REVERSE MOUTH from Athens, Greece is the improvised duo of Sofia Zoitu & Panagiotis Spoulos. Exploring the boundaries between creativity + nihilsm with over twenty releases on tape, vinyl and cd-r, they offer hidden testaments of black trance and feedback punk. Using guitars, mainly, their live sets have been described as "soul-vomiting experience". Their debut studio full-length "Butara Kavla" will be out this year.
"The best Greek things I've heard have always had a certain post-Rembetika blues orientation that explodes beyond average tongue worship. These guys are all that. And more." (Byron Coley)
TOM ROE is a sound transmission artist sometimes known as DJ Dizzy. He co-founded microradio station 87X in Tampa, Florida; and, with Greg Anderson and Violet Hopkins, founded free103point9 as a microradio collective in Brooklyn, New York in 1997. Roe performs with transmitters and receivers using multiple bands (FM, CB, walkie-talkie), as well as prepared CDs, vinyl records, and various electronics. He creates radio soundscapes using locally available frequencies, often to the beat of manipulated pop song samples. He has collaborated with Pierre Huyghe, Kristin Lucas, members of the Gold Sparkle Band, Matt Bua, Carrie Dashow, Tali Hinkis, Matt Mikas, and many others on various projects. His album The Worst Hour of the Year will be released in 2009. Roe has exhibited widely both in the United States and internationally. Recent performances, have taken place at the Mattress Factory, Pittsburgh; White Box, New York free103point9 Wave Farm, Acra; Center for Contemporary Art in Warsaw, and at Laznia Centre for Contemporary Art in Gdansk, Poland; Gwangju Biennale, South Korea; Santa Fe Art Institute, New Mexico; Wesleyan University, Middletown, CT; and The Kitchen, New York.
SAWAKO is a sound sculptor, a timeline-based artist and a signal alchemist in the urban life environment who understands the value of dynamics and the power of silence. Once through the processor named Sawako, subtle fragments in everyday life float in space vividly with a digital yet organic texture. She is interested in the soundscape and the media scape of digital era, and her activities are making bridge between public and private, virtual and actual world. Sawako released her albums from 12k (USA), and/OAR(USA) and Anticipate (USA). She had collaborated with Taylor Deupree, asuna, HYPO, Ryan Francesconi, Toshimaru Nakamura, Taku Sugimoto, Andrew Deutsch, Jacob Kirkegaard, Kenneth Kirschner, Daisuke Miyatani, Nobuko Hori, Radiosonde, among others. She has performed internationally as an audio and/or visual artist in MUTEK (Canada): Warm Up at P.S.1/MOMA, Tonic, Diapason, Monkey Town, Issue Project Room, Starbucks Salon, BAP Festival (NYC); Corcoran Gallery (Washington DC); UCLA Hammer Museum (LA); OFFF Festival (Lisbon); Glade Festival, Resonance FM, ICA (UK); Batofar (Paris); m12(Berlin); Offsite, Super Delux, Bullets, Apple Store (Japan). In 2006, she was awarded a Jerome Foundation grant to create a commissioned work for Roulette.

ABOUT ONTOLOGICAL THEATER
Artistic Director Richard Foreman founded the Ontological-Hysteric Theater in 1968 with a mission to make high-quality, intellectually resonant work for a large and diverse audience. Foreman's "total theater" unites elements of the performing arts, visual art, music composition, philosophy, psychoanalysis and literature to produce a unique result. Core programming consists of Foreman's theater pieces with over 50 original shows created in the last 41 years.
Since taking up its home at the Ontological Theater at St. Mark's in 1992, the OHT has also been nurturing a new generation of artists who share Foreman's goals and passion for theater. In 2005, the OHT reorganized its programming for emerging artists under the name Incubator, which today includes festivals, work-in-progress programs, a concert series, and fully-realized productions, as well as artist roundtables and workshops. The Incubator serves artists who follow in the compositional theater footsteps of Foreman, but have their own unique artistic visions and strategies.