Tune(In))) The Kitchen
Apr 22, 2004: 7pm- 11pm
The Kitchen
512 West 19th Street | New York, NY 10011 | 212-255-5793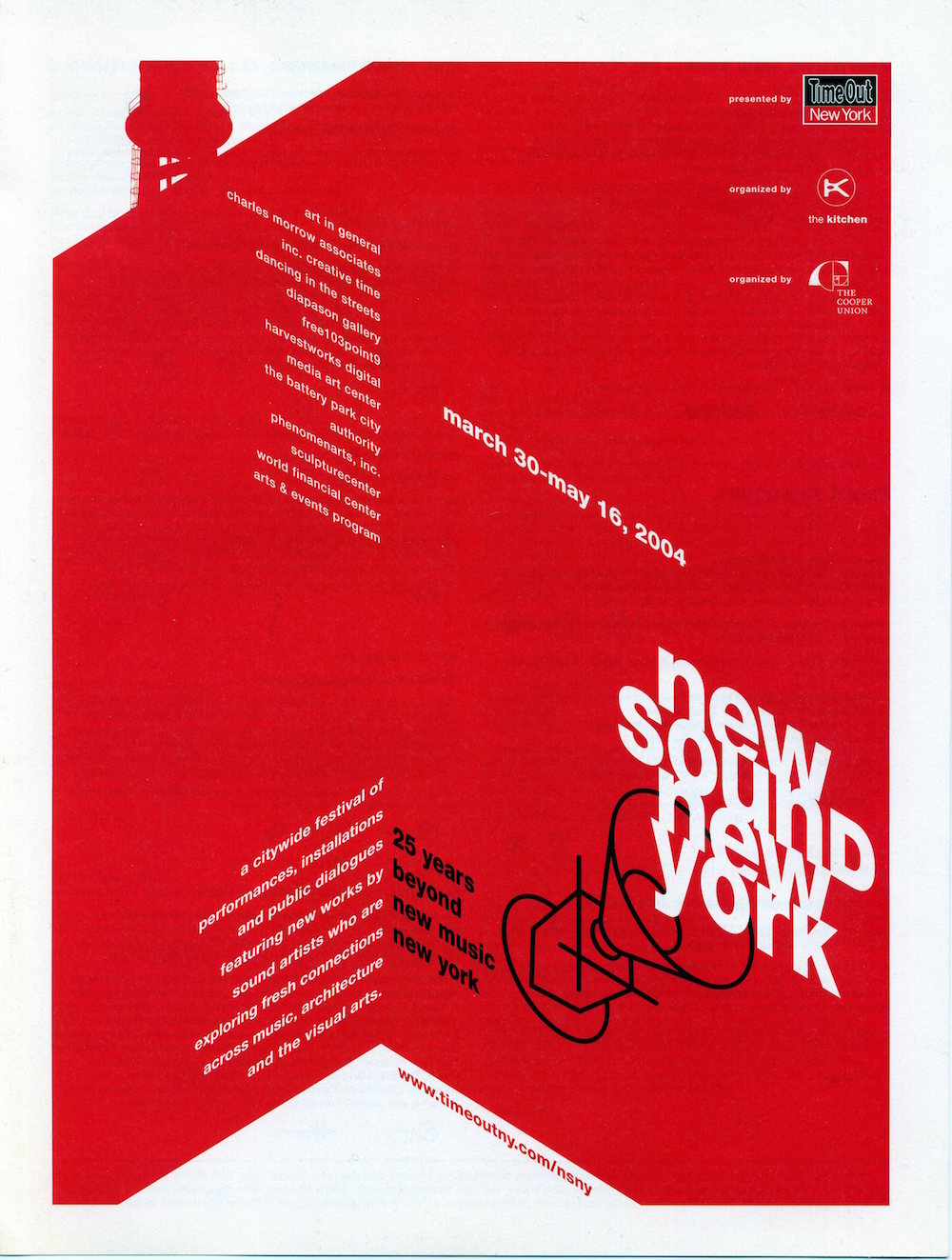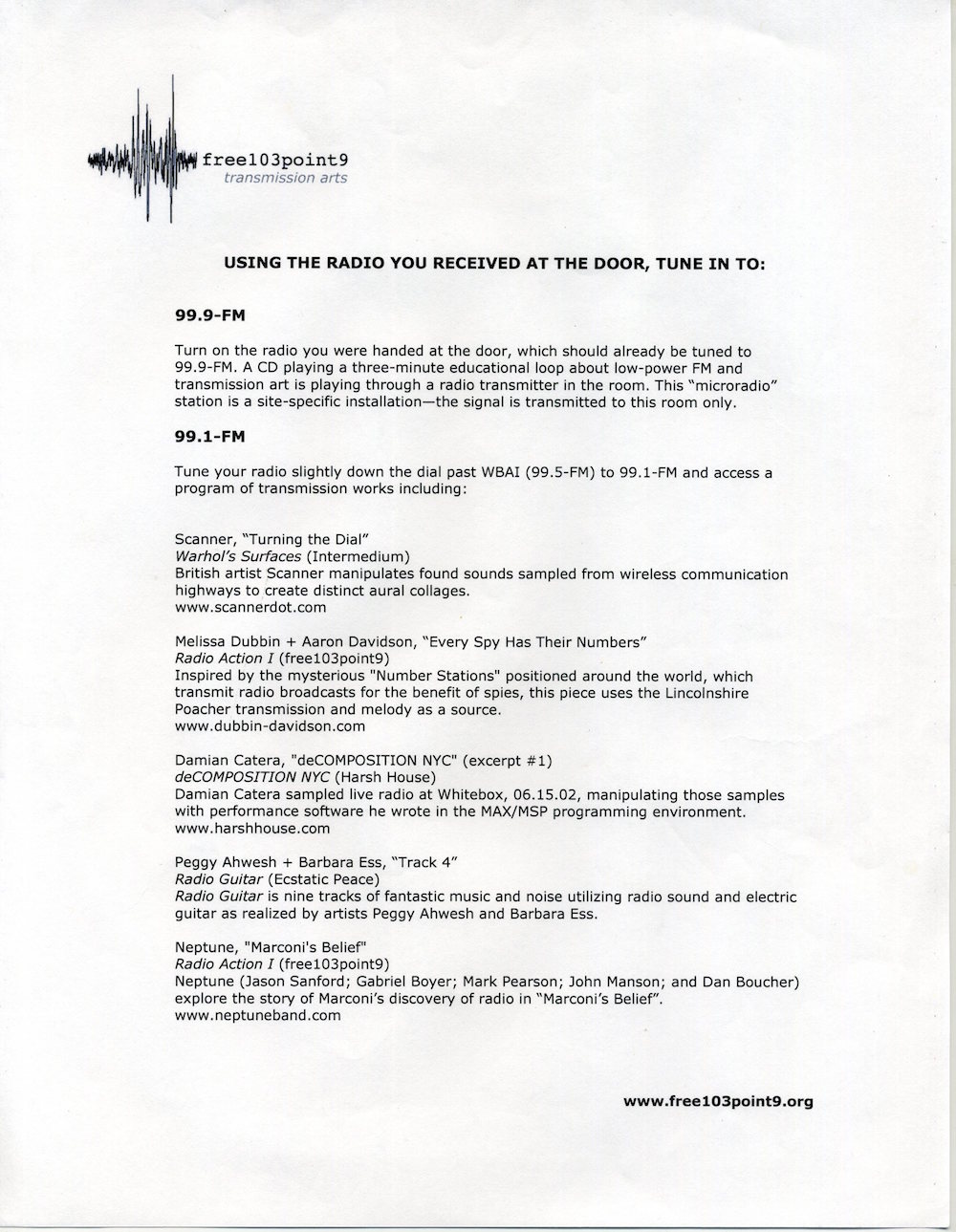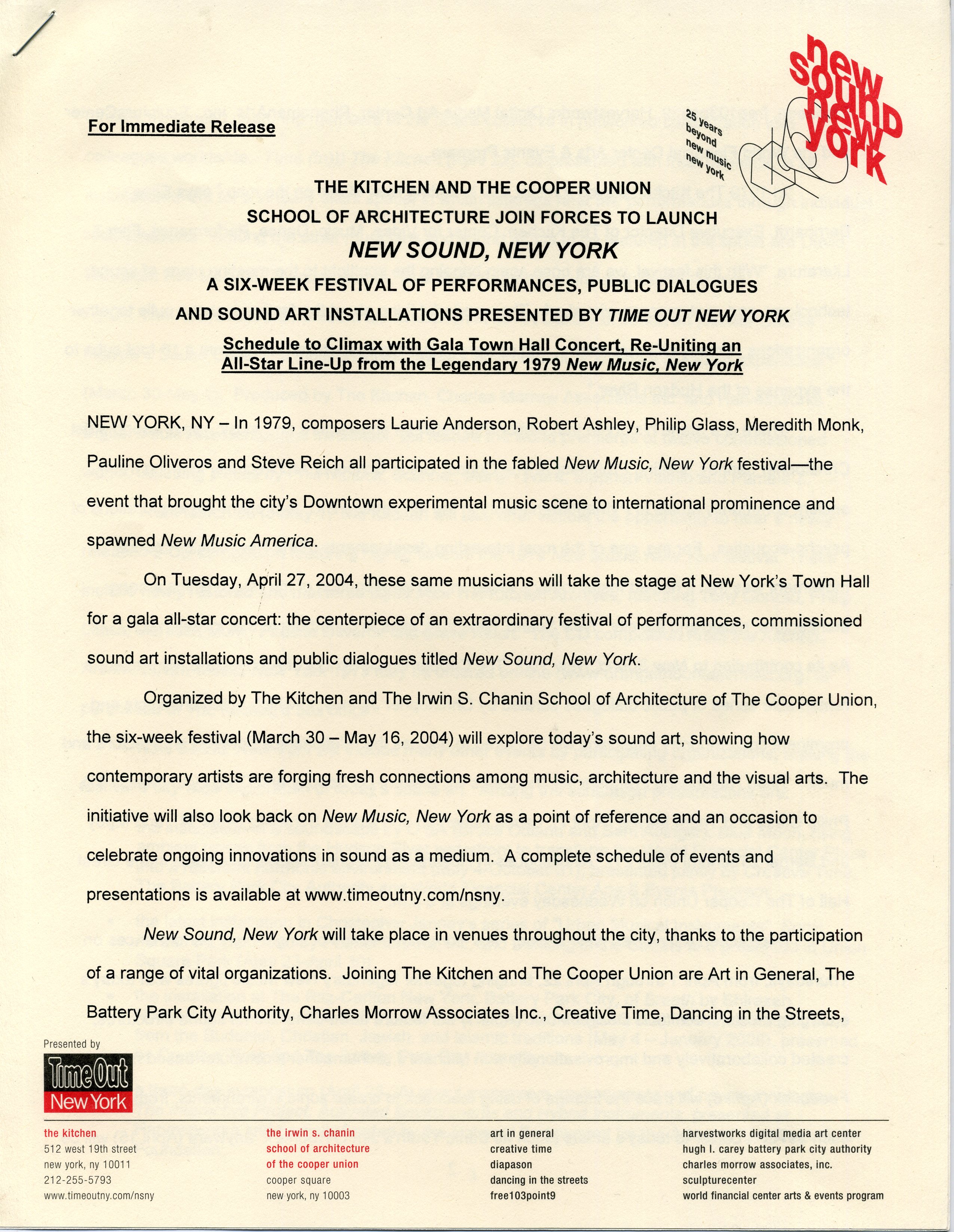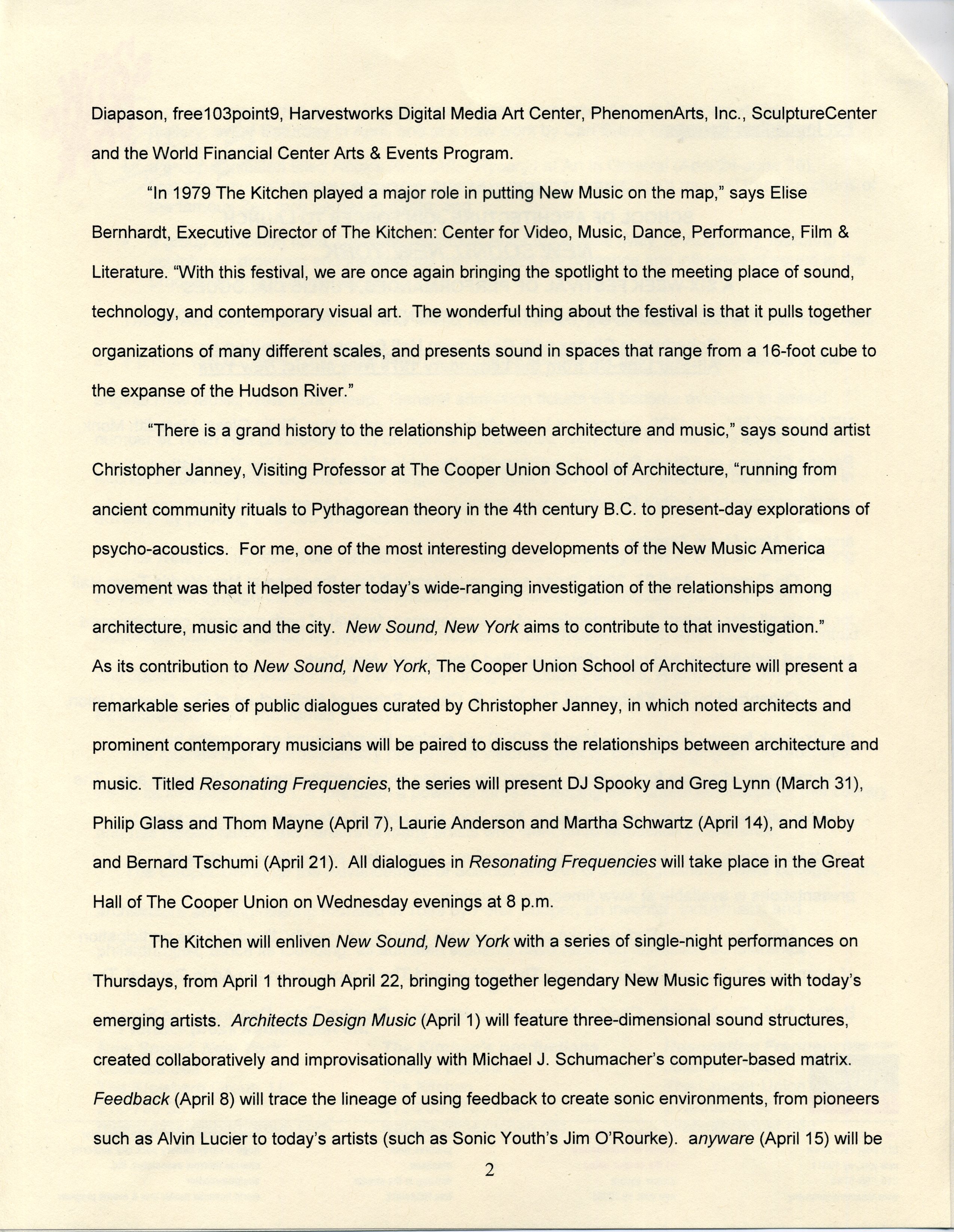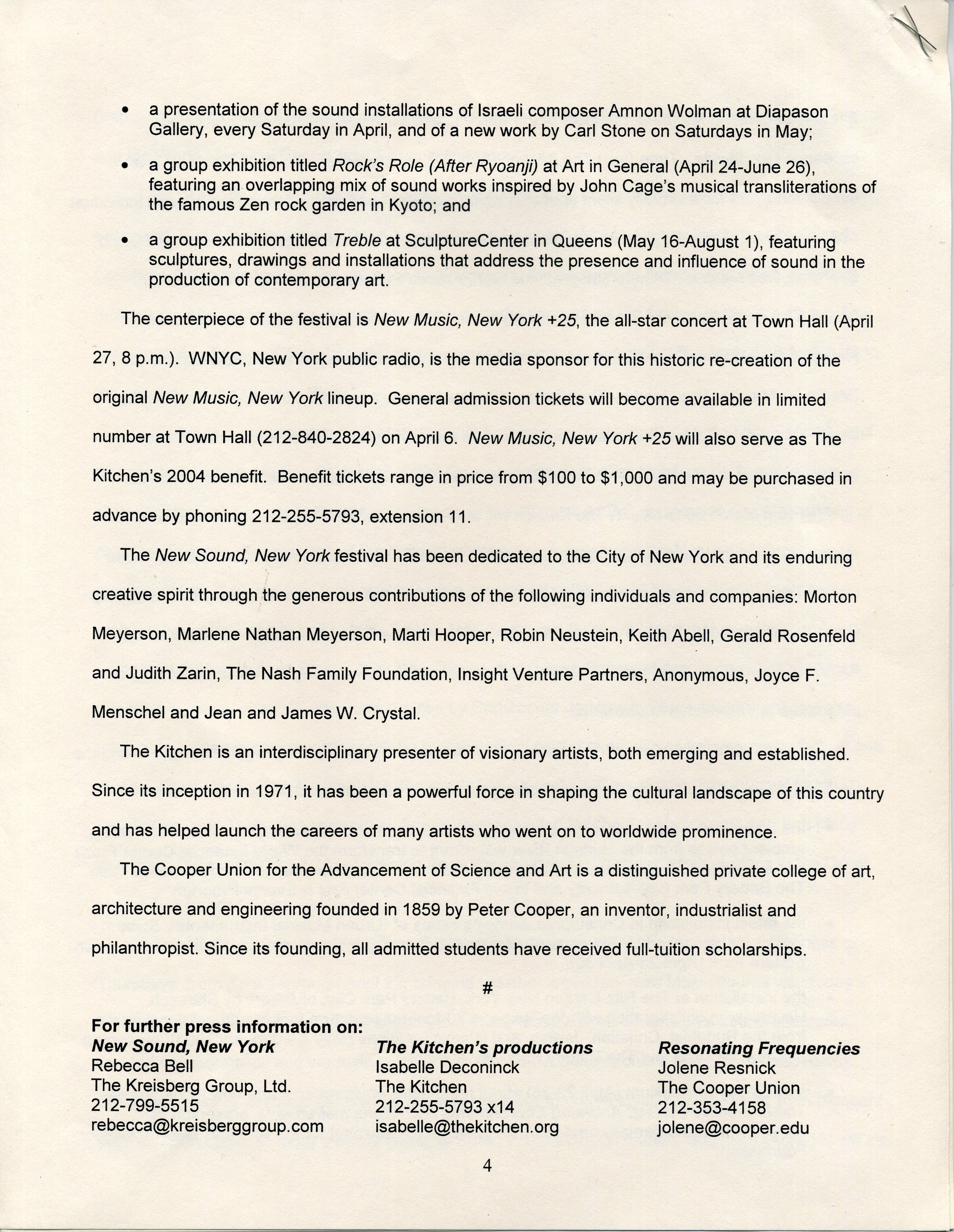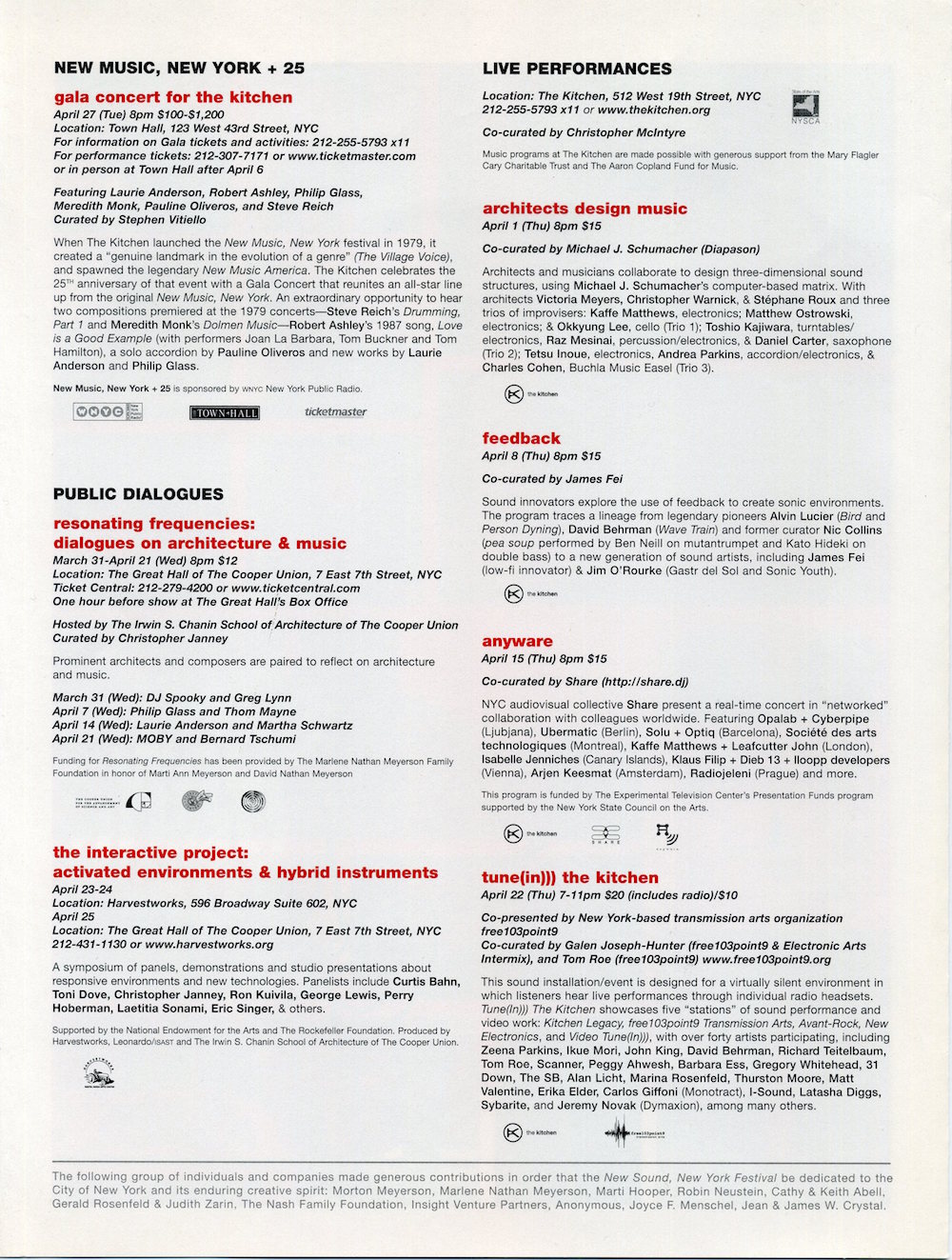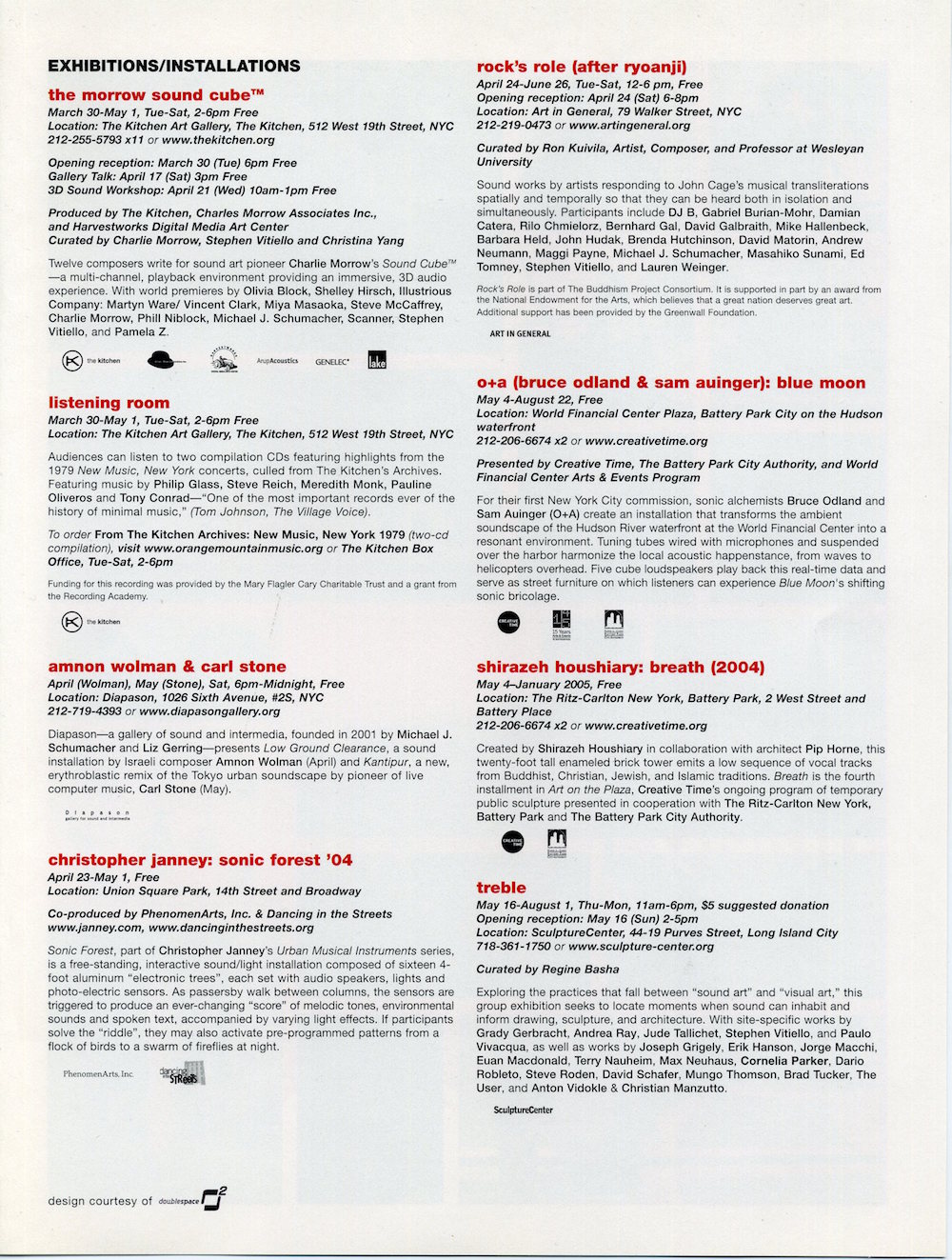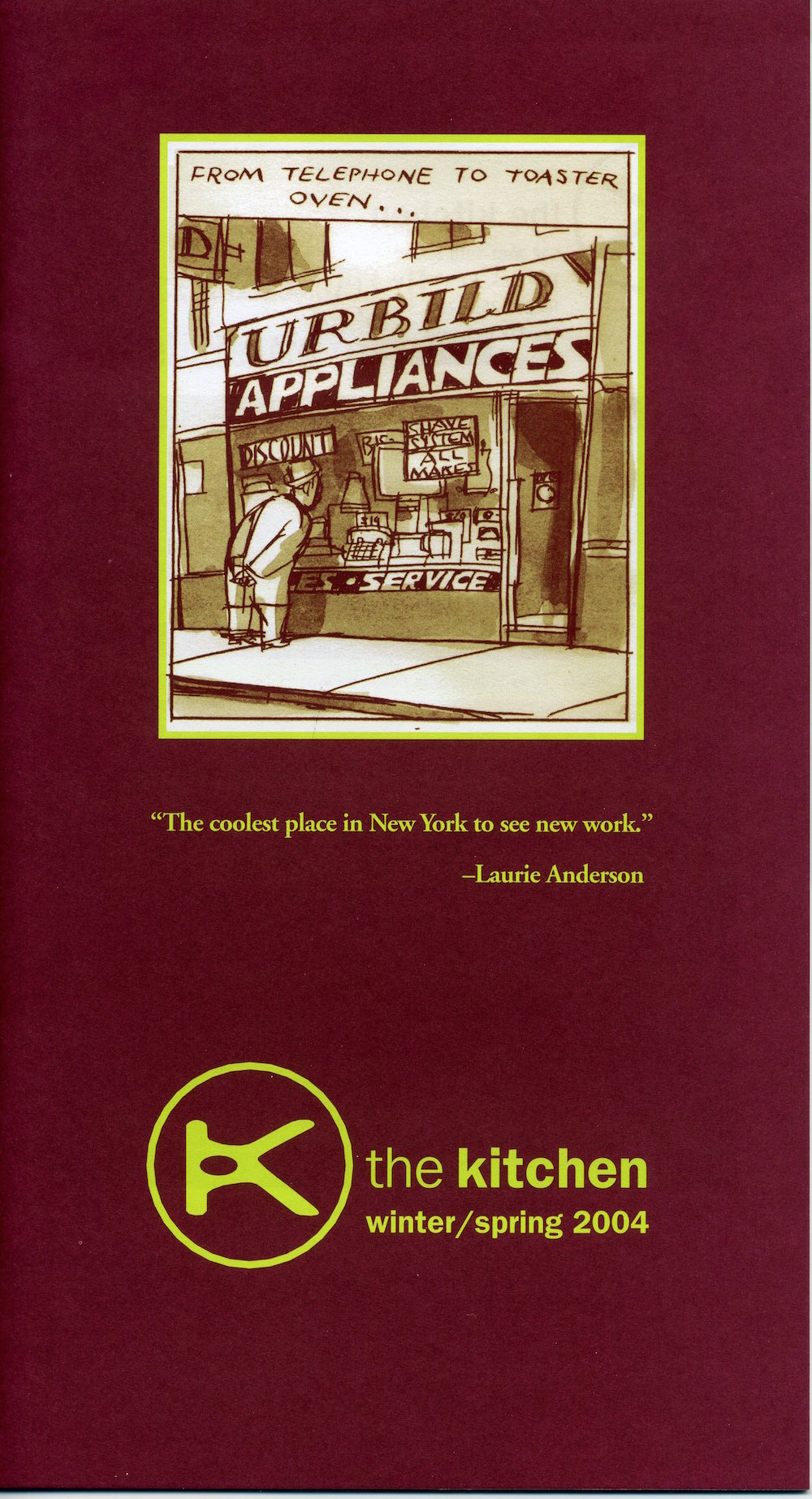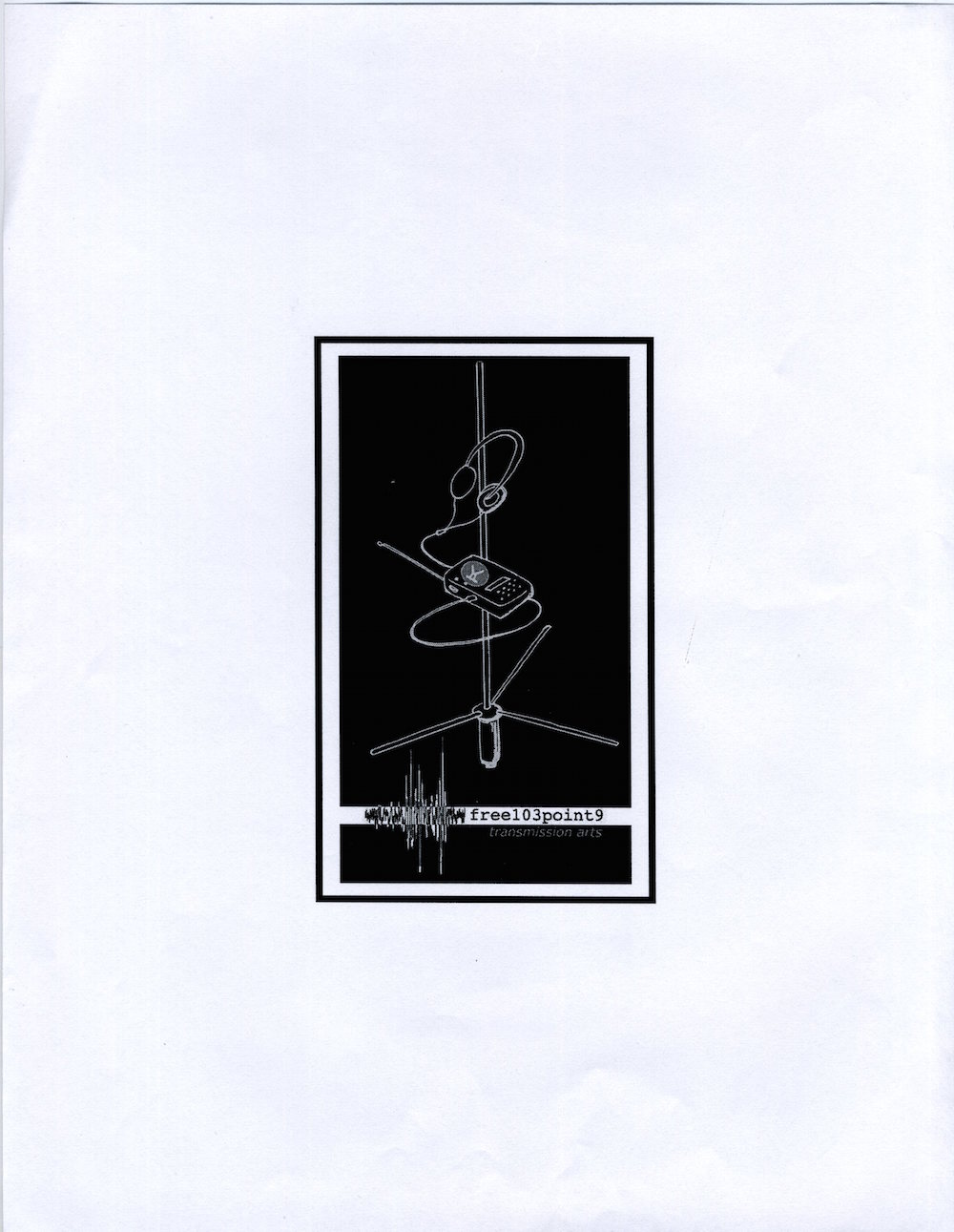 free103point9's Tune(In))) traveled to The Kitchen as part of the city-wide festival
New Sound/New York
. Over 30 artists performed into five transmitters. Attendees listed to performances on radios with headphones.
Tune in on five frequencies:
Kitchen box office opens at 6 p.m. Doors open at 7 p.m. 31 Down's instructional loop will play on 1610-AM (all evening in the lobby), and on all other channels, until about 7:05 p.m.
Kitchen Legacy:
89.3-FM
7:05:
Matt Bua
7:25:
Stephen Vitiello
7:55:
Michelle Nagai
8:10:
David Behrman
8:40:
Matt Bua
8:55:
Richard Teitelbaum
9:25:
Michelle Nagai
9:45:
Zeena Parkins
+
Ikue Mori
10:15:
Matt Bua
10:30:
John King
Engineers:
Michelle Nagai
+
Matt Bua
free103point9 Transmission Arts:
103.9-FM
7:15:
Tom Roe
7:50:
Ben Owen
8:20:
Gregory Whitehead
8:50:
Radio Rudio
9:30:
Scanner
10:10:
Ben Owen
10:30:
31 Down
Engineers:
Ben Owen
+
Radio Rudio
Avant-Rock:
88.7-FM
7:05:
Marcel Blum
7:15:
the SB
7:45:
Damian Catera
8:
Matt Valentine + Erika Elder
with
Barry Weisblat
8:30:
Marcel Blum
8:45:
Espers
9:15:
Damian Catera
9:30:
Alan Licht
+
Marina Rosenfeld
10:
Marcel Blum
10:15:
Thurston Moore
10:45:
Damian Catera
Engineers:
Marcel Blum
+
Damian Catera
New Electronics:
91.9-FM
7:05:
Matt Mikas
7:25:
Jeremy Novak
(
Dymaxion
)
7:55:
Transmaniacon MC
(
Barry London
)
8:15:
Sybarite
8:45:
Matt Mikas
9:
Carlos Giffoni
(
Monotract
)
9:30:
Transmaniacon MC
9:45:
I-Sound
10:15:
Matt Mikas
10:30:
Latasha Diggs
Engineers:
Matt Mikas
+
Transmaniacon MC
Video Tune(In))):
99.9-FM
Presented in collaboration with
Electronic Arts Intermix
(EAI).
Program will repeat throughout the evening.
Klaus vom Bruch
,
Jeder Schuss ein Treffer (Every Shot a Hit)
, 1984, 9:30 min, color, sound.
Gary Hill
,
Mediations
, 1979-86, 4:17 min, color, sound.
Sums & Differences
, 1978, 8:24 min, b&w, sound.
Kristin Lucas
,
Involuntary Reception
, 2000, 16:45 min, color, sound.
Nam June Paik
and Jud Yalkut,
Video Tape Study No. 3
, 1966-69, 4 min, b&w, sound.
Beatles Electroniques
, 1966-69, 3 min, b&w and color, sound.
Steina and Woody Vasulka
,
Noisefields
, 1974, 12:05 min, color, sound.
Steina
,
Violin Power
, 1970-78, 10:04 min, b&w, sound.
1610-AM Tune(In))) The Kitchen information channel
:
Tune in to this informational channel for instructions on how to Tune(In))) as you enter the space.
31 Down
is creating this instructional programming with sound effects and script by
Ryan Holsopple
,
voice by
Heidi McElligott
. This instructional programming will also play on all five channels at 7 p.m., when the event begins.
Instructional Video
:
Video projections by
Melissa Dubbin + Aaron Davidson
were created specifically for Tune(In))).
"Tune(In))) The Kitchen" is funded, in part, by the Experimental Television Center. The Experimental Television Center's Presentation Funds program is supported by the New York State Council on the Arts.
Tune(In))) The Kitchen is part of "New Sound, New York," a city-wide festival of performances, installations and public dialogues featuring new works by sound artists who are exploring fresh connections among music, architecture, and the visual arts. Running March 30-May 16, 2004, the festival is organized by The Kitchen with The Irwin S. Chanin School of Architecture of The Cooper Union, in conjunction with ten other New York arts organizations, and is presented by
Time Out New York
. www.timeoutny.com/NSNY
New York Times review of
free103point9's Tune(In))) The Kitchen
04.24.04
Five Concerts All at Once, and It's Quiet
The audience at the Kitchen listened to performers on portable radios.
By Jon Pareles
It was the quietest concert of the year and perhaps the noisiest.
For long stretches of the Tune(In))) the Kitchen, a four-hour electronic music gathering on Thursday night that was as conceptual as its title, the only sounds in the Kitchen came from people strolling around and sporadic conversations.
But the airwaves in the room were alive with abstract sounds. Four simultaneous performances and a channel of video soundtracks were broadcast to the FM radios and headphones of the audience. The musicians worked at tabletop setups, never knowing who was listening.
Tune(In))) was a small-scale fulfillment of many avant-garde musicians' dreams of being heard on the radio. It was also both a throwback to 1960's-style multimedia events ÷ with Nam June Paik videos from the 1960's ÷ and an embrace of the latest laptops and other gizmos.
The aesthetics looked back to the 1960's, as most of the performers offered uninterrupted, slowly evolving textural works. Performers like John King, Damian Catera, Transmaniacon MC, Tom Roe, Jeremy Novak, I-Sound and the duo of Alan Licht and Marina Rosenfeld each created distinct, dense soundscapes that could be meditative or jolting. In this context Sybarite lived up to his name by using samples of music with melodies and friendly acoustic guitars.
There were some low-tech offerings, too. Thurston Moore of Sonic Youth played a perpetual-motion electric guitar improvisation, shifting from jumpy picking to frantic strummed chords to blaring effects-pedal distortion with Carlos Giffoni applying additional electronic effects. Mr. Giffoni also played his own electronic set. At one point he looped someone saying "Repetition breeds suggestibility" followed by a new loop: "I am not suggestible."
Espers used cello, acoustic guitar, electric bass and keyboard in ghostly, reverberating instrumentals.
Gregory Whitehead, backed by his own recordings, sang and spoke an elaborate fantasy involving George Bush in a performance somewhere between Meredith Monk and the radio satirist Harry Shearer. Matt Bua set up two suitcases holding motors, switches and sound generators that silently broadcast dense swaths of booping, crunching noise.
In a high-tech/low-tech duo, Ikue Mori used her laptop to play quick, quiet sounds ÷ like a slapstick routine at a flea circus ÷ while Zeena Parkins added textures from crumpling, ripping, tapping items like bubble wrap and a pair of clogs. And 31 Down played a dense, throbbing piece with film noir dialogue samples while he snapped photographs, ate donuts and used a coffee cup to trigger buzzes and swoops.
In an event that couldn't help prompt thoughts about radio as audience members dialed toward the Kitchen's frequencies, Scanner had the most intellectually germane performance. He was scanning radio broadcasts for sounds to sample, adding ominous undercurrents to things like a Sibelius symphony. At the end, like Tune(In))) itself, his segment dissolved into static.