2023 Wave Farm Artists-in-Residence Announced
Apr 01, 2023 9:00 am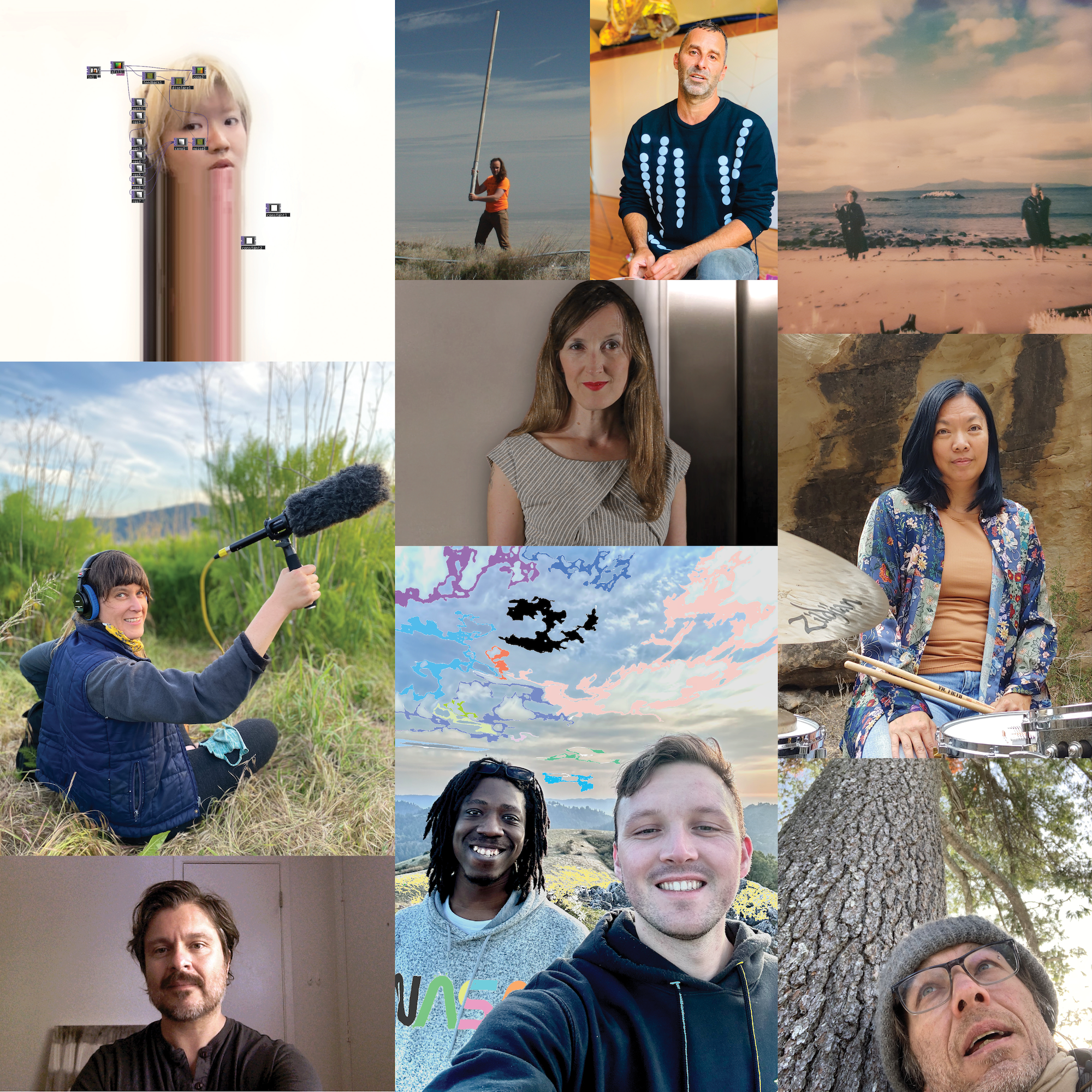 Acra, NY—Wave Farm announced today the artists and projects selected for the 2023 Wave Farm Residency Program. Since 2005, Wave Farm's international artist-residency program has fostered new work in Transmission Arts. This year the program will emphasize "feral frequencies," prioritizing proposals that employ and/or activate less commonly used frequencies within the radio spectrum and the electromagnetic spectrum at large.
In 2023, Wave Farm welcomes Owen Chapman (Montréal, Canada), Viola He (Brooklyn, NY), Susie Ibarra (New Paltz, NY), Lathrop Duo (Mike Mulshine and Dayshon Mathis) (Stanford, CA), Charlie Macquarie (Oakland, CA, Lisjan Ohlone territory), Jillian McDonald (Brooklyn / Troy, NY), Abinadi Meza (Austin, TX), Lisa Schonberg (Troy, NY), Peter Simensky (Bay Area, CA / Brooklyn, NY), and Sisters Akousmatica (Julia Drouhin and Pip Stafford) (Tasmania, Australia).
This year's program will engage consulting artist engineers Jen Kutler and Víctor Mazón Gardoqui who will advise resident artists as they pursue their proposed projects and develop tools to inform a growing inventory of transmission resources. The 2023 program also inaugurates The Rising Tide Award, which on an annual basis, will provide additional financial support to an applicant with a multidimensional life and background, whose work is rooted in process, to further the pursuit of new ideas, experiments, and uncertainties.
The 2023 Wave Farm Residency Program received proposals from over 120 artists, originating from 11 countries and 19 U.S. states. Each artist or duo will live and work on-site at the Wave Farm Study Center for ten days during the residency season, which spans June through October.
WAVE FARM RESIDENCY PROGRAM SELECTED ARTISTS AND PROJECTS
(in chronological order)
Jillian McDonald (Brooklyn / Troy, NY)—Tunnel and the Radio Skies
June 2 - 11, 2023

Tunnel and the Radio Sky is a video and sound work of speculative fiction, filmed in Brooklyn, Newfoundland, Colorado, California, and Arizona, which begins with a hole dug in a Brooklyn backyard. This hole is a tunnel, connecting desert, rocky coast, and mountains; and a portal, connecting them by atmospheric radio signals. The skies are created by typing passages from a ham radio manual info an Artificial Intelligence bot and animating the resulting images. To accompany the video, McDonald will generate sound from intercepted ham radio broadcasts, EVP recordings, and field recording in the wilderness.

Jillian McDonald is a Canadian artist in Brooklyn and Troy, NY. Exhibitions and performances have taken place at Undercurrent and FiveMyles in Brooklyn, The Art Gallery of Regina in Saskatchewan, The Esker Foundation in Calgary, AxeNéo7 in Québec and Lilith Performance Studio in Malmö, Sweden. A CBC IDEAS documentary profiles her videos, which were also reviewed in The New York Times and Canadian Art. Critical discussion appears in The Transatlantic Zombie by Sarah Lauro and Deconstructing Brad Pitt, edited by Christopher Schaberg and Robert Bennett. Awards include grants from The New York Foundation for the Arts and The Canada Council for the Arts, and residencies include The Headlands Center for the Arts in California, the Glenfiddich Canadian Art Prize in Scotland, and The Arctic Circle Residency in Svalbard.
Abinadi Meza (Austin, TX)—Surrounded by Colors We Could No Longer See
June 13 - 22, 2023

Surrounded by Colors We Could No Longer See will explore the sounds of electromagnetic waves and radio frequencies emitted by natural forces and our built environment, such as ultraviolet light, infrared light, very low frequencies, visible spectrum light, lightning phenomena, etc. At Wave Farm, Meza will engage with "colors" of sound, noise, and waves in order to compose new experimental sound works for installation and transmission.

Abinadi Meza is a Latinx-Indigenous artist and filmmaker living in the occupied ancestral territory of the Tonkawa, Lipan-Apache, Karankawa, Comanche, and Coahuiltecan people. Meza studied art, creative writing, and architecture; he primarily makes experimental films, sound works, and installations, often using transitory or precarious materials - found footage, hand-painted film, field recordings, radio waves, glass, found materials, and objects. His sound works have been presented at Contemporary Arts Museum, Houston; Deep Wireless Festival of Radio & Transmission Art, Toronto; Helicotrema Festival, Venice; Lisbon Architecture Triennale; MAXXI, Rome; Radio Amnion, London; Radio Kinesonus, Tokyo; Radiophrenia, Glasgow; Radius FM, Chicago; and Walker Art Center, Minneapolis among other places. Meza teaches in the Interdisciplinary Practices & Emerging Forms MFA program in the School of Art at the University of Houston.
Charlie Macquarie (Oakland, CA, Lisjan Ohlone territory)—Telephone Hills
June 30 - July 9, 2023 (tbc)

Telephone Hills is a project recording and documenting the radio communications and infrastructures of the oil industry in California, especially on Ohlone, Chumash, and Yokuts land, and remixing this documentation into new visual and aural transmissions that grapple with a future alongside climate change. As international environmental criminals and primary drivers of anthropogenic climate change, what the industry "says" across the radio waves is of great concern for bearing witness to the environmental and climate havoc they have wrought. Crucially, this work is focused on hearing from oil workers – the people risking their lives and their health out in the field while corporate profits pile up. The radio transmissions of these workers are important as another kind of witnessing and documentation – listening to the voices of the people who are needed for the dismantling of the industry and its infrastructure and for a just transition away from fossil fuels. Their voices blend with Macquarie's own techno-genealogy into a poetic vision of energy transition on a warming planet.

Charlie Macquarie is an artist, archivist, and radio amateur (KN6HLC) who works to further smudge the already blurred lines between past and future, frequently using the landscape and built environment as a direction-finding technology for this work. He makes cultural inquiries into the historical toxins and byproducts of extractive capital through images, publications, collections of documents and sounds, and transmissions that dig into the contact zone between past and present, often engaging his family's history as they go along. He writes scene reports, syllabi, poems, environmental impact statements, computer code, and technical documentation that further these inquiries. His work – especially the Library of Approximate Location, a series of site-specific digital and physical libraries – has been installed at missile launch facilities, cold-water geysers, bombing ranges, strip clubs, abandoned copper mines, miscellaneous holes, farms, tufa towers, rock and mineral shows, and a few art museums.
Peter Simensky (Bay Area, CA / Brooklyn, NY)—Pyrite Radio – Field Dispatch
July 28 - August 6, 2023

Pyrite Radio – Field Dispatch activates short-range field radio transmissions with audio research over a series of sculptural Pyrite Radios. The opportunity to transmit using Wave Farm's rural location, audio archive, and site-specific installations provides a platform to test and perform improvised radios with varied, dynamic, and responsive programming. This project is part of a larger series spanning several years and iterations, initially forming around historical research into a mining misadventure in the American West. Also referred to as fool's gold, Pyrite alludes and distorts. In common abundance this mineral's reflective mirror facets sparkles give it the superficial appearance of gold, a fact that misled many eager explorers to believe they found their fortune. Charging the stone's more hidden potential has since been the major subject of this work; as is the question how material can be employed to expand the reach and address a diversity of audiences. Simensky's sculptural radios and transmissions have interacted with structures that embody the idea of transmission such as Radio Towers adjacent to the Bay Bridge, sites of extraction such as the Bronson Canyon Bat Caves in Los Angeles (with live audio by Shelley Burgon and Fodo Sossoko), and iconic artworks such as Rodin's Thinker in the courtyard of San Francisco's Legion of Honor.

Peter Simensky is an transdisciplinary artist who has had solo exhibitions at the Museum of Contemporary Art San Diego; the Portland Institute for Contemporary Art; Museum 52, Museum 500meter, Sapporo; and Project Row Houses, Houston. Simensky's performances and installations have been featured at the Geffen Contemporary at MOCA LA, The Swiss Institute, Wattis Institute, the ICA San Francisco, 18th Street Art Center, Santa Monica, Cabinet, and the de Young Museum. He has received grants, residencies and awards including: NYFA Fellows Grant, Oregon Arts Commission / Hallie Ford Family Opportunity Grant, Foundation for Contemporary Arts Grants, MacDowell Colony, La Tallera Proyecto Siqueiros, and Skowhegan to name a few. Selected group exhibitions have been included at The Marin Museum of Contemporary Art, Portland Institute for Contemporary Art, Sculpture Center, Palais de Tokyo; Mass Moca, Tanya Bonakdar Gallery, Andrew Kreps Gallery, and Socrates Sculpture Park. Simensky Chairs the Graduate Fine Arts MFA at California College of the Arts.
Lathrop Duo (Mike Mulshine and Dayshon Mathis) (Bay Area, CA)—Faraday Dream
August 11 - 20, 2023

Faraday Dream is a radio-based interactive sound installation that makes tangible the hidden but ever-present field of electromagnetism around us. It sonifies the relationship between humans and electromagnetism via custom-built partial Faraday cage radio sculptures that block radio waves unless a human (or other entity) is nearby. It also makes audible the beating between adjacent radio bands, painting an aural image of the sea of electromagnetism in which we forever swim.

Lathrop Duo consists of Dayshon Mathis (Jacksonville, FL) and Mike Mulshine (Queensbury, NY). Mathis is a theoretical physicist studying quantum gravity and black holes. Mulshine is a musician and sound artist who creates interactive intermedia and explores new ways to make musical experiences more engaging. The pair met when they became roommates by chance and since then have reflected on the world's mundane and complex problems via many late night conversations. They understand electromagnetism and waves from different angles (Mathis from physics, Mulshine from music) and have found that this unique combination yields a lot of interesting interdisciplinary insights. They are excited to explore and demonstrate this intersection at Wave Farm in August.


Viola He (Brooklyn, NY)—Quiet, and Sometimes Silent
August 22 - 31, 2023

Quiet, and Sometimes Silent is a participatory experience that explores proximity, intimacy, and subtle communication. Consisting of two soft head pieces equipped with flapping and buzzing mechanisms and a fabric speaker, the experience asks one participant at a time to put on the device, as does the He, from a certain distance away. The wearable pieces talk to each other through LoRa, a wireless protocol that enables small data-packet transmissions using a free, hobbyist radio frequency. As the participants approach each other, lightly touch their own head piece in different ways, the other person's piece will morph into different shapes – flapping, shrinking, producing buzzing sensations and movements. Together, two people create a unique soundscape for each other to experience while turning themselves into mutating sculptures, assisting them to communicate with nonverbal subtlety. This project draws correlation between protocols outside of heavily surveilled mass superstructures and the state of acquainted human relationships, exploring the idea that small movements and sporadic data exchange can resemble our loose social connections with the people around us.

Viola He is a Shanghai-born, Brooklyn-based interdisciplinary artist, educator, and cultural organizer. Their creative practices engage with DIY electronics, programming, dance/movements, and various time-based media, exploring pathways towards alternative systems, interfaces, and infrastructures. They create immersive experiences, installations, and improvisational performances using algorithmic approaches to enhance, alternate, and obfuscate audio-visual assets, investigating the contradictions of analog aesthetics and digital tools. He often dreams about computational humor, collective learning, and infiltrating digital spaces with physical bodies as tools for intervention.
Lisa Schonberg (Troy, NY)—Refuge System for Ants
September 8 - 17, 2023

The radio-frequency spectrum for human cellular phone communication has increased in frequency as we have increased the speed and capacity of information between communication points. There has been little discussion about how this increased frequency–and the much smaller wavelengths it travels in–might have on beyond-human species who live alongside us and along transmission pathways. Refuge System for Ants contemplates the effects wavelengths above 5 Ghz might have on ants, whose small body size makes them more susceptible to impacts of absorption of these frequencies. Many species of ants communicate acoustically, and can sense vibration through specialized organs on their legs. Humans are largely unaware of these cryptic sounds that are beyond the limits of human hearing. How does our ease of communication interact with their own communication and quality of life? Schonberg will install prototypes for "EMF refuge systems" that attempt to block cellular radio frequencies in the vicinity of ant nests at Wave Farm, giving the ants refuge from its effects at their sites of congregation, reproduction and shelter. At these sites, humans will be prompted to listen to the sounds of ants amplified through speakers, bringing our attention to insect agency and needs.

Lisa Schonberg is a composer and percussionist creating sound works based on ecological research. Informed by her background in entomology, Schonberg is interested how listening to cryptic sound can reveal and challenge assumptions about insects and other overlooked soundmakers. She has been collaborating with Brazilian entomologists on ATTA (Amplifying the Tropical Ants), a project investigating ant bioacoustics in the Amazon. Her other recent work includes investigations of old-growth forests in Oregon, endangered Hawaiian Hylaeus bees, mushrooms, and plastics. Schonberg's compositions are performed by percussion ensembles Secret Drum Band, Antenna, & UAU, and presented as solo performance and installation. She is the author of Text Scores for Getting to Know the Invertebrates, The Hylaeus Project, and the The DIY Guide to Drums, and has presented work or performed at FILE Festival (BR), the Pompidou, the Brooklyn Museum, Bosque da Ciencia (BR), the American Museum of Natural History, and Museo Reina Sofia (SP). She has developed her work through residencies at Labverde, the Banff Centre, Pioneerworks, HJ Andrews Experimental Station, and Signal Fire.
Susie Ibarra (New Paltz, NY)—Floating Gardens
September 22 - October 1, 2023

Susie Ibarra's Floating Gardens are sonic sculptures and sonic habitats inspired by biodiversity on earth. The work is a reflection on the extraordinary statistic that approximately 2.5 percent of the earth's land has intact biodiverse habitats that support more than half the world's plant species and just under half of the bird, mammal, and reptiles species as endemics, not found anywhere else. Inspired by this, Floating Gardens are sounding sculptures that are light, have movement, and resonate gently, offering an entry into a sensory experience that connects with the habitats. The project is also inspired by Thich Nhat Hanh's recent writing about Deep Ecology in which he states "True Love Heals." Floating Gardens are reflections of nature's beauty in visual sculpture and sonic transmission, and also serve with functions to support natural environments. In-residence at Wave Farm, Ibarra will research and develop the first edition of her Floating Gardens: a Tamayuk Philippine conch shell made of gong metals. Beneath the flowing sound sculpture will be microbial plants selected to support the specific ecosystem in Wave Farm's second pond. Sensors will measure plant behavior and emissions which will be transmitted to the percussive elements of the sculpture activating the Tamayuk sonically.
Susie Ibarra is a Filipinx composer, percussionist, and sound artist. Her interdisciplinary practice spans formats, including performance, mobile sound-mapping applications, installations, recording, and documentary. She is the founder of Susie Ibarra Studio and Sound,Health Habitat, a cultural studio and journal that focuses on sharing and supporting listening health practices, global soundwalks, acoustic ecology focused on climate and eco-friendly and sustainable global music practices. She created Drum Labs: Rhythm in Nature, a course and book through her studio that demonstrates her six part analysis of rhythms in nature. Ibarra is passionate about supporting fresh water sources, and cultural & environmental preservation for next generations.
Owen Chapman (Montréal, Canada)—Tree Tapping for VLF
October 6 - 15, 2023

Tree Tapping for VLF is an audio installation and performance system featuring Very Low Frequency (VLF) radio signals, collected via the use of trees as antennas. A selection of trees located at Wave Farm will be "tapped" as sources of VLF signals for sonification and audio mixing instead of sap for syrup production. Signals will be transduced into audio as well as control voltage inputs used to shape sounds generated by radiophonic synthesizers including the Theremin. This will allow for the alteration of audio effects or textures as well as the performance of improvised duets or concertos with the VLF flows being received by the more-than-human participants. Chapman anticipates that the strongest signals will be sources of "hum" from the local power and telecommunications grid but will also strive to tune into "spherics," or VLF activity caused by lightning in distant parts of the world. Such encounters underscore the profound yet inaudible forms of noise that humans generate. Trees manifest this reality in their sap, in their veins. Selected audio outputs from the installation will be cut to polycarbonate disc in real-time using a portable lathe-cutting recorder–resulting in unique forms of sonic documentation that mimic the visual facets of rings in a tree stump.

Owen Chapman is a composer, DJ and professor in the department of Communication Studies at Concordia University (Montreal, Canada). He writes about and produces sonic media, especially in musical contexts. His audio work involves live performance and electronic composition and has been featured internationally in video soundtracks, media workshops, site-specific installations as well as solo and group performances. Chapman's scholarly research-creation projects have been funded by the Fonds de recherche du Québec - Société et culture (FRQ-SC), the Social Sciences and Humanities Research Council of Canada (SSHRC) and the Canada Council of the Arts. He is a turntablist and beat-maker, producing music that integrates samples from used records, field recordings, radio signals and other sources.
Sisters Akousmatica (Tasmania, Australia)—Border_Radio
October 20 - 29, 2023
Sisters Akousmatica is the inaugural recipient of the Rising Tide Award

Border_Radio is a conceptual inquiry about ownership of the airwaves. Originally commissioned as a video and 'radio play' script for Donner forme à l'éther (curated by Pali Meursault at Espace Multimedia Gantner, France), the project is a research project that has manifested in performance lectures, the evolving radio play script, a series of sound works that expand and contract on the original script, as well as public and individual consultation. The project is an unfolding conceptual space, exploring questions about sovereignty, ownership, transmission law, international treaties, history, and potentialities. The aim of this on-going, long form process is to unravel the edges of transmission legitimacy and to try to understand how we can better engage and collaborate with electromagnetic forces beyond the colonial paradigm. At Wave Farm, Sisters Akousmatica will experiment with different modes of transmission, including Earth-Moon-Earth propagation, IRLP, and amateur radio to explore and blur the limits of broadcast territories and borders.

Sisters Akousmatica is the collaborative, expanded radio project of Julia Drouhin and Phillipa (Pip) Stafford – exploring the radical possibilities of transmission since 2016. Sisters Akousmatica weave projects in, around, with and for radio. Their work is concerned with collective, feminist radio practices and auditory-spatial exploration. As a vehicle for on-going research and discrete projects, Sisters Akousmatica is deeply collaborative and they have worked with artists and communities in lutruwita/Tasmania, mainland Australia and worldwide. They are on-going artists in residence and members of the Radio and Electronics Association of Southern Tasmania (REAST) and hold their Foundation Amateur Radio Licenses, operating as VK7SEA (Stafford) VK7HAG (Drouhin). Together they have been the recipients of multiple grants and prizes, including: the CBAA Excellence in Music Programming award at the 2017 Community Broadcasting Association of Australia Conference (with 3CR community radio), Arts Tasmania, the Australia Council for the Arts, and the Women in Sound, Women on Sound award for Goldsmiths, University of London.
About 2023 Consulting Artist Engineer Jen Kutler (Ithaca, NY)
Jen Kutler is a multidisciplinary artist and performer. She modifies found objects that are cultural signifiers of power, gender, queerness and intimacy to create atypical instruments and sculptures. Her performances feature many of her instruments incorporated with immersive field recordings to explore common and discrepant experiences of familiar social tones in immersive sound and media environments.
About 2023 Consulting Artist Engineer Víctor Mazón Gardoqui (Leipzig, Germany)
Through actions, objects and electronic devices between sound materiality and dislocated information. Mazon´s work questions perception, altered state, and vulnerability through un/stable arrangements. His work materializes in three main fields: actions or site-specific performances through experimental processes, exhibitions as consequences of previous actions and collective work through collaborative groups, or seminars in cultural and academic centers. Born in Northern Spain, since 1999 Mason has been involved in experimental tactics and techniques of media intervention through site specific actions, performances and installations in public spaces by using sound, light and custom electronics. His works have been performed or exhibited in museums, galleries, billboards, urban screens and public TV/radio stations in Africa, Russia, Nepal, North America, Canada, Mexico and numerous locations across Europe. victormazon.com
About The Rising Tide Award Newly established in 2023 with the generous proceeds received from LoVid's Tide Predictor, an Art Blocks Curated series of onchain generative NFTs, an additional $1,500 will be awarded to a single resident on an annual basis. The Rising Tide Award aims to support an applicant with a multidimensional life and background, whose work is rooted in process, to further the pursuit of new ideas, experiments, and uncertainties. Artists with special circumstances that require additional funds such as: parents, artists from out of state/country, collaborators, and artists with non-traditional art/career experiences are encouraged to apply each year. Artists are asked to opt-in to consideration for this award and to identify how these extra funds would enable their participation in the Wave Farm Residency Program in conjunction with their application process.

2023 Recipient: Sisters Akousmatica
About Wave Farm
Wave Farm is a non-profit arts organization driven by experimentation with broadcast media and the airwaves. A pioneer of the Transmission Arts genre, Wave Farm provides access to transmission technologies and supports artists and organizations that engage with media and the electromagnetic spectrum as an art form. Located in NY's Upper Hudson Valley major activities include international Artist Residencies and Fellowships; a Public Transmission Art Park and Study Center; Wave Farm Radio, including WGXC 90.7-FM: Radio for Open Ears; Fiscal Sponsorship and Consultant Services; as well as Regrant Partnerships with the New York State Council on the Arts (NYSCA). For more information, please visit wavefarm.org
Wave Farm programs are made possible, in part, by the New York State Council on the Arts with the support of the Office of the Governor and the New York State Legislature; the National Endowment for the Arts; the Andy Warhol Foundation for the Visual Arts; the Greene County Legislature through the County Initiative Program, administered in Greene County by CREATE; the Alexander and Marjorie Hover Foundation; the T. Backer Fund; the Joseph Family Charitable Trust; and hundreds of other generous individual donors, including WGXC Sustaining Supporters, who provide critical monthly support to Wave Farm's radio station WGXC 90.7-FM.