Zach Poff: Radio Silence
Jul 02, 2010 - Jul 11, 2010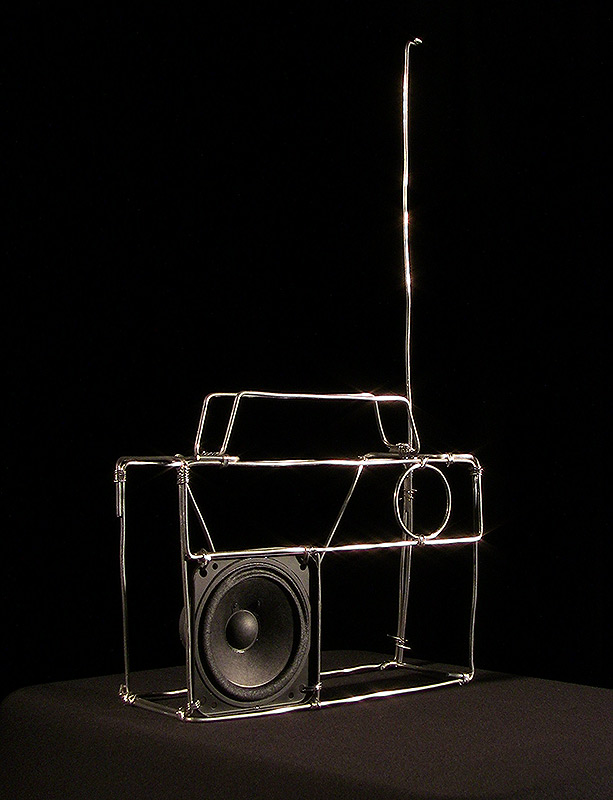 Documentation Link:
http://www.zachpoff.com/site2/projects/radio-silence
Join us for an opening reception on Friday July 2, 2010 6 p.m.-10 p.m. to celebrate Zach Poff's
Radio Silence
.
Artist Talk: 8 p.m.
Zach Poff will introduce Radio Silence and discuss his recent work concerned with reconfiguring live broadcast feeds.
Through artwork, teaching, and free software creation, Zach Poff examines the opportunities and challenges that arise from the translation of human activity into information. His recent work has been focused on the 20th Century paradigm of broadcasting and its continued influence on contemporary digital and social networks.
Radio Silence explores the silent moments of talk-radio, combining eight AM broadcasts into a meta-conversation based on the negative spaces between words.
A pause in conversation might indicate the end of a thought, or it might be an opportunity for reflection or response. A pause in a radio broadcast offers different potentials: As radio listeners, we can't respond but we might exercise our only form of interactivity: changing the station. On commercial radio, moments of silence are minimized to avoid losing listeners. Broadcasters often use digital time-compression to shorten their programming and leave more time for advertising.
In Radio Silence, pauses are treated as paradoxical opportunities to probe the neighboring airwaves in search of an expanded form of conversation. Eight wire-frame radio sculptures are arranged in a circle, empty except for their speakers. Each radio corresponds to a different local AM station which is being monitored by custom software. One at a time, each radio speaks while the others play a chorus of hissing residue between words. When the speaking radio shares a simultaneous moment of silence with one of its neighbors, the conversation silently shifts to the other radio before the next word begins. Over time, Radio Silence surveys the spectrum of viewpoints currently on the air, weaving them together through the intersections of a shared linguistic device.
Radio Silence is Zach Poff's latest in a series of inquiries into reconfiguring mass media (linguistically, technically, culturally).
Also on view will be 2 related projects:
Video Silence is a live installation that discards the dialog from live TV, preserving only the moments of aural subtlety.
Radio Silence Study is a modified recording of the nightly news. The left channel is a compilation of all the words without pauses. The right channel contains only the pauses that were removed.
This exhibition is part of a series celebrating the 2009/2010 AIRtime Fellowship Recipients: Zach Poff (July 2-11), Sabine Gruffat & Bill Brown (July 16-25), and Brett Balogh (July 30-August 14.)
AIRtime @ Devotion
, July 2 – Aug. 14, 2010
AIRtime @ Devotion is a series celebrating free103point9's 2009/2010 AIRtime Fellowship Recipients: Zach Poff, Sabine Gruffat & Bill Brown, and Brett Balogh. AIRtime Fellowships provide assistance to artists creating new Transmission Art works. This genre is informed by works which employ an intentional use of space—often the airwaves. Transmission Art manifests in participatory live art or time-based art including radio, video, light, installation, and performance.
free103point9 is a nonprofit arts organization focused on cultivating Transmission Arts. Based in upstate New York, free103point9's major programs include the Transmission Art Archive, a definitive resource featuring artists, works, and exhibitions and events that define the genre and place it in a historical context; WGXC: Hands-on Radio, a creative community FM radio station serving Greene and Columbia counties; and the facilitation of a NYSCA Distribution Regrant for individual artists. areyoudevoted.com