Deep Cycle: Reincarnation of Herman Meydag
Jun 12, 2010 - Jun 13, 2010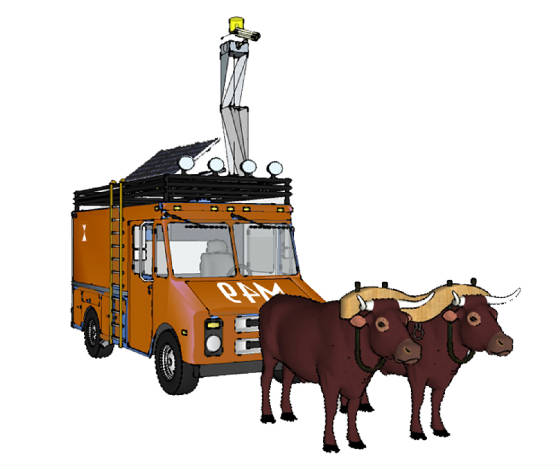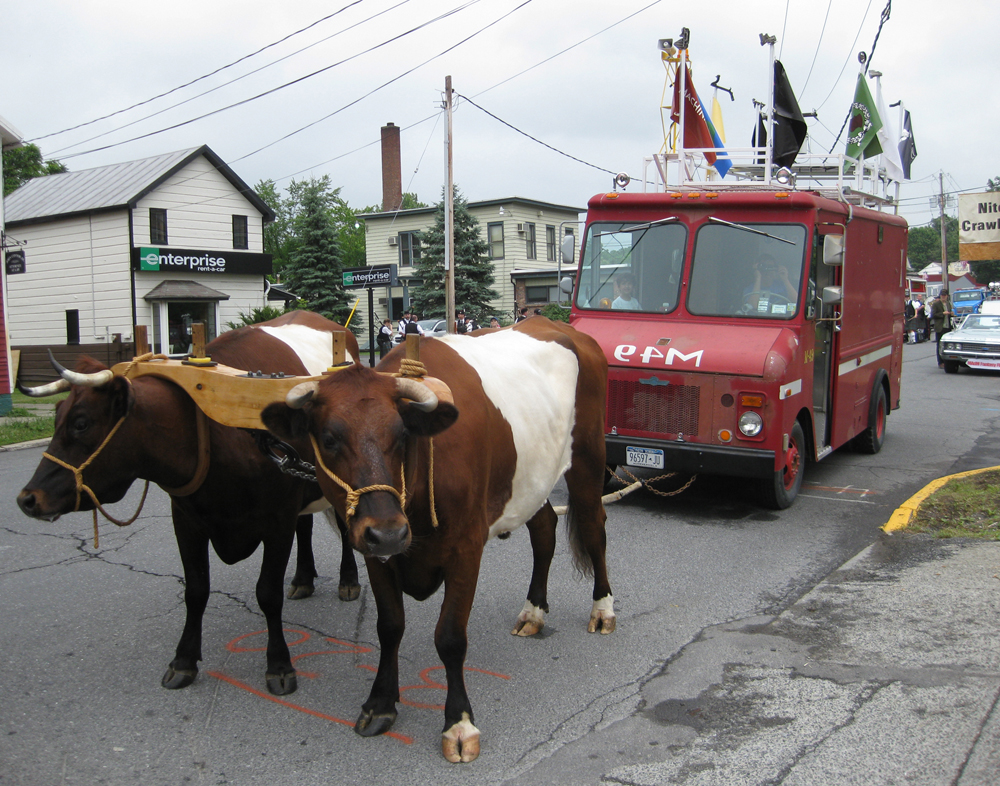 Max Goldfarb's
Deep Cycle: Reincarnation of Herman Meydag
Parade • Procession • Publication

Please visit the Deep Cycle work page for audio archives.
June 12, 2010, 2 p.m.
Hudson Elks Flag Day Parade
Warren Street, Hudson, NY

June 13, 2010, 2 p.m.
Procession
streamed live at free103point9.org & WGXC.org

November 2010
Publication
details to be announced

June 12: Parade
Max Goldfarb's Mobile49 (M49), a functional-symbolic emergency vehicle, will engage with the Hudson Flag Day Parade spectacle on Saturday June 12, 2010 (http://hudsonelksflagdayparade.com/). Central to Deep Cycle, the M49 will be a motorcade participant, displaying newly-completed customizations for mobile, solar-powered transmission, and towed by oxen along the parade route. Additional performative elements will be presented from the vehicle throughout the parade. Viewers are invited to experience the parade on Warren Street in the City of Hudson at 2 p.m.
June 13: Procession
After appearing among the fire brigades and marching bands of the Flag Day Parade, the Deep Cycleproject will unfold along a carefully established path constructed around a stretch of Route 23 from Hudson to Cairo, NY. Deep Cycle threads together a constellation of area-specific performance incidents using the truck itself as a framing mechanism and as an instrument for articulating the work through low-power radio transmission and web streams. The program ties together conditions, histories and interpretations of sites that are not conventionally or geographically associated as a function of its mobility. Thematically; consumption, waste, destruction and transformation are at the core of Deep Cycle's narrative.
November: Publication
Texts, transcripts, drawings, photographs and more will be included in the subsequent book to be completed Fall 2010.
Deep Cycle includes performances, sounds, and words by Max Goldfarb, Tom Cody (WE2G), Brian Dewan, John Ashbery, Christina Linden, Brett Balogh, Bodega Algae, Ryder Cooley, John Cooley, Daniel Berry, Paul Elliman, Dan Beachy-Quick, Lance Duerfahrd, David Koehn and Garrett Phelan.
Deep Cycle is made possible, in part, through the generous support of the Harpo Foundation; and co-presented by free103point9.