SnowFlow
Feb 11, 2011 - Feb 13, 2011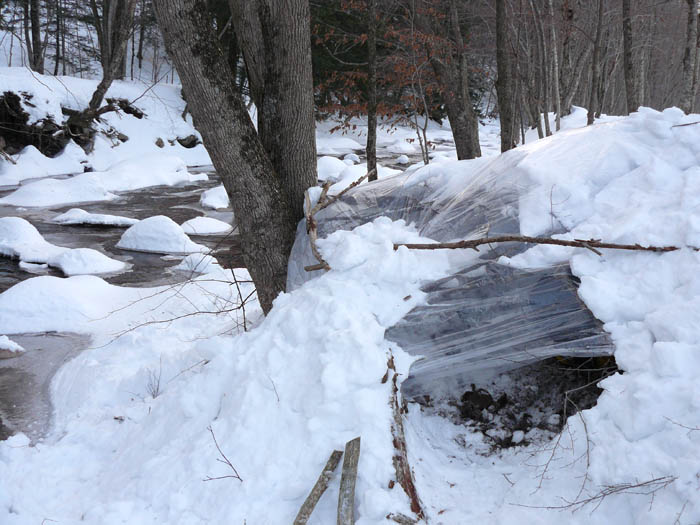 SnowFlow: Artists, Naturalists and Concerned Citizens come together for a Winter Celebration of Pure Water in the Central Catskills, February 11-13, 2011. With performances from Pauline Oliveros; Miguel Frasconi; and Tianna Kennedy and Hannah Marcus live on WGXC 9 p.m. to midnight.
SnowFlow will be held at both the Belleayre Ski Mountain and Full Moon Resort within the forest preserve of Catskill State Park. This location is geographically significant in relation to the NYC watershed as well as the headwaters to the Delaware River, recently declared the nation's most endangered river. SnowFlow is the winter version of the floating river conference, FlowSlow, which took place in September, 2010. The events will combine art, music, performance and conversations to creatively produce a variety of works that raise awareness of the critical water issues threatening our region. Skiers will cascade down the slopes of Belleayre Mountain, a parallel artistic public intervention of this winter carnival, simultaneously occurring as the snow shelter building competition unfolds at the Full Moon Resort. Matt Bua will be making a snow house. Events will be linked via the airwaves with broadcasts from free103point9's WGXC. SnowFlow will continue into the evening with a public reception dinner and panel discussions, exploring Peak Water and regional Catskill Foodshed initiatives, followed by performances curated by the Electronic Music Foundation and ISSUE Project Room. SnowFlow concludes Sunday with a pure water blessing and a snow shelter juried-award ceremony.
WGXC will air the Saturday night performances live from the Full Moon Resort with Pauline Oliveros; Miguel Frasconi; and Tianna Kennedy and Hannah Marcus, thanks to WGXC volunteer Sam Sebren. Tune in WGXC Online Radio at wgxc.org.
Registration & pricing:
www.snowflow.org
Friday, February 11, advance arrivals & dinner at Full Moon Resort
Saturday, February 12, SnowFlow Timeline of Events:
Belleayre Mountain
9 am - 4 pm: SnowFlow Skiing
Full Moon Resort
9 am - 4 pm: Snow Shelter Building Juried Competition & Radio broadcasts with free103point9's WGXC
5:30-6:30 pm: Cocktail Reception
6:30-8 pm: Dinner with Regional Catskill Foodshed Specialties
8:15 – 12 pm: Peak Water & Regional Foodshed Panel Discussion with Musical Performances to follow
Sunday, February 13, SnowFlow Wrap-up
10 am: Pure Water Blessing & Snow Shelter Award Ceremony
Registration & pricing: www.snowflow.org