Saturday on free103point9 Online Radio and WGXC
Jan 19, 2013 1:13 am
[caption width="300" align="alignright"]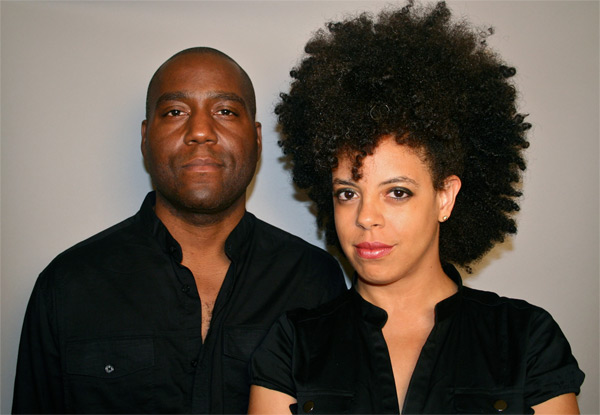 Keith and Mendi Obadike, from 4-6 p.m. ET.[/caption]12:02 a.m. – 1 a.m.: "
Radio Stew: Disconnected
"
Movies with cell phone disconnections, bad ads, a "New Yoprk Telephone Conversation" and more. Originally broadcast Nov. 28, 2012.
1 a.m. – 2 a.m.: "
Radio Stew: Quentin Tarantino
"
Mash-ups from Eclectic Method and others of dialogue from Quentin Tarantino films, and music from his movies.
free103point9 Transmission Art Event, free103point9 Online Radio Event, WGXC: Hands-on Radio (90.7-FM) Event
2 a.m. - 4 a.m.: "
Art's Birthday
"
Celebrate art's birthday with radio art.
4 a.m. – 5 a.m.: "
What's the Frequency, Kenneth?: Lance Armstrong
"
Weekly news mash-up show by Paul Fischer. This week, notes, thoughts, and observations from a lifelong NYC biker on the art of cycling (I have the broken bones to prove it) and what the real lesson is from the saga of Lance Armstrong. It's not the lesson you think. This program contains actuality of a cycling lap around Central Park and interviews recorded in Central Park NYC and actualities montage of Lance Armstrong, also, Travis Tygart US Anti Doping Agency w/Scott Pelley, Peter Flax, Biking Magazine from CNN, Christine Brennan, USA Today from MSNBC, Oprah Winfrey w/ Gale King from CBS.
5 a.m. – 7 a.m.: "
Shortwave Hours: 20130119
"
Two hours of shortwave radio-oriented programming, starting with solar weather, news on meteor showers and ham radio, and other reports. Other reports include:
5:15 a.m.: "
The RAIN Report
" "We hear a sample of Your Handiham World podcast, one of the best hamcasts."
5:30 a.m.,
"The Shortwave Report
" with host Dan Roberts and international news via shortwave radio. This week's show features stories from NHK World Radio Japan, the Voice of Russia, Spanish National Radio, and Radio Havana Cuba.
6 a.m.: "
Glenn Hauser's World of Radio
"
6:30 a.m.: "
Amateur Radio Newsline
" Developers of free D V digital audio say a change in the FCC Amateur Service rules is needed; the Sun wakes up and hurls a large C-M-E toward Earth; the ARRL holkds it first Board of Directors meeting of 2013 and the FCC to hold open hearings on the impact to communications caused by hurricane Sandy.
7 a.m. – 8 a.m.: "
Saturday Morning Serial: DJ Appreciation Day
"
Some call Jan. 20 "DJ Appreciation Day" for the day in 1965 when Alan Freed died. This show tunes in clips of famous DJs, amid songs by Sam Cooke ("Having a Party"), Indeep ("Last Night a DJ saved My Life"), David Bowie ("DJ"), Samson & Delilah ("There's a DJ in Your Town"), Steve Carlisle ("WKRP in Cincinatti"), They Might Be Giants ("Hey Mr. DJ, I Thought You Said We Had a Deal?"), Nils Lofgren ("Can't Get Closer [WCGC]"), Merle Haggard ("Please Mr. DJ"), Stonewall Jackson ("B.J. the D.J."), Gram Parsons ("Drug Store Truck Drivin' Man"), George Jones ("Radio Lover"), The Charlie Daniels Band ("Mister DJ"), The Smiths ("Panic"), and Tom Petty and The Heartbreakers ("The Last DJ").
8 a.m. – 10 a.m.: "
Open Air: 20130119
"
Matt Bua hosts live from the Catskill Community Center. This is a live transmission art show about local transmissions. As many local frequencies, signals, and transmissions will be mixed in. Check in on CB radio, weather radio, shortwave, scanners, cell phones, strings-and-cups, or whatever else we can tune in. Call in at 518-219-WGXC. Tweet requests @WGXC. This collaborative show may come from any location, but usually the WGXC Greene County studios at Wave Farm in Acra and the Catskill Community Center is the home. Features include solar weather, shortwave news, and more. CB radio connection coming soon.
10 a.m. – 10:30 a.m.: "
Radia: Out Come The Wolves
"
Radia Show 407: "Out Come The Wolves" by La Danse de l'Ours from Radio Grenouille in Marseille, France. "Out Come the Wolves" is the second sound piece of Nicolas Perret and Cédric Anglaret's project The four seasons of Paanjärvi in which, since 2009, they focus on the soundscape of the small Russian village of Paanajärvi.
10:30 a.m. – 11 a.m.: "
Radio Wonderland: 20130119
"
Joshua Fried remixes New York City radio live from his Brooklyn studio. Fried's Radio Wonderland turns the very bits and bytes of commercial culture into the driving backbeat to our dance of independence. In this developing solo, Fried abstracts live FM radio with laptop, electrified shoes hit with sticks, and a computer-hacked steering wheel (from a Buick 6.) His software creations include AnythingBass (wind up random radio into a down-low riff,) the Re-Esser (extract the sibilance, play those S's, T's and K's like a drum machine,) and Anything Kick (morph slowed-down radio into a bass drum to shake the dance floor).
11 a.m. – noon: "
Framework: D. L. Lutz
"
This first edition for 2013 of this show about field recordings and acoustic ecology produced by German architect, writer and sound artist D. L. Lutz.
Noon - 2 a.m.: "
Soundwalk Collective 10th Anniversary Broadcasts
"
Noon: "
The Encounter
," recordings from the Schwarzwald, Germany 2010.
1 p.m.: "
Medea
," recordings from the Black Sea 2011.
2 p.m. – 3 p.m.: "
Distract and Disable: 20130119
"
Pepe
, KORG 
Lambda 
(ES‐50) String 
Synthesizer 
Demo
 Song; Franz 
Lambert
, 40
 Super 
Hits
, "
night
fever";" Franz
 Lambert
 "taka
takata
;" Astor
 Piazzolla "
Libertango" 
(version
 original)
; Grace 
Jones "

Strange" 

(from 
the 
film 
"Frantic"
)
; Super 
Dancer 
Aaye
 Hai, 
Mithun
, 
Smita 
Patil
, "Dance 
Dance
" 
Bollywood
Songs, 
Bappi
 Lahiri
.
3 p.m. – 4 p.m.: "
Human Machine: R.U.R. Robots
"
Human Machine: R.U.R. Robots by Max Goldfarb.
4 p.m. – 6 p.m.: "
Saturday Afternoon Show: The Sour Thunder
"
Keith + Mendi Obadike will join host Tom Roe live from free103point9's Wave Farm and the WGXC Acra studio to present a special broadcast of their net.opera "The Sour Thunder" (Bridge Records). "The Sour Thunder" tells a double-sided story blending autobiography and speculative fiction. Sesom travels from a land where scent is language to a land where language is spoken. Mendi travels from Atlanta (the US) to Santiago (the DR). "The Sour Thunder" explores the role of geography in identity and the idea of language as a technology. The first iteration of this project was simultaneously performed in and webcast from the Yale Cabaret and Afro American Cultural Center.
6 p.m. – 6:23 p.m.: "
This Week in Radio News: 20130119
"
First, the weekly presidential radio address. Then, reports about how internet and cable companies are trying to put a cap on how much internet you can use. Also, a report back on the suicide of internet activist Aaron Swartz from Free Speech Radio News. Plus solar weather, and more. Hosted by Tom Roe.
6:24 p.m. – 7 p.m.: "
PiratesWeek: 2012 FCC Enforcement
"
Pirates in the news this week include FCC action. John Anderson has once again posted an awesome annual wrap up of the FCC enforcement action on his blog. Kieth Peron, from PCJ media is announcing that he will soon be making available over 100 different ring tones. ‭Select postings from the Free Radio Network, HF Underground and note stations logged per the Free Radio Weekly‭. Off Air Recordings include the stations of: WMPR, WRRI, and Red Mercury Labs. SWL Fest update from the International Radio Report.
7 p.m. - 8 p.m.: "
The Status of Sound
"
Presented as a special series broadcast at 7 p.m. on the first three Saturdays in January, The Status of Sound: Writing histories of sonic art was a day-long conference at the Graduate Center City University of New York on November 30, 2012. free103point9 is delighted to share the following presentations and discussions from this lively and important conference with WGXC audiences:
9 p.m. - 10 p.m.: "
Off The Hook: Aaron Swartz
"
'Off The Hook' radio program from WBAI in New York, with internet activist Aaron Swartz a guest a few months ago before his recent suicide. This show features an excerpt of that, along with part of an interview with Swartz at age 14 that underlines what a remarkable person he was. We also delved into the issue of depression in our community with excerpts from the 'Geeks and Depression' panel at HOPE Number Nine, and we had a roundtable discussion on what we can do better and where people at risk can turn.
10 p.m. – Jan. 20, 2013: 4 a.m.: "
Art's Birthday: NRRF Radio
"
"Art's Birthday" is an annual event first proposed in 1963 by French artist Robert Filliou. He suggested that 1,000,000 years ago, there was no art. But one day, on the 17th of January to be precise, Art was born. According to Filliou, it happened when someone dropped a dry sponge into a bucket of water. Filliou proposed a public holiday to celebrate the presence of art in our lives. In recent years, the idea has been taken up by a loose network of artists and friends around the world. Each year the Eternal Network evolves to include new partners - working with the ideas of exchange and telecommunications-art. In 2013, for the 1,000,050th birthday of art, the Experimental Sound Studio hosted the radio collaboration NRRF Radio in the Audible Gallery from 2 p.m. to 8 p.m., January 17 (GMT -6) -- transmitted to the neighbourhood via FM (87.9) and to the world streamed live over the internet. This is a rebroadcast of that show. Listening and exchanging with birthday streams circulating internationally, infiltrating available bands with tenacious earworms and parasitic refrains, powered of course by lurid birthday cake. Glue Banta, Jonny Farrow, Anna Friz, Stephen Germana, Jeff Kolar, Peter Speer, and guests bring the noise.