2023 MAAF for Artist Grantees Announced
Apr 11, 2023 9:00 am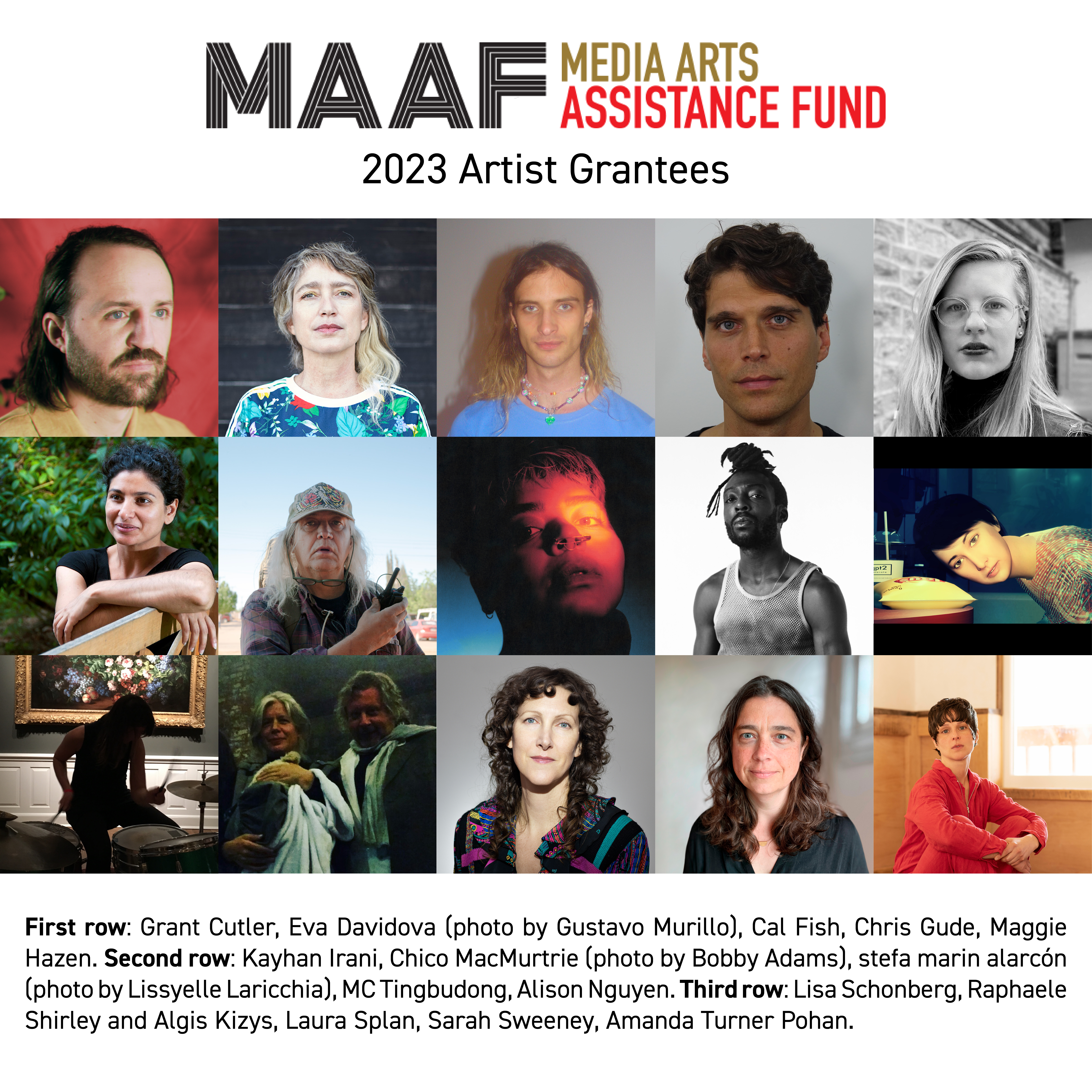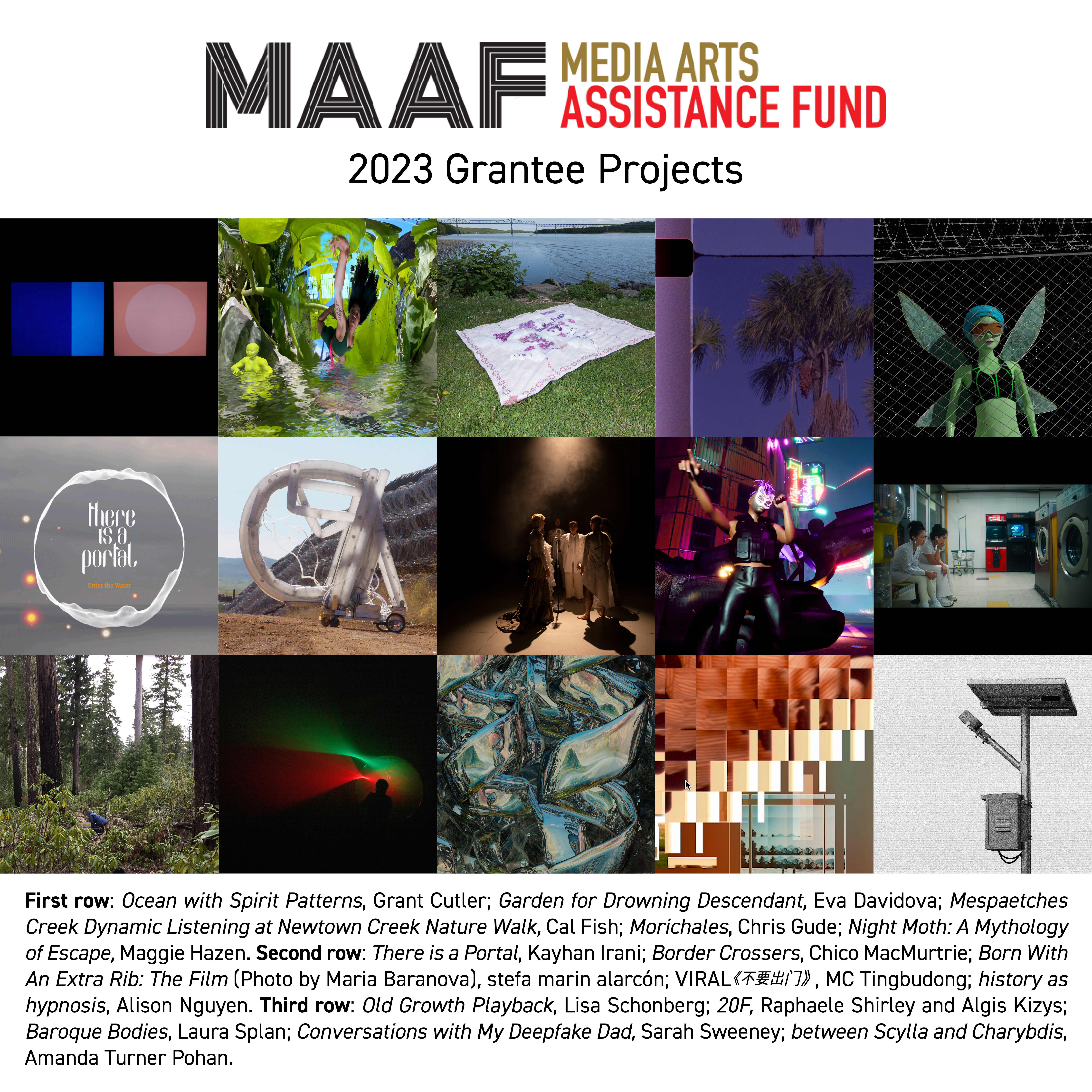 Acra, NY—Wave Farm announced today fifteen grantees for the 2023 Media Arts Assistance Fund (MAAF) for Artists, a regrant program with the New York State Council on the Arts.
Selected through a competitive panel process from an application pool of 214 proposals, the 2023 MAAF Grantees are: Grant Cutler, Eva Davidova, Cal Fish, Chris Gude, Maggie Hazen, Kayhan Irani, Chico MacMurtrie, stefa marin alarcón, MC Tingbudong, Alison Nguyen, Lisa Schonberg, Raphaele Shirley and Algis Kizys, Laura Splan, Sarah Sweeney, and Amanda Turner Pohan.
The Media Arts Assistance Fund (MAAF) for Artists provides New York State media artists up to $7,500 for the completion and/or public presentation of new works in all genres of sound and moving image art, including emergent technology. Grant awards assist artists in completing new work, reaching public audiences, and advance artistic exploration and public engagement in the media arts.
The deadline for the 2024 Media Arts Assistance Fund for Artists opportunity will be January 15, 2024, with updated guidelines available fall 2023. Detailed information about the fifteen 2023 MAAF for Artists funded projects is available below.
GRANTEES AND PROJECT DESCRIPTIONS
Grant Cutler - Ocean with Spirit Patterns (Kings County)
Ocean with Spirit Patterns is an immersive film installation that integrates audio field-recordings from cold-water islands with abstract-minimal animation inviting audiences to reimagine their relationship to their environments through deep listening and trance-viewing. The work is meditative, deliberately slow (at tidal pace), impressionistic and colorful–exposing the depth and density of ecological soundscapes while de-centering the dominant human narrative. Reducing the visual sensory plane to color-fields and simple graphic gestures pulls the sonic to the foreground amplifying the often subtler voice in the continued dialog between nature and culture. The finished project will screen in a variety of expanded, and traditional, cinema settings in the New York area. MAAF funding will support the acquisition of film-stock, analog/ digital processing, and public outreach.
Eva Davidova - Garden for Drowning Descendant (New York County)
Garden for Drowning Descendant is an experimental, participatory mixed reality work on ecological disaster and interdependency. Based on four distinct dreams of our descendants in their very different worlds, it explores the emergence of collective action from the mixture of individual ones, resulting in a "dance of agencies" between the audience, virtual animals, and performers from the past. This immersive work uses Computer Vision to sense movement and proximity through depth sensors, and features drone footage from Trinidad by MX Oops, 360° footage from an aerial dance studio, interlinked 3D spaces, Motion Capture by British choreographer Kristen McNally, and particle systems made from elements found in Jane Bennet's bookVibrant Matter: stem cells, fish oils, electricity, metal, and trash. MAAF funding will support the labor and equipment costs of outreach, fine-tuning and preparing the installation for exhibition.
Cal Fish - Mespaetches Creek Dynamic Listening at Newtown Creek Nature Walk (Kings County)
Mespaetches Creek Dynamic Listening at Newtown Creek Nature Walk Park will be a two week public installation of soft sound sculpture in Greenpoint Brooklyn. Since 2018 Fish has built and shared a body of work titled Pre-York River that uses interactive sound sculpture, embroidered upcycled quilts/blankets, and public activations to build and share immersive multisensory archives of ecological abundance and devastation, colonial dispossession, and sonic healing along what is known popularly as the Hudson River. In this new work, a sculpture/tool called the Dynamic Listening Instrument will offer the chance to kinesthetically handle and recombine hours of archival audio in a venn-diagram of electromagnetic fields sprawled across large concrete steps leading into Newtown Creek, a waterway bearing a century+ of extreme toxicity and currently undergoing remediation efforts from local organizations like Newtown Creek Alliance. Sounding buckets and stuffed animals set on a collection of Fish's Pre-York River Blankets will offer a place for rest and repose as well as critical play and multigenerational collaboration. This two week installation will feature two performance events.
Chris Gude - Morichales (Bronx County)
Morichales is an experimental documentary that traces a map of the extraction and commercialization of gold in Venezuela's frontier region with Brazil and Guyana. A voiceover narration in constant metamorphosis guides the viewer from far-flung mines in the jungle to ghostly industrial cities in a contemporary story about the search for gold that expands in layers, bringing together ecology, botany, and geology through maps, drawings, and illustrations. The film's 16mm format attempts to reveal that which is hidden by the image: traces of radiance that shine forth like the primordial light of Nature, gold that slips away before our very eyes. MAAF funding will support the film's completion including illustrative components and sound design.
Maggie Hazen - Night Moth: A Mythology of Escape (Columbia County)
Night Moth is a mixed reality interactive website, installation, and video series about D.W. and her avatar Luna. D.W. is a 20-year-old formerly incarcerated youth from the Columbia Secure Center Girls, a maximum secure prison in Claverack, New York. In Night Moth Hazen invites D.W. to re-interpret her experiences through an inside-out lens via her personally designed avatar Luna—a teenage moth goddess who is imprisoned on the moon. Together Hazen and D.W. generate an alternative mythical world in which they can build the foundation for perspective shifting around the criminal justice system while opening a space for healing. As audiences engage D.W.'s story through humor, play, and fantasy, Hazen and D.W. hope to reclaim the physical and psychological space of the prison system, and conjure new paths forward, both within and beyond prison life. MAAF funding will support the completion and public presentation of the work.
Kayhan Irani - There is a Portal (Queens County)
There is a Portal is an immersive digital experience that weaves together memory and history, forgetting and power in a journey of personal and political storytelling. It is an experimentation with digital storytelling as an embodied experience and offers a virtual place to mobilize healing through spoken, sonic, and lush visual interplay. There is a Portal contains an immersive digital journey and a community pedagogy. MAAF Funding will support project completion including sound design, captioning, and mobile responsiveness.
Chico MacMurtrie - Border Crossers (Kings County)
Border Crossers is an experimental short film of Chico MacMurtrie's ongoing eponymous public art project and performance series along the U.S.-Mexico border. The performers in the film are the artist's inflatable robotic sculptures (aka the "Border Crossers"), capable of rising up and growing into inflatable arches that reach over the border fence. MacMurtrie imbues his robotic "Border Crossers" not only with organic qualities of movement, evoking biological growth and animal locomotion, but also a capacity for human expression. Empowered by their encounters with "fronterizxs" people who straddle the border, the inflatable machines arrive at the border wall in Naco, Arizona / Naco, Sonora - where MacMurtrie grew up - and rise up to reach over the fence from both sides at once, becoming technological proxies and representations for the people and other organisms that populate the much-discussed yet largely invisible borderlands. MAAF funding will support the post-production and completion of this experimental short.
stefa marin alarcón - Born With An Extra Rib: The Film (Queens County)
Born With An Extra Rib is a 40-minute performance film featuring multimedia artist and composer stefa marin alarcón. Emerging from the questions behind their upcoming record Born With An Extra Rib, this experimental ritual opera creates a structure for alarcón to reclaim and return to their body. They use video collage, live music, and ritual performance to ask their most pressing, embodied questions. Through the production and public showings, alarcón invites the cast, creative team, and audience to engage in an emergent process of collective liberation. MAAF funding will support the film's post-production and completion including but not limited to: captioning, film preservation, press kits, production support, and festival fees.
MC Tingbudong - Viral 《不要出门》A Conversation Between Black America and China (Bronx County)
VIRAL《不要出门》is a hip hop album, interactive live performance, and browser-based 3D virtual world created by African American bilingual mandarin language rapper and multimedia artist, MC Tingbudong. Written as a series of conversations between China and Black America, it is a re-imagining of an era of pandemic and protest as a pirated video game sent from a revolutionary future. Explore the multiverse of MC Tingbudong in an adventure created from hours of personal footage, news clips, documentary, music videos and virtual reality videos. With support from MAAF, the project will debut as an immersive exhibition and live performance that transforms a storefront in New York City's Chinatown into a portal to a sino-futuristic virtual world that can be experienced simultaneously online and IRL, in the U.S., and in China.
Alison Nguyen - history as hypnosis (New York County)
history as hypnosis is a body of work which spans video, installation, sculpture, and works on paper. The video central to this work follows three identical women who are programmed by Artificial Intelligence and whose memories from their previous existence have been erased. Flipping tropes of the American road film, the work surfaces themes of alienation, assimilation, and refusal as the three venture from the desert to gas stations, gritty strip malls, starchitect-designed buildings, and underground enclaves in search of a man named 'X.' Their journey is marked by these encounters with architecture as well as by alternately comedic and unsettling interactions the women have with others as they attempt to "reintegrate" into their new, metropolitan surroundings. Interweaving subtle references to past violence associated with America's war in Vietnam, the work offers a complex take on how memory, consciousness, and historical narratives merge into a shared cultural imaginary that is produced through cinematic images. MAAF funding will support the post-production of the single-channel theatrical version of the video.
Lisa Schonberg - Old Growth Playback (Rensselaer County)
Old Growth Playback is a set of four sound works based on ecological research at HJ Andrews Experimental Forest in Blue River, Oregon. They prompt us to become familiar with sonic forest spaces and our role in them, and present questions concerning the soundscapes of current and future old growth forests. These works focus on cryptic soundscapes beyond the reach of typical human sensory limits. Through a consideration of beyond-human soundscapes, we can speculate on what might be important to invertebrates, and to non-invertebrate animals, fungi and plants. The four sound works will be presented through radio broadcast and as a spatialized sound installation. A print and online component will contextualize the sound work with text, photos, and graphics that elaborate on concept, process, observation, and speculation. Partners in the presentation of this work include The Sanctuary for Independent Media and the Oakwood Community Center, both in Troy, NY.
Raphaele Shirley and Algis Kizys - 20F (Kings County)
Referencing Shirley and Kizys's shared interest and conversations on cosmology, the nature of matter and the origins of the universe, 20F was originally conceived in an unheated barn in upstate New York. It is a 30-minute performance involving sound, light, smoke, and two five foot parabolic mirrors. These elements combine into an ethereal and otherworldly choreography designed to transport and transfix the viewer as a witness to a new world. Bouncing light off of their reflective curved surface Shirley uses the mirrors as percussive brush strokes in space, drawing out diffused swaths of color and of constrained geometries. The mirrors focus, distort, diffuse and amplify the beams, engulfing the performance space and the audience. Kizys live mixes manipulated field recordings and other sound samples into a lower frequency field for Shirley to explore and navigate in. A collection of human, animal and natural sounds, played solo or layered for dynamics, manipulated in time and effected for space, improvised with intent just like the visual elements. Funding will support equipment upgrades for public presentation readiness as well as for professional documentation permitting the preservation of the performance and the piece's growth into an immersive installation.
Laura Splan - Baroque Bodies (Kings County)
Baroque Bodies is a series of 3D animations and spatial soundscapes exploring virtual representations and computational representations of the biological world. The work evokes notions of residues in both the abstract (metaphorical, poetic, ethereal) and the physical (literal, material, biological). The conceptual underpinnings of the project are drawn from epigenetic research on environmental influences on gene expression. This work is part of "Sticky Settings", a research-based collaboration with theoretical biophysicist Adam Lamson supported by the Simons Foundation. Animations and soundscapes from the series will premiere at the Vanderbilt Museum Planetarium in Fall 2023 in an immersive presentation that incorporates the star projector. A limited-edition vinyl pressing will be released with the premiere. MAAF funding will support project completion including engineering, rendering, and equipment.
Sarah Sweeney - Conversations with My Deepfake Dad (Saratoga County)
Sarah Sweeney's father died when he was forty-four and she was seventeen. When Sweeney turned forty-four, she wanted to talk to him again. She contacted Resemble AI, a company that creates clones of voices using machine learning, and they worked together to create an AI model of her father's voice. When this model was completed Sweeney was able to type and speak words into the interface and hear him speak. Conversations with My Deepfake Dad is a series of six conversations created through Sweeney's interactions with this audio deepfake of her father. MAAF funding will support project completion and public presentation through broadcast, listening sessions, and/or exhibition.
Amanda Turner Pohan - between Scylla and Charybdis (Greene County)
between Scylla and Charybdis is a sound sculpture that translates the quality and composition of Lake Ontario's* water into a sound piece articulated by the female voice. Four pieces of hydrologic data - water temperature, level, acidity, and dissolved oxygen, are recorded by four distinct sensors in the waters of Lake Ontario measured by the United States Geological Survey (USGS). The sensor data is interpreted by a software program translating it into the sound of a female vocal choir, fluctuating and shifting in composition as the lake itself moves and changes form. The title of the sculpture is Homeric and derives from a scene in 'The Odyssey' when Odysseus must navigate between the lesser of two disasters by land and sea imaged as Scylla and Charybdis, two mythic female sea monsters. The sculpture will be installed on the Rochester Institute of Technology College of Art and Design campus in the summer of 2023 and remain in situ through 2025.
*Niigaani-gichigami or Gichi-zaaga'igan in Anishinaabemowin (Ojibwe) and Ontarí'io in Huron.
–
About the New York State Council on the Arts
The Council on the Arts preserves and advances the arts and culture that make New York State an exceptional place to live, work and visit. The Council upholds the right of all New Yorkers to experience the vital contributions the arts make to our communities, education, economic development, and quality of life. To support the ongoing recovery of the arts across New York State, the Council on the Arts will award record funding in FY 2023, providing support across the full breadth of the arts, including dedicated support for arts education and underrepresented communities. The Council on the Arts further advances New York's creative culture by convening leaders in the field and providing organizational and professional development opportunities and informational resources. Created by Governor Nelson Rockefeller in 1960 and continued with the support of Governor Kathy Hochul and the New York State Legislature, the Council is an agency that is part of the Executive Branch. For more information on NYSCA, please visit http://www.arts.ny.gov, and follow NYSCA's Facebook page, Twitter @NYSCArts and Instagram @NYSCouncilontheArts.
About Wave Farm
Wave Farm is a non-profit arts organization driven by experimentation with broadcast media and the airwaves. A pioneer of the Transmission Arts genre, Wave Farm programs provide access to transmission technologies and support artists and organizations that engage with media as an art form. Major activities include Artist Residencies and Fellowships; a public transmission Art Park; Wave Farm Radio, including WGXC 90.7-FM: Radio for Open Ears, a creative community radio station based in New York's Upper Hudson Valley; a Fiscal Sponsorship program; and Regrant Programs with the New York Council on the Arts. https://wavefarm.org
For more information about the The New York State Council on the Arts in Partnership with Wave Farm: Media Arts Assistance Fund (MAAF) visit https://wavefarm.org/grants/maaf-artists.