Tune(In))) Santa Fe
Jul 17, 2004: 12am- 11:59 pm
Santa Fe Art Institute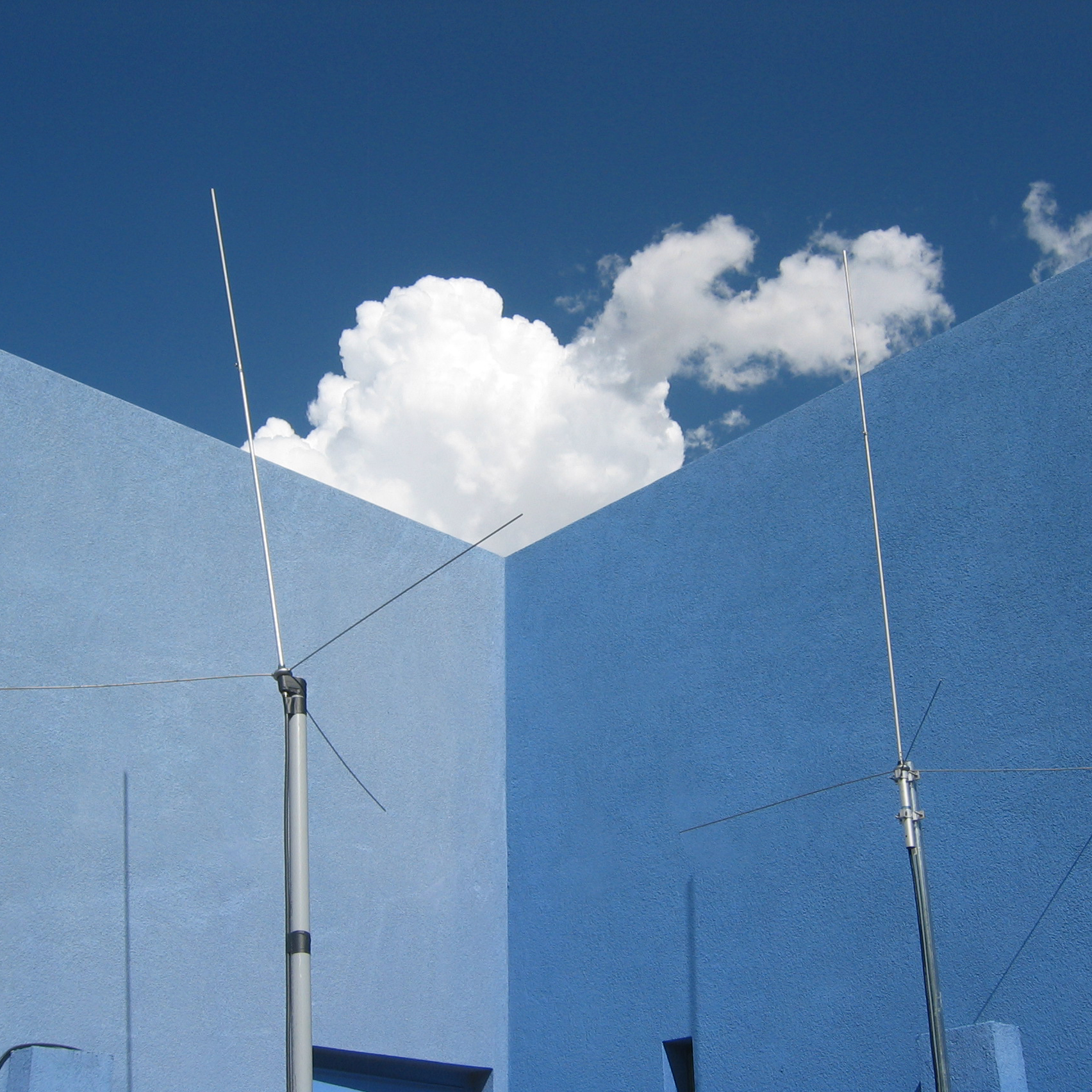 Tune(In))) traveled to Santa Fe where live local channels were complemented by a video program selected from the Electronic Arts Intermix and a live feed from OfficeOps in Brooklyn, New York.
Attendees listen to performances on radio with headphones, with only ambient sound at the Santa Fe Art Institute Courtyard.
The third in free103point9's Tune(In))) series, this sound installation/event is designed for a virtually silent environment in which listeners hear live performances through individual radio headsets.
Co-presented by
SFAI
and transmission arts organization
free103point9
. The video program, "Video Tune(In)))" is presented in collaboration with
Electronic Arts Intermix
(EAI).
"Tune(In))) Santa Fe," featured sound and video artists transmitting works directly into four separate FM frequencies. Performing artists will include
Shawn O'Neal
,
Tom Roe
,
Matt Mikas
,
Keep Adding
,
Steina
,
Andrew Neumann
,
David Stout
,
Cory Metcalf
,
Chris Jonas
,
Molly Sturges
,
CK Barlow
, and many others. In order to access the performances, listeners must engage and consider the radio spectrum, traversing the dial to the four Tune(In))) FM frequencies, encountering other commercial stations available on the FM radio spectrum, or the minimal ambient noise of the SFAI Courtyard.
One channel featured performances simulcast live from Brooklyn, with
Ben Owen
,
Sarah Lippek
,
Tianna Kennedy
,
31 Down
with
Matt Bua
,
neuroTransmitter
,
Damian Catera
,
Michelle Nagai
, and others simulcast on Radioo, www.radioo.org.
Interstitial performances on the two live Santa Fe channels featured recorded performances from previous free103point9 Tune(In)))'s. Performances will include
Scanner
,
Matt Valentine + Erika Elder
,
the SB
,
Carlos Giffoni
,
Peggy Ahwesh + Barbara Ess
,
Sybarite
, and
Transmaniacon MC
.
Organized by free103point9 with special assistance from
Aaron Davidson
and
Melissa Dubbin
.
1-5 p.m. MDT/3-7 p.m. EDT
Santa Fe channel one
1 p.m.: Scanner (
Electropollution
excerpt, from first Tune(In))))
1:30 p.m.: Keep Adding (live)
2:15 p.m.: Carlos Giffoni (from first Tune(In))))
2:35 p.m.: Chris Jonas + Molly Sturges (live with video)
3:10 p.m.: Matt Valentine + Erika Elder ("Contemporary Mountain Hymns and Microtonal Sun Ragas" from first Tune(In))))
3:35 p.m.: Steina (live with video)
4:05 p.m.: Damian Catera remixing Thurston Moore from Tune(In))) The Kitchen
4:15 p.m.: David Stout + Cory Metcalf (live)
Santa Fe channel two
1 p.m.: Shawn O'Neal
1:40 p.m.: the SB (from Tune(In))) The Kitchen)
2:10 p.m.: CK Barlow
2:40 p.m.: Sybarite "Secropia" (from first Tune(In))))
2:45 p.m.: Tom Roe (live)
3:15 p.m.: Transmaniacon MC (from Tune(In))))
3:35 p.m.: Andrew Neumann
4:05 p.m.: Peggy Ahwesh + Barbara Ess (
Thrum
for Tune(In))) Santa Fe)
4:25 p.m.: Matt Mikas (live)
Live from Brooklyn channel
:
(streamed live on Radioo at www.radioo.org)
1 p.m. MDT:
Sarah Lippek
with
neuroTransmitter
2 p.m. MDT:
Ben Owen
with
Damian Catera
3 p.m. MDT:
Tianna Kennedy
with
Michelle Nagai
4 p.m. MDT:
31 Down
with
Matt Bua
and
Radio Ruido
Video Tune(In)))
:
Presented in collaboration with
Electronic Arts Intermix
(EAI).
Program will repeat throughout the evening.
Nam June Paik
and Jud Yalkut,
Video Tape Study No. 3
, 1966-69, 4 min, b&w, sound.
Steina
,
Violin Power
, 1970-78, 10:04 min, b&w, sound.
Gary Hill
,
Sums & Differences
, 1978, 8:24 min, b&w, sound.
Nam June Paik
and Jud Yalkut,
Beatles Electroniques
, 1966-69, 3 min, b&w and color, sound.
Steina and Woody Vasulka
,
Noisefields
, 1974, 12:05 min, color, sound.
Gary Hill
,
Mediations
, 1979-86, 4:17 min, color, sound.
Klaus vom Bruch
,
Jeder Schuss ein Treffer (Every Shot a Hit)
, 1984, 9:30 min, color, sound.
Kristin Lucas
,
Involuntary Reception
, 2000, 16:45 min, color, sound.
1610-AM Tune(In))) Santa Fe information channel
:
This informational channel includes instructions on how to Tune(In))) as you enter the space.
31 Down
created this instructional programming with sound effects and script by
Ryan Holsopple
and voice by
Heidi McElligott
. This instructional programming will play on all four channels at 1 p.m. MDT, as the event begins.
Descriptions of performances and performers
Andrew Neumann
Andrew Neumann is a Boston-based artist who works in a variety of media, including sculpture, electronic/interactive music, and film and video installation. ÊHis original artistic output consisted of single channel videos and films. ÊHe then moved on to integrate a variety of electronic and digital technologies into his 3D and sculptural work. ÊIn addition to this, he has been building electronic musical interfaces, and is very active in electro-acoustic improvisation. He has recently had one-person shows at the DeCordova Museum, Lincoln, MA, Êbitforms gallery in New York City, Êand the Boston Cyberarts Festival.ÊHis music is available on Sublingual Records. ÊHis single channel videos have been shown on PBS, The Worldwide Video Festival, Artist Space, and elsewhere. ÊHe has had solo music/video performances at Experimental Intermedia and Roulette, both in NYC, the ICA in Boston, and elsewhere. Last year he was an Artist in Residence at the iEAR Studio at Rensalear Polytech Institute and at the Visual Studies Workshop. ÊHe has also had residencies at The MacDowell Colony (2000), YADDO (1999, '03), Ucross Foundation (1998), Steim (1999), Atlantic Center for the Arts (2001), Art/OMI (2000), and the Experimental Television Center (1982, '87). In 2004, he was awarded a Guggenheim fellowship. ÊIn 2003 he was a Finalist in Sculpture/Installation from the Massachusetts Cultural Council. He was a New England Film/Video Finalist in video in 1988 and a received a Fellowship in video in 1985. ÊHe received The Andrew Mellon Faculty Enrichment Grant in 1992. Andrew has a B.S. from Emerson college. Until recently, he taught filmmaking at the School of the Museum of Fine Arts in Boston. He has also been an instructor at the Art Institute of Boston and the Boston Film/Video Foundation. www.bitforms.
CK Barlow
CK Barlow is a composer, performer and sound designer residing in Albuquerque, NM, USA. She composes for both acoustic and electronic instruments, focusing her solo efforts on performable laptop-sampler works that feature her own field recordings. She performs with the conduction-improv ensembles Out of Context and mJane; has appeared with Anthony Braxton, Malcolm Goldstein and JA Deane as a keyboardist/live samplist; and performs regularly as a soloist, including at the 2003 SEAMUS electronic music festival in Tempe, AZ; the Center for Contemporary Arts in Santa Fe, NM; and the 2000 Composers Symposium, the Outpost Performance Space, and the Harwood Arts Center in Albuquerque, NM. She collaborates frequently on original stage and multimedia productions with artists such as Albuquerqueâs award-winning Tricklock Company; choreographers Jill Pribyl, Marsha Tallerico, Kristine Maltrud, and Sarah Elizabeth Bennett; and video artists Hue Walker, Bryan Konefsky, and Sarah Wentzl-Fisher. CK received her M.Mu. with distinction from University of New Mexico in 2002 and in 2003 completed more than 25 performances, compositions, and composition/sound design projects. Her writing has been published in MIT's Computer Music Journal, and she recently completed an artist residency at STEIM Labs in the Netherlands.
Shawn O'Neal/DJ Ultraviolet
Music has always been an important part of my being. Growing up in the Chicago metropolitan area exposed me to many diverse cultures and forms of music. The manipulation of sound from both traditional and nontraditional instruments intrigued me for as long as I can remember. Soul and rhythm and blues was primarily what I heard in my household as a child. I did not discover jazz and rock until midway through grammar school. I accepted all of these various styles equally and realized that they all had essential elements. Deejays and turntablists caught my attention from its very first induction into pop culture. With the emergence of hip-hop into black culture in the early eighties, I first observed the use of two turntables and a mixer. From this time on, I knew that turntables would be an important part of my music making. I have always had a fondness for collecting vinyl albums. Once I amassed a substantial collection of records in the early nineties, I began to dabble with turntables as well as samplers and other electronic gadgets. I was able to obtain my own equipment in 1997, which helped me to hone in on my skills. Since then, I have used my decks in various artistic formats such as soundtracks to the silent films Nosferatu, and Phantom of the Opera, as well as performances with a variety of ensembles to name a few. My current use of turntables involves my collaborations with High Mayhem, a Santa Fe multimedia arts collective.
Matt Mikas
Matt Mikas is a sound artist with a history of involvement with microradio. A sonic anthropologist, Mikas uses turntables alternately as a historian and performer. In January 2000 he curated the sound program for Dave Hickeyâs Ultraloungeat the University of South Florida Contemporary Art Museum in Tampa. Of The Bridge, a collaboration with Matt Bua and Tom Roe, premiered in Brooklyn! (2001) at the Palm Beach Institute of Contemporary Art. Mikasâs current project Interactive Audio Response Kitis a musical composition and listening tool created for two identical LPs.
Molly Sturges + Chris Jonas
Together, Molly Sturges and Chris Jonas have created a wide array of projects together, from music for Santa Feâs Circus Luminous, music for silent films, music for art installations, co-leading the experimental global groove-based ensemble, BING, and their long term video/sound and performance piece NIGHT.
Molly Sturges
is a composer, performer and director focusing on the intersection of improvisation and composition. She has performed widely as an improvisational vocalist specializing in extended vocal techniques with recent performances with composer/improvisers Anthony Braxton and Malcolm Goldstein. She has been commissioned to create and perform original scores for a wide variety of projects including music for American dance companies, circuses and silent film. She holds an MA in composition from Wesleyan University. Sturges also directs The Community Performance Projects, mJane (her New Mexico-based improvisational music ensemble) and will be directing a large-scale intergenerational installation/performance project for the European Union Festival of Culture 2005 in Cork, Ireland.
Composer, multimedia/visual artist and soprano/tenor saxophone player
Chris Jonas
has gained recent international attention for his work leading the New York-based ensembles The Sun Spits Cherries and amitosis, the ARC Ensemble (New Mexico) and along with co-leader Molly Sturges a neo-Ethiopian pop groove band BING (Santa Fe, NM). He is also well known for his work as a side-man to jazz musicians and composers Anthony Braxton, William Parker, Cecil Taylor, The Brooklyn Sax Quartet and in Butch Morris' conduction ensembles. Additionally, Jonas has also become well known for his work guest-conducting ensembles in cities all over the US and Europe, composing works for orchestras, string quartets, electro-acoustic music ensembles and jazz/new music ensembles and as a performance artist, combining music, performance, video and new media into structures for performance.
Their performance:
"Celebration of Industry, Friendship, and Happiness"
Molly Sturges and Chris Jonas 2004: Festival of Friendship, Happiness and Freedom is a musical game for two players that takes place inside of a homemade glove box. Based within a visual theme world of Chinese and US propaganda, sound sources include; toys, sampled Chinese propaganda songs and US TV news themes, vocals, and other sound making devices. Performers navigate and construct the sonic composition of the piece following the directions given them via playing the game which is witnessed visually through live video.
Steina
Steina was born in Reykjavik, Iceland, in 1940. She studied violin and music theory, and in 1959 received a scholarship from the Czechoslovak Ministry of Culture to attend the State Music Conservatory in Prague. Woody and Steina Vasulka married in Prague in 1964, and shortly thereafter she joined the Icelandic Symphony Orchestra. After moving to the United States in 1965 she worked in New York City as a freelance musician. She began working with video in 1969, and since then her various tapes and installations have been exhibited in USA, Europe and Asia. Although her main thrust is in creating Video Tapes and Installations she has recently become involved in interactive performance in public places, playing a digitally adapted violin to move video images displayed on large video projectors. In 1971 she co-founded The Kitchen, an Electronic Media Theater in New York. Steina has been an artist-in-residence at the National Center for Experi-ments in Television, at KQED in San Francisco, and at WNET/Thirteen in New York. In 1988 she was an artist-in-residence in Tokyo on a U.S./Japan Friendship Committee grant. She has received funding from the New York State Council on the Arts, the National Endowment for the Arts, the Corporation for Public Broadcasting, the Guggenheim Foundation, the Rockefeller Foundation, the American Film Institute and the New Mexico Arts Division. She received the Maya Deren Award in 1992 and the Siemens Media Art Prize in 1995. In 1993 she co-curated with Woody the exhibition and catalogue, Eigenwelt der Apparatewelt (Pioneers of Electronic Art) for Ars Electronica in Linz, Austria. In 1996 she served as the artistic co-director and software collaborator at STEIM (Studio for Electronic Instrumental Music) in Amsterdam. In 1996 Steina and Woody showed eight new media installations at the San Francisco Museum of Modern Art, an exhibition repeated in Santa Fe a few months later. Her installation, titled Orka was featured in the Icelandic Pavilion at the 1997 Venice Bienale. In 1999 she showed three installations in three countries: "Nuna" in Albuquerque, New Mexico, "Textures" in Reykjavik, Iceland and "Machine Vision" in Milano, Italy. She created two installations for the Art Festival 2000 in Reykjavik, Iceland. In 2001 she was invited to festivals in Norway, Russia, Estonia, Portugal, Montreal, England and Italy. Between July and October of 2002 she realized four installations in four locations in her hometown of 22 years, Santa Fe, NM. --www.vasulka.org
David Stout + Cory Metcalf
David Stout
is a performance director, video artist and composer. His work in digital media is a synthesis of music=sound, video-performance-animation, and interactive technologies. His productions include single channel video, installations, electro-acoustic scores for stage and screen, and large scale, networked inter-media events exploring multi-screen video projection as an extension of performer, audience and environment. He holds an Inter-Arts MFA (1985) in Film/Video and Music from the California Institute of the Arts where he studied with Ed Emshwiller, Joan LaBarbara, Jim Pomeroy, Michael Scroggins and Bill Viola. His award winning video works, sound scores, and inter-media performances have been presented at international festivals throughout the USA, Europe and Japan. He currently directs (I.P.I.) the Installation, Performance & Interactivity project at the College of Santa Fe in Santa Fe, New Mexico.
Cory Metcalf
is a moving image and sound artist based in Santa Fe, NM. His work explores real-time video performance, extended vocal techniques, complex audio-video feedback systems, and immersive interactive environments. His latest installation/performance piece, Sensor Swarm, utilizes sensing technology to blur the distinction between the audience and performance, foregrounding the typically unconscious influence that humans impose on their external environment. Metcalf is a member of the interactive performance group, i2o, directed by media artist and composer, David Stout. i2o is committed to the creation and performance of new works for emerging digital instruments and expanded cinematic forms. The group conducts interactive media and trans-disciplinary arts workshops, screenings and concert performances worldwide. Cory is currently assisting Stout on a project to create a bio-mimetic generative engine modeled on the genetic processes found in living systems.
Keep Adding
(Noah MacDonald + Brian Bixby)
Based in Santa Fe, New Mexico, Keep Adding is a multidisciplinary artist collective that encapsulates the membersâ work in sound, digital prints, drawings, murals, and installation. Founded in 2000, Keep Adding redefines concepts of geometry, architecture, destruction and abstraction. Recent Keep Adding projects include remixing photographs for Funkst?rungâs Disconnected (!k7 2004) CD and forthcoming DVD, and organizing the exhibition The Domino Effect: Natural Influence Over Technology (April 30- May 30, 2004) at the Santa Fe Art Institute.
Keep Adding will present sound interludes and short works from the recording project "Bra". Bra is two members, Noah MacDonald & Brian Bixby. Bra's sound is made up of ambient noise, abstract rhythms and imaginary filmscapes that illustrate dark narratives without words.
Tom Roe
free103point9's Tom Roe is a sound transmission artist sometimes known as DJ Dizzy. He co-founded microradio stations 87X in Tampa, FL and free103point9 in Brooklyn, NY. Roe performs with transmitters using multiple bands (FM, CB, walkie-talkie), as well as prepared CDs, vinyl records, and various electronics. He has also written about music for
The Wire
,
Signal to Noise
, and
The New York Post
, among others. Roe's writing about free jazz in New York recently appeared in
The Wire
's 20th Anniversary book
Undercurrents
(Continuum). His collaboration with Matt Bua and Matt Mikas,
Of The Bridge
, premiered in Brooklyn! (2001) at the Palm Beach Institute of Contemporary Art. Roeâs
Constructive Engagement
, featuring manipulated recordings from recent political protests and
Of The Bridge
, both received funding from The New York State Council on the Arts, a state agency. He co-curated Tune(In))) (2002), a one-night installation featuring over sixty sound artists performing live into six radio transmitters. Roe has also spoken on panels for Fairness and Accuracy in Media, the Grassroots Radio Conference, Anarchist Forum, and NYC Grassroots Media Conference.
Radio Rudio
Radio Ruido is the nom de guerre of Brooklyn artist Thomas Mulligan. In addition to transmitting experimental sound work with free103point9, he has performed live with the audio-visual collective Dimmer and designed sound for the bilingual performance group Teatro Chinampa. He has recently exhibited at Deitch Projects, Participant, Inc., and the Contemporary Museum in Baltimore.
Video Tune(In)))
Presented in collaboration with Electronic Arts Intermix (EAI), Video Tune(In))) is a program of single-channel video including work that addresses themes relating to video and audio transmission.
Nam June Paik + Jud Yalkut
Video Tape Study No. 3
1966-69, 4 min, b&w, sound.
In this prescient work, Paik distorts and manipulates footage from TV news conferences by Lyndon Johnson and New York Mayor Lindsey. The result is playful, irreverent cultural critique that is also a seminal media intervention. Sound: David Behrman + Kenneth Lerner.
Steina
Violin Power
1970-78, 10:04 min, b&w, sound.
Steina terms this procedural work "a demo tape on how to play video on the violin." Her background as a violinist and her evolution from musician to visual artist is referenced through an analogy of video camera to musical instrument. Steina is first seen in footage from the early 1970s, playing the violin and singing to The Beatles' Let It Be. As succeeding segments trace a chronological progression, Steina layers imagery and time. The violin itself ultimately becomes an image generating tool, as she connects it to imaging devices, creating abstract visual transpositions of sound and vibrations.
Gary Hill
Sums + Differences
1978, 8:24 min, b&w, sound.
In his early work, Hill explores the structural and organic relation of linguistics to electronic phenomena, stating that "certain structural properties of video are revealed in an almost primal sense." In Sums & Differences, images of musical instruments and their corresponding sounds are sequentially switched at an increasingly rapid rate. Sound and image are modulated by the switching of multiples of vertical/horizontal sync pulses, creating a simultaneity of visual and aural information.
Nam June Paik + Jud Yalkut
Beatles Electroniques
1966-69, 3 min, b&w and color, sound.
Beatles Electroniques
reveals insights into the evolution of Paik's work in video, performance and installation, marked by a playful sense of improvisation, experimentation, and pop-icon reference. Richly inventive and ironic, if at times technically crude, these experiments form a link between Paik's performance and sculptural works of the 1950s and early 1960s and the celebrated videotapes and installations of recent years.
Steina + Woody Vasulka
Noisefields
1974, 12:05 min, color, sound.
A visualization of the materiality of the electronic signal and its energy, Noisefields is an important example of the Vasulkaâs early experiments. Colorized video noise (or snow) is keyed through a circle, producing a rich static sound that is modulated by the energy content of the video.
Gary Hill
Mediations
1979-86, 4:17 min, color, sound.
Mediations
is an excerpt from Hillâs earlier work Soundings, where conceived as a work for broadcast, the found object of a loudspeaker becomes the source for a sequence of image/sound/text constructs. A series of what Hill terms "processual rituals" ends with a text "from" the speaker, in which it describes its electronic, changing state as a relationship with the viewer. As Hill speaks about touch and sound in an extrapolated monologue, he buries the speaker in sand.
Klaus vom Bruch
Jeder Schuss ein Treffer (Every Shot a Hit)
1984, 9:30 min, color, sound.
In one of his most reductive, hypnotic exercises, vom Bruch confronts the viewer from behind a futuristic-looking "weapon" -- actually an antenna. The syncopated rhythm of a waltz fragment played backwards is the mesmerizing accompaniment to the staccato repeat-edits of the artist turning in a half circle. Vom Bruch occupies a dual position as attacker and attacked, aggressor and victim. In the hands of the individual, this emblem of communications technology ultimately assumes not only the form of a weapon, but also that of a shield, behind which vom Bruch seeks protection. Jeder Schuss ein Treffer explicitly conflates with an ironic spin, the technologies of communications systems and the military.
Kristin Lucas
Involuntary Reception
2000, 16:45 min, color, sound.
Involuntary Reception
is a double-imaged, double-edged report from a young woman lost in the telecommunications ether. Possessing extraordinary electrical forces - a surging EPF (electro-magnetic pulse field) - she self-broadcasts her unique experience of the world. Appearing as a somewhat tragic spirit, the character, played by Lucas, is quarantined from physical contact and yet always at risk of contamination from the multitudinous signals of our digital age. Lucas investigates the substance, the very electricity of communication. Her performance engages the viewer in a critical yet witty musing on the construction of self and the experience of desire in an era of information overload.
About EAI
Founded in 1971,
Electronic Arts Intermix
(EAI) is one of the worldâs leading nonprofit resources for video art and interactive media. As a pioneer and advocate of the media arts and artists, EAI's core program is the international distribution of a major collection of new and historical media works by artists. EAIâs leadership position in the media arts extends to a preservation program, viewing access, educational services, online resources, exhibitions and events. The Online Catalogue provides a comprehensive resource on the 175 artists and 3,000 works in the EAI collection, including artists' biographies, descriptions of works, QuickTime excerpts, research materials, Web projects, and online ordering. www.eai.org
Review of Tune(In))) Santa Fe from The New York Times:
from
New York Times, 08.22.04
Something very new indeed was taking place at the Santa Fe Art Institute, where a strangely affecting event called a "Tune(In))" had been organized by the New York transmission arts group free103point9. Cameras planted throughout the building sent live feeds to monitors in a room where small audiences were listening ÷ through headphones plugged into FM radios ÷ to live transmissions from computer-sound artists responding to the videos.
"It was so quiet it was hard to believe we were at a public sound event," said Christian Marclay, a biennial artist. "You didn't know if anyone was listening or what they were listening to.
"Listening," he added, is "a lot more private than looking."
--Linda Yablonsky
Read more about the first two Tune(In)))'s:
Tune(In)))
03.01.03 at NY Center for Media Arts, Long Island City, New York.
Tune(In))) The Kitchen
04.22.04 at The Kitchen, Manhattan, New York.