Scape 2
Apr 24, 2004 - May 22, 2004
Flux Factory
3838 43rd St. | Long Island City, Queens, NY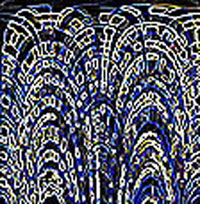 "Scape 2" is a collaborative sound installation at Flux Factory's gallery space, curated by Jean Barberis & Stefany Anne Golberg. Members of the Flux Factory art collective as well as several artists from around the world will develop a number of sound pieces that interact with one another by following a rhythm of 60 beats per minute and using a drone that is the note D.
Artists in "Scape 2" include Pierre Bastien, Guillermo E. Brown, free103point9 Transmission Artists (Matt Bua, Damian Catera, Melissa Dubbin + Aaron Davidson, Matt Mikas, Michelle Nagai, neuroTransmitter, Ben Owen, Radio Ruido, Tom Roe, Scanner), Miwa Koizumi + Marco Scoffier, Stefany Anne Golberg, Jean Barberis, Sebastien Sanz de Santamaria, The goal of the show is to explore the concept of 'song' through a collaborative process, in which the artists and musicians work together to create a coherent group work yet allowing the individual pieces to exist independently. All the pieces will be 'arranged', physically and musically, in the Flux Factory space, to create a collective song that can be walked through.
Live free103point9 "Scape" show Sat. May 15 at 8 p.m. with neuroTransmitter, Ben Owen, Radio Ruido, Damian Catera doing a guitar drone in D, and Matt Bua + Tom Roe + Matt Mikas doing "Of The Bridge in D."
Scape will examine the song form through the work of musicians and sound artists who work in a variety of media—instruments, noise, text, kinetic sculpture and ambient sound. The weaving together of sounds from the individual works will create an overall effect that draw the works together, while, at the same time, serving to augment their differences and particularities. It is an experiment in the Flux Factory's approach to collaborative artistic ventures where artists work together in a think-tank environment and produce a show that is the culmination of this engagement.

free103point9 Dispatch Series 019 is "Scape 2" CD featuring all the free103point9 works on two identical CDs meant to be played together on different sound systems at the same time.