Chorus of Refuge at Third Coast Filmless Festival
Mar 27, 2009 - Mar 28, 2009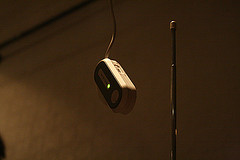 Chorus of Refuge will be installed as part of the Third Coast Filmless Festival (TCFF) celebration at the Chicago Performing Arts Center. TCFF is a celebration of storytelling, sound and the art of listening that will bring together radio fans who will gather in darkened theaters to hear unforgettable audio documentaries - the ones that leave us sitting in our driveways, and help us see the world in a new light - and to meet some of the top producers from the US and beyond.
Chorus of Refuge will be the featured audio installation of the TCFF event and will run continuously from Friday evening throughout Saturday. with presentations from the artists on both days.
Chorus of Refuge was created by Ann Heppermann, Jason Cady and Kara Oehler in collaboration with free103point9. The sound installation transmits the stories of six refugees, living in different cities across the U.S. to six radios. The voices of the refugees are superimposed and coordinated in both rhythm and tonality to unite their narratives of struggle, survival and triumph. $25/Festival Pass (including evening events)
$20/Chicago Public Radio members
$20/Victory Gardens subscribers
Single tickets:
$8/per screening
$12/evening event
(single tickets available at the door only)
See photos of the past "Chorus of Refuge" installation here:
http://www.flickr.com/photos/uniondocs/sets/72157611458830991/
.