Transmission Arts: Artists & Airwaves: Brooklyn Book Celebration
Oct 18, 2011: 8pm- 11:59 pm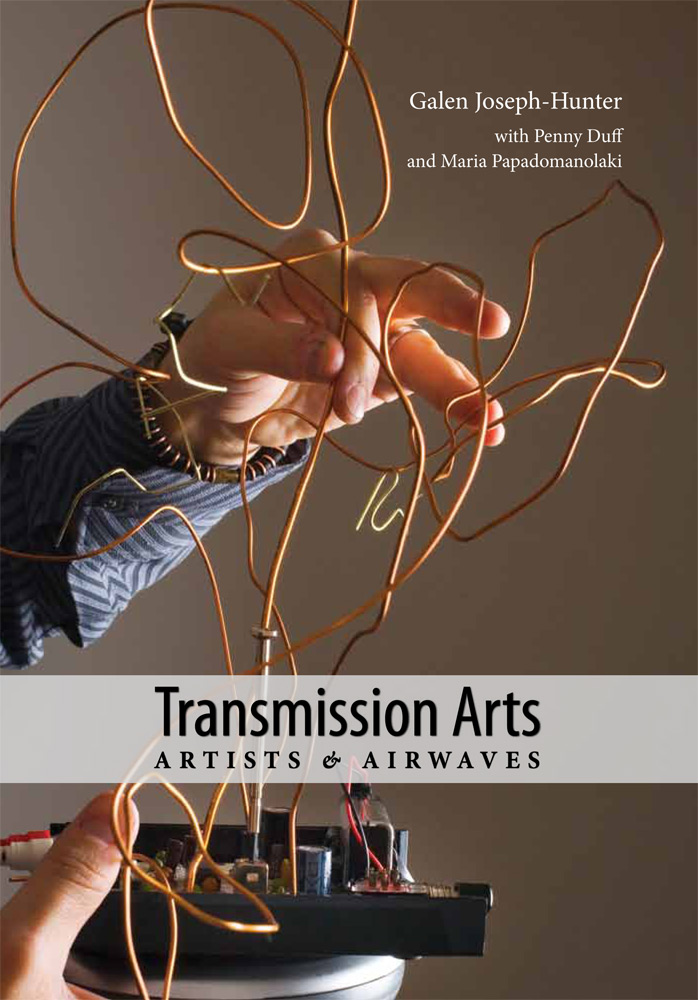 Join free103point9, PAJ Publications, Issue Project Room, and Electronic Music Foundation in celebrating the publication of
Transmission Arts: Artists and Airwaves
by Galen Joseph-Hunter with Penny Duff, and Maria Papadomanolaki (PAJ Publications. In association with free103point9.) This event will feature performances from Todd Merrell, Kabir Carter, Terry Nauheim, Lázaro Valiente, Joel Chadabe/Milica Paranosic, and others. Join us for a reception at 7 p.m. and performances, which begin at 8 p.m. Admission is free. ABOUT THE BOOK
In this ground-breaking look at a new art genre,
Transmission Arts: Artists and Airwaves
brings together a genealogy of 150 artists and artworks—and more than 250 images—from 1921 to the present that encompasses performance, video, radio theatre, sound art, media installation, networked art, and acoustic ecology. Here is a fascinating account of the ingenuity and creativity of artists who have made new discoveries in broadcast, public works, performance composition, sound, and text, stretching the boundaries of both transmitter and receiver. At a time when public access struggles with corporate control of the airwaves, artists have combined activism and communications technologies to represent alternative worlds on the electromagnetic spectrum.
Click here to order
Transmission Arts: Artists and Airwaves.
ABOUT THE ARTISTS
Todd Merrell's work illustrates a fascination with the imperceptible environment of electromagnetic radiation that shortwave radio and processing can capture, and transform into an immersive, musical environment. http://www.www.toddmerrell.com/

Kabir Carter's work moves between performance and installation, and focuses on the physical and emotional effects of architecture and acoustics in private and public spaces. http://www.kabircarter.com/

Terry Nauheimexplores sound and visual relationships through digital media, drawing, and installation.http://www.terrynauheim.com/

Lázaro Valiente is sound artist Mauricio Pastrana, his work is comprised of sounds and silence originating in the daily improvisations of life. http://lazarovaliente.org/

Joel Chadabe composer, author, is an internationally recognized pioneer in the development of interactive music systems. On October 18, he will present Many Times Milicaperformed by Milica Paranosic. http://www.chadabe.com
ABOUT THE FREE103POINT9
free103point9 is a New York State-based nonprofit arts organization establishing and cultivating the genre Transmission Arts by promoting artists and works informed by an intentional use of space — often the airwaves. free103point9's major programs include the Transmission Art Archive, an in-progress resource featuring artists, works, and exhibitions and events that define the genre and place it in a historical context; WGXC 90.7-FM: Hands-on Radio, a creative community FM radio station serving Greene and Columbia counties; and the facilitation of a NYSCA Regrant program. http://www.free103point9.org
ABOUT PAJ PUBLICATIONS
Founded in 1976, PAJ Publications has become one of the U.S.'s most important and valuable publishers of drama, criticism, performance texts and documents, including contemporary American writers and works in translation. Transmission Arts: Artists and Airwaves is the latest volume in PAJ Publications' Art + Performance series which features individual titles on Yvonne Rainer, Bruce Nauman, Meredith Monk, Gary Hill, and other artists. For subscription information for PAJ: A Journal of Performance and Art, please visit: http://mitpress.mit.edu/paj .
ABOUT ISSUE PROJECT ROOM
ISSUE Project Room is a pioneering art and performance center dedicated to providing artists with a dynamic environment in which to create and perform new and challenging work according to their vision. http://www.issueprojectroom.org
ABOUT ELECTRONIC MUSIC FOUNDATION
The mission of Electronic Music Foundation (EMF) is to explore the creative and cultural potential in the convergence of music, sound, technology, and science, and share what is learned through contact and interactions with a large and growing public. http://www.emf.org