Radio Festival
Aug 05, 2006: 2pm- 10pm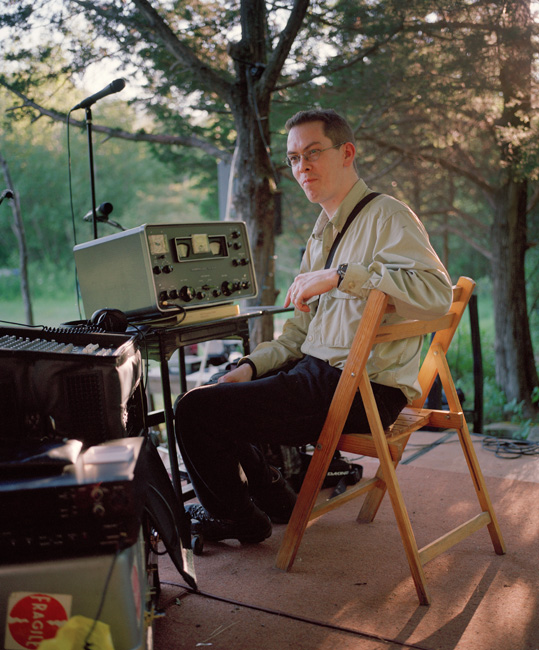 free103point9 presents a special day of radio art and performance on the Wave Farm grounds. Festival activities will feature microradio and nature walks, outdoor sound installations, unique mobile transmissions, and live music performance. Among the presented projects and events is a
Microradio Sound Walk
lead by members of the
New York Society of Acoustic Ecology
(NYSAE), sonic installations by
Melissa Dubbin + Aaron S. Davidson
,
Lily Gottlieb-McHale
,
Jeff Feddersen
,
Michelle Rosenberg
and , and the project
Signal-to-Pink Transmissions
by
Karin Bolendar
featuring FM transmissions activated by the participation of Pink, a Nigerian Dwarf goat.
Dharma Dailey
from Prometheus Radio Project will also hold a workshop. Also,
Todd Merrell + Patrick Jordan
will give a radio performance, and New York City-based rock band
Lycaon Pictus
will perform. Plus,
Damian Catera
will beam in a webcast to Wave Farm from the free103point9 Project Space in Brooklyn.
2:30-3:30 p.m.:
RADIO WORKSHOP by DHARMA DAILEY
Dharma Dailey from the Prometheus Radio Group puts on a radio workshop.
MICRORADIO SOUND WALK by NYSAE
Microradio Sound Walk is a multiple transmitter sound piece and walking tour of local airwaves utilizing broadcast and computer technology to create a soundscape on a single FM frequency that responds to both the architecture and sonic phenomena of a specific space. Consisting of multiple transmission stations situated along a loosely defined walking path, listeners proceed through the route in the order of their choosing, as they move farther away from one station and grow closer to the next, the signal they receive too will shift. This sonic progression maps the spatial qualities of an area's local airwaves. Microradio Sound Walk premiered in 2004 with free103point9 transmission artists Damian Catera, Matt Mikas, Michelle Nagai and Tom Roe. It was presented in conjunction with Spectropolis: Mobile Media, Art and the City.
The New York Society for Acoustic Ecology is a NY metropolitan chapter of the American Society for Acoustic Ecology, a membership organization dedicated to exploring the role of sound in natural habitats and human societies, and promoting public dialog concerning the identification, preservation, and restoration of natural and cultural sound environments. It is the hope of NYSAE to explore and create an ongoing dialog regarding an aural experience that is specific to New York City.
www.nyacousticecology.org
2-10 p.m.:
LAST & LOST TRANSMISSIONS by MELISSA DUBBIN + AARON S. DAVIDSON
In
Last & Lost Transmissions
artists Melissa Dubbin and Aaron S. Davidson focus on lost and found messages. In
Last Transmissions
, the artists rebroadcast an amalgam of final messages made by individuals—a disc-jockey signing off one last time or a lost sailor's plea, creating an opening into divergent narratives. In
Lost Transmissions
, the artists collect and rebroadcast, radio messages that have been lost during the process of transmission.
http://www.free103point9.org/artist.php?artistID=24
3-4 p.m.; 6-7 p.m. (leaving on the quarter hour so: 3:00, 3:15, 3:30, 3:45 & 6:00, 6:15, 6:30, 6:45):
CAR HARP by LILY GOTTLIEB-MCHALE
Car Harp
is a specialized Aeolian harp installed on top of a car. It is a wind powered string instrument and is controlled by the speed of the car. It plays harmonics, adding notes as the speed increases. The strings are miked and the sound is transmitted through the car radio.
2-10 p.m.:
EARTHSPEAKER by JEFF FEDDERSEN
EarthSpeaker
is an installation of multiple units of an outdoor sonic sculpture. Each unit is a large, solar-powered, electro-acoustic speaker, which absorbs sunlight during the day and at emits sounds at dusk. For
Radio Festival
, Feddersen will install a prototype of
EarthSpeaker
, being completed during his August AIRtime residency at Wave Farm. A forthcoming permanent installation will inaugurate free103point9 Wave Farm's Transmission Sculpture Garden.
EarthSpeaker
has received additional support from the Eyebeam artist in residency program, with fabrication support from Glide, Inc. (www.glide-inc.com), a design and technology resource based in Brooklyn, New York.
http://www.zaftig.org
2-10 p.m.:
AURICLE by MICHELLE ROSENBERG
Michelle Rosenberg has developed a series of works that identify different ways of listening.
Auricle
is a mobile parabolic sound reflector. This Auricle (pictured above), was first installed in Socrates Sculpture Park in 2005. It amplified lower frequencies such as traffic sounds best to listeners standing in the focus point of the curve with adjustable plastic semi-spheres that include openings for ear placement. At Wave Farm,
Auricle
will amplify voices, leaves rustling in the wind, and other Radio Festival activities.
www.michellerosenberg.com
2-8:30 p.m.:
SIGNAL-TO-PINK TRANSMISSIONS by KARIN BOLENDER
Signal-to-Pink Transmissions (...and the "Can We Sleep in Your Barn Tonight?" MYSTERY TOUR).
Writes Bolender""
George Washington had wooden teeth
but I've got wooden bones.
They float in the livesome dark, where owls and
possums haunt the high-up and rough-hewn
crossbeams. Different kinds of light come through
the cracks. Lows and brays shake down these nested
beams from deep inside. Hey there, there's hay in the black heart that rolls and
burns, a million tiny green flames. Can we sleep here? Can we sing and gut-string
and beat out on the threshing floor what may be
this dying barn's last dream? And carry what we gather in the night away, down
the highway to Dooms,Virginia, like seeds? Can we?
These are some of the questions writ in the warp and woodgrain of the
"Can We Sleep in Your Barn Tonight?" MYSTERY TOUR
, which will constellate in and around the Shenandoah Valley of Virginia circa June 3-11, 2006. This journey involves a wandering, roadside movement of a fluctuating band of artists and barnyard inhabitants-musicians, poets, a goatmother named Pink, and the spotted she-asses Aliass and Passenger, among others. In this traveling assemblage of beings and perceptions, the adventure seeks to embody both an investigation of troubled idylls and a rollicking wake for what's hidden and endangered in the present Appalachian landscapes-most especially in the old wooden barns that are quite literally subsiding, along with their unwritten languages and ways of knowing, as they go by the wayside of interstates, suburban development, and industrial agribusiness. So, it is in hopes of some last contact with the flickering, fading woods, fox operas and box turtles, and half-buried myths of cedar groves and agricultural relics that the
MYSTERY TOUR
will pass, on foot and hoof, through the valley to the summit of a Shenandoah mountain town called Dooms. While the passage itself is significant, what may be more vital to the ultimate project of the
MYSTERY TOUR
is what unfolds in the night-barns: in the indeterminate plays between all the creatures present, as we seek to fathom (through acoustical presence and musical, lyrical improvisation with stringed instruments, woodwinds, drums, and whatever else is along) what's in the motes, seeds, and oak-beams of these spaces' own wilder creaks and hums, and those of our own hides and bones.
As a way to explore and celebrate possibilities for crossbeam connections amidst the myriad pychoacoustical energies of rural realms,
Signal-to-Pink Transmissions
is excited to bring the recordings gathered in the course of the
"Can We Sleep in Your Barn Tonight?" MYSTERY TOUR
to the Radio Festival at Wave Farm on August 5, 2006. In keeping with the notion of presence in place as key, Pink, the
MYSTERY TOUR
's Nigerian Dwarf goat, will roam and graze around the Wave Farm over the course of the event, taking in the sights, sounds, and smells of the place as she broadcasts the recordings and some live-mixed material from a small transmission-wagon. And so the sounds plucked and twanged from the living mud of Virginia's harrowed fields and grassy edges (and from underground, too, in America's oldest show cave), will mesh in the airwaves with the green-light beams and summer oscillations of the Wave Farm's fertile transmission-arts atmosphere.
5 p.m.:
LIVE RADIO PERFORMANCE by ANNA FRIZ
Anna Friz is a sound and radio artist who divides her time between Montreal and Toronto. For the past eight years she has predominantly created self-reflexive radio for broadcast, installation or performance, where radio is the source, subject, and medium of the work. She creates dynamic, atmospheric works equally able to reflect upon public media culture or to reveal interior landscapes. Friz has presented installation and performance works across Canada and in international media art contexts such as the Third Coast Audio Festival, Chicago; Digitales, Brussels; Club Transmediale, Berlin; Ars Electronica, Linz; die Akademie der Künste, Berlin; the Fifth International Biennial of Radio, Mexico City; and Arte Nuevo Interactiva, Yucatan. She has produced numerous original radio works for independent radio across Canada and the U.S., and for public radio in Canada, Austria, Germany, Denmark, and Mexico. Anna is a doctoral candidate in the Communications and Culture programme at York University, Toronto. http://www.free103point9.org/artist.php?artistID=25
6 p.m.:
LIVE RADIO PERFORMANCE by TODD MERRELL + PATRICK JORDAN
Between what we can hear and what we can see are frequencies that surround us every day. They come from electrical systems in ships, the sun, cars, weather patterns, the subway, radio, and countless other sources. Every day, every hour, and everywhere, they change. Using a single sideband shortwave receiver and electronics, Todd Merrell will search the airwaves for the electrical fingerprints of Wave Farm on August 5, 2006, and transform these electromagnetic waves into an immersive, musical soundscape, an impression of what Wave Farm sounds and feels like electrically and musically, on that day, in that hour.
Todd Merrell creates immersive, otherworldly, musical soundscapes from electromagnetic radiation in the atmosphere and earth, using single sideband shortwave receivers and electronics. He has performed solo and collaborated with Aidan Baker, Pilotram, Casey Block, Lou Rossi, Patrick Jordan, Craig Colorusso, etc., and performed at numerous venues, including Knitting Factory, Issue Project Room, and Galapagos Art Space. His solo album 'Neptune' was released in February 2006 on Dreamland Recordings in Australia, and his work will appear on 'Compiled Sounds Vol. 1' on Transient Frequency in New York.
www.toddmerrell.com
Patrick Jordan works with with single sideband shortwave receivers and a variety of media, and has collaborated with Todd Merrell, Aidan Baker, Jake Bell, and Dan Gardopee, among others. His frequent collaborations with Todd Merrell have garnered critical praise from The New Art Examiner, P-Form Performance Art Magazine, and The Hartford Advocate.
7 p.m.:
LIVE RADIO PERFORMANCE by DAMIAN CATERA
Damian Catera is an electro-acoustic composer/guitarist, sound installation creator and media artist. Catera's work reflects interests in sound-based composition/ improvisation, transmission, and socio-political critique. Recently he's been performing improvised "deCompositions" for live electronics, radio, and guitar. Catera's "deCompositional" process consists of an expanded instrument system, which samples and probabilistically processes live sound with algorithms, which he wrote in the MAX/ MSP programming environment. The end product is a constantly evolving, machine-improvised soundscape that is distinct in each implementation. Catera's sound installations reflect his interest in site-specific sound manipulation and surveillance, which he achieves with software also written in the MAX/ MSP programming environment. Catera has performed improvised solo guitar/ radio/ computer-based pieces abroad and in the U.S. including New York venues the Knitting Factory, the Kitchen, and The Cooler among many others. He has also performed in the Czech Republic, Germany, Poland and Slovakia. In March of 2000 he performed in the "La Primavera en Habana" festival in Cuba. During the spring of 1999, Catera toured the United States with Japanese sound artist and Zeni Geva guitarist K.K. Null. http://www.free103point9.org/artist.php?artistID=11
8 p.m.:
Lycaon Pictus
will perform a set of their songs.
"Brooklyn art-punks Lycaon Pictus once would've fit just fine on Ralph Records, though how their deranged dirges creepy-crawl though post-nuclear slime owes as much to Pere Ubu as to Tuxedomoon." -Chuck Eddy, Village Voice
Radio Festival is made possible, in part, by the Electronic Media and Film Program of the New York State Council on the Arts, a state agency; The Experimental Television Center's Presentation Funds program, supported by the New York State Council on the Arts; and with public funds from the Greene County Legislature through the County Initiative Program, administered in Greene County by the Greene County Council on the Arts.
Wave Farm Summer Events 2006